To Be Someone Else's Song: Rekha Rodwittiya
17 July 2020 - 18 September 2020
Sakshi Gallery, Mumbai, Maharashtra, India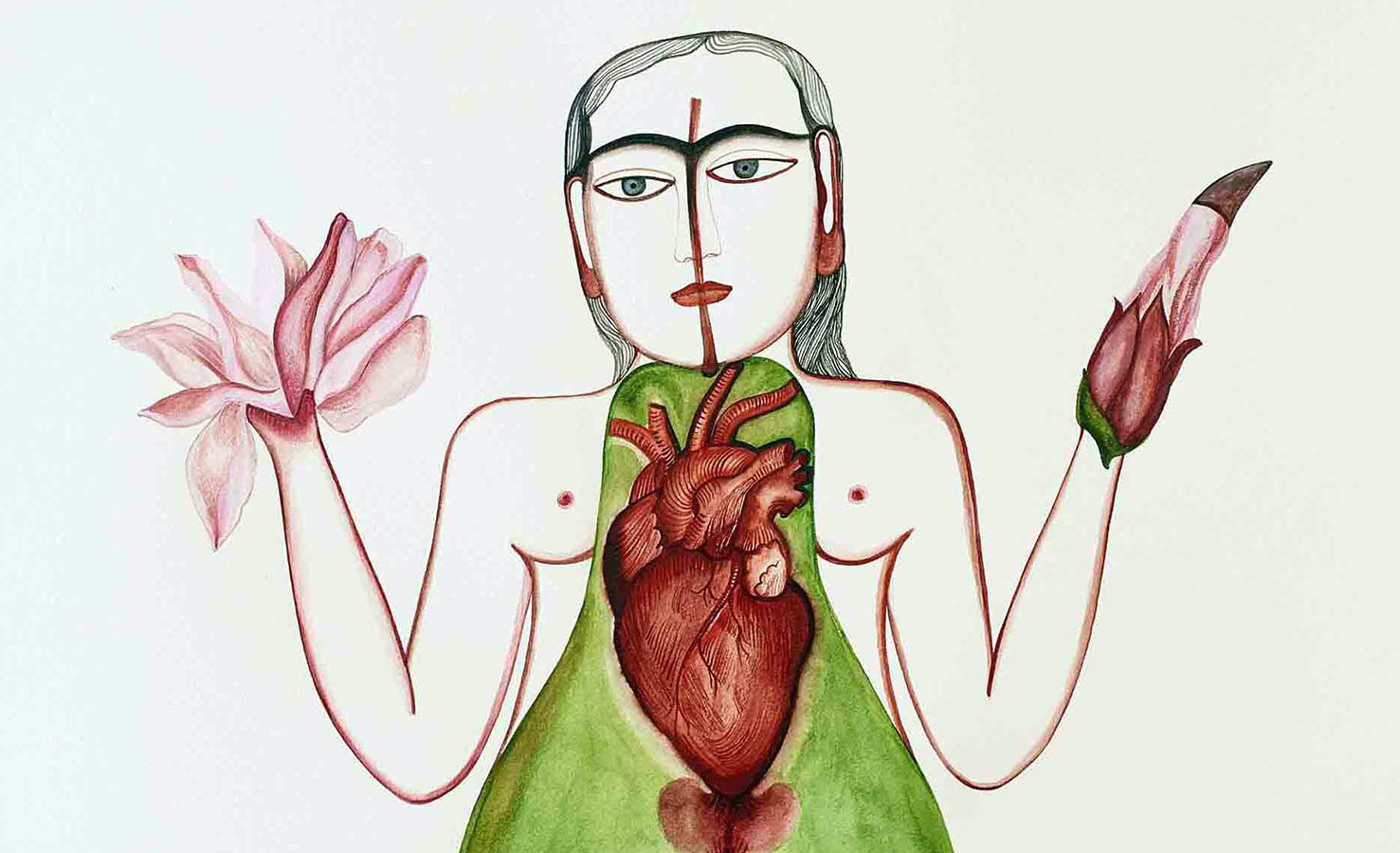 Femininity was a promised birth and feminism a conscious choice. Embracing the oral feminist traditions and metaphorically representing them through the mundane objects, Rekha Rodwittiya formulates an ornamented contemporaneity that not only mocks the over-riding patriarchal structure but also focuses on its intangible growth into our entire eco-system. Rekha, is formulating an idiom that directly connects the exploitation of women with the consequential degradation of society and its ecology. As also researched by Vandana Shiva and Maria Mies in their book 'Ecofeminism', it highlights how the structures of traditional patriarchy merges with structures of capitalist patriarchy to intensify violence against women.
Part of Sakshi Gallery's online show curated by Jesal Thacker, the selection of these twelve paper works painted in fine ornamental delicacy and realism are in stark contrast with the dark humour that from the fabric of its composition. An unusual series titled, Transient Worlds of Belonging, one observes the female body entwined within the organic forms of nature, unlike the centrally composed female figure as seen in Rekha's larger canvases. There's an processual element of miniaturisation combined with the synchronisation of human and nature, executed with such precision that only a closer gaze magnifies the distorted allegory of these forms. Elements from her everyday life, form a flux of ideologies between the personal and the political, the organic and the disparate, the form and its content. There is a play of meanings that invites the viewer into a riddling space of visual imageries and its meaning, where the form is expunged from its mundane connotation and given a subtext for the viewer to construct and re-narrate, as indicators to reveal the territory of more detailed enquiries.
To Be Someone Else's Song derives its title from Kamala Das's poem 'Someone Else's Song' that embodies the many forms taken by a women as well as the constant questioning and agony through continuous cycles of hope and despair, love and lust, birth and death. Echoing the constant subjugation and exploitation that forms the basis of Rekha's artistic practice rooted in her political ideology. In spite of the active argumentation that her practice resonates with, it also breathes into an artistic solace and harmonic order that infuses a promise of a better tomorrow and To Be, Someone Else's Song.
View the exhibition on the gallery's website here.