---
Dates & Venue
31 January to 3 February 2019
NSIC Exhibition Grounds, Okhla
New Delhi, Delhi, India
---
"India Art Fair is a strong brand with high-class galleries. The fair has all the ingredients for success."
Neue Zurcher Zeitung
---
---
---
---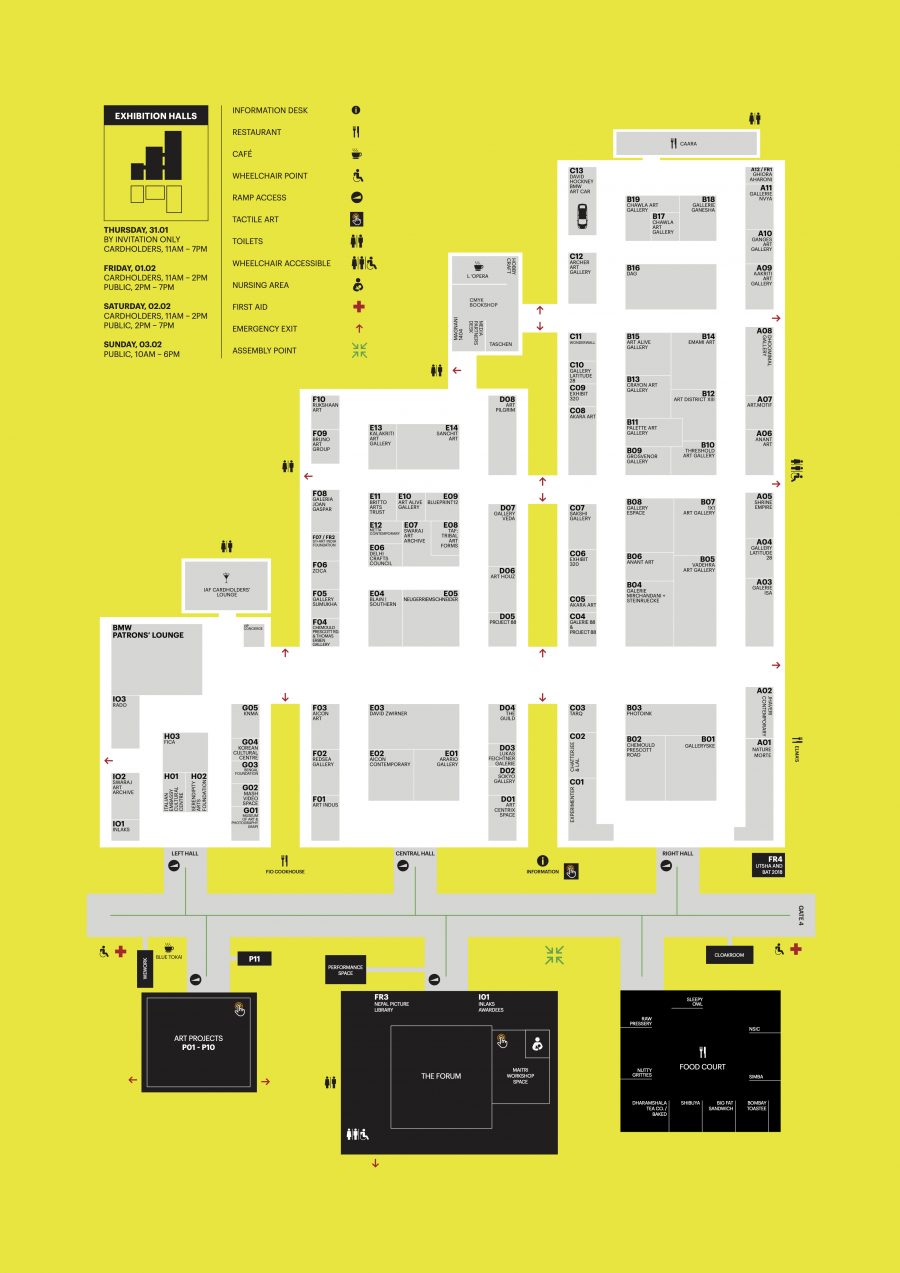 India Art Fair closed its 11th edition amidst reports of strong sales, new collectors for both modern and contemporary art and continued growing confidence in the South Asian art market. The fair was attended by leading gallerists, collectors, artists, museum professionals and philanthropists, with exhibitors reporting new collectors entering both the contemporary and modern markets.
India Art Fair 2019 featured 75 modern, contemporary and institutional exhibitors, an inaugural performance art programme, artist talks and the launch of India Art Fair's magazine. The fair's commitment to the art ecosystem in South Asia was made prominent through IAF Parallel, which highlights gallery and museum shows across India to regional and international audiences. Partnerships offered a platform to emerging artists including a showcase of Inlaks Fine Art Awards receipts, and a collaboration with St+art India Foundation to design the fair façade.
Presenting Partner BMW Group India displayed the 14th BMW Art Car created by renowned British artist David Hockney for the first time in India. Hockney created the 14th Art Car for BMW in 1995 with the BMW 850 CSi. BMW Art Cars or the 'Rolling Sculptures' are original masterpieces of art that demonstrate an individual synthesis of artistic expression and automobile design. Since 1975, 19 international artists have created Art Cars based on contemporary BMW automobiles of their times.
The fair welcomed visitors from across India, the South Asia region and internationally, with individual and institutional collectors coming from a range of different countries including, China, the UK, USA, Germany, France, Switzerland, Russia and Dubai. Curators and Directors from MOMA (New York), New Museum (New York), Tate (London), Royal Academy of Arts (London) M+ (Hong Kong), the Whitworth (Manchester), Peabody Essex Museum (Salem, Massachusetts), Minneapolis Institute of Art (Minneapolis), Detroit Institute of Art (Detroit) also travelled to Delhi.
Senior figures in India's cultural scene attended the fair, including writer and author Vikram Seth, film director Kiran Rao, fashion designers Sanjay Garg, Rashmi Varma, Gaurav Jai Gupta, Nimish Shah, J.J. Valaya and Ranna Gill, Indian poet and screenwriter Javed Akhtar, actresses Shabana Azmi and Koel Purie, and philanthropist Pinky Reddy. Representatives of large corporations including Reliance Group, DLF Limited, Taj Hotels, JSW Foundation, Credit Suisse, Google and NITI Aayog were also present, along with senior government officials from France, Turkey, Brazil, Pakistan, the USA and Switzerland.
The fair coincided with the launch of Art Tactic's 2019 South Asia Art Market Report, which recorded 7.7% increase in the South Asian art market and an increase in gallery sales of 9.1%. This, along with new philanthropic initiatives across the country, reflects a steadying market and the long-term investments being made into South Asian art scene.
For the first time, IAF has been an all-inclusive event, with a new programme featuring dedicated tours for people needing special assistance. Art making workshops attracted school students and families. The refreshed layout, and diversity of focused and curated displays was noted by many visitors, along with the high standard of gallery presentations.
---
"The India Art Fair, like the biennale and the museum, argues for the depth and vibrancy of India's culture in a global market."
South China Morning Post
---
---
---