---
Dates & Venue
9 February to 12 February 2023
NSIC Exhibition Grounds, Okhla
New Delhi, Delhi, India
---
"Since its inception in 2008, the India Art Fair brand has grown into a major marketplace for contemporary and mod­ern art, with the number of exhibitors rising steadily from 77 last year to 86 this year."
Open The Magazine
---
---
---
---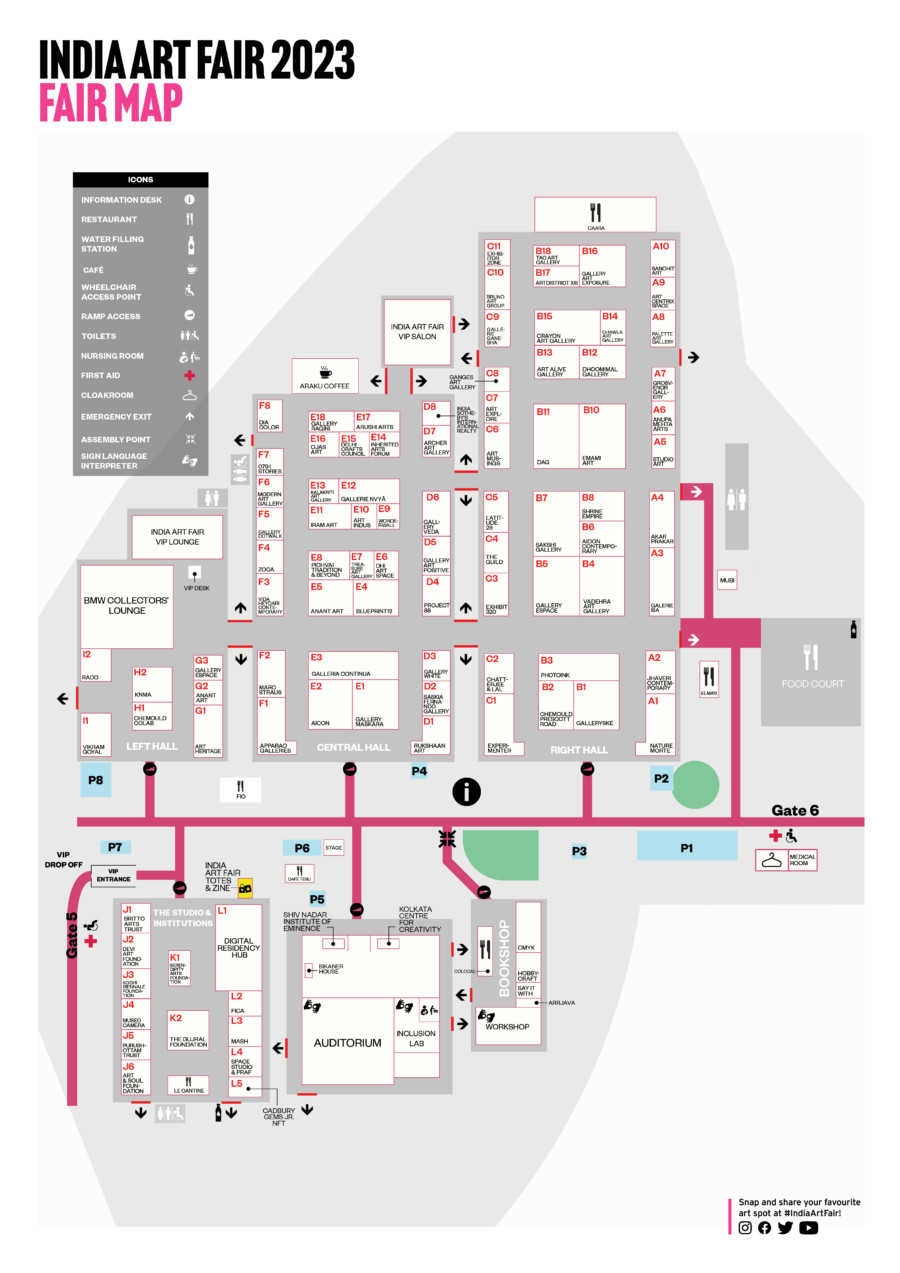 India Art Fair, the leading platform showcasing modern and contemporary art from India and South Asia, closed to significant acclaim amid reports of buoyant sales. Taking place from 9 – 12 February 2023 at the NSIC Exhibition Grounds in New Delhi, the fair featured a strong line-up of 85 exhibitors, including 71 galleries and 14 institutions. Led in partnership with BMW India for the seventh time and with artists' voices at its centre, the fair brought together galleries, collectors, institutions, artists, organisations and art-lovers alike, fostering crucial opportunities for dialogue, discovery and exchange. The 14th edition of India Art Fair, organised by Angus Montgomery Arts, welcomed new and returning visitors, acknowledging it as an unmissable event on the international art calendar, to discover, nurture and collect South Asian art and artists.
The fair attracted an audience enamoured by the South Asian art scene, and those curious to learn more, including a significant number of private collectors as well as representatives from local, regional, and international art institutions, highlighting the fair's reputation. 
Leading figures in the arts and culture in attendance included local and international museum curators, visiting collectors and patrons, including Adriano Pedrosa, Curator of Venice Biennale 2024 and Artistic Director of Sao Paulo Museum of Art; Natalia Di Pietrantonio, Curator at Seattle Art Museum; Gregor Muir, Director of Collection International Art at the Tate; Giulia Sartori Conte, Senior Manager, Collection Committees at the Tate; Mallica Kumbera Landrus, Curator at Ashmolean Museum; Lauren Schell Dickens, Senior Curator at the San Jose Museum of Art; Sean Leffers, Institute of Contemporary Art, San Diego; Victoria Lynn, Director of the TarraWarra Museum; Skinder Hundal, British Council; and patrons from Museum of Modern & Contemporary Art, Sri Lanka.
The fair also welcomed representatives from over 10 leading cultural festivals, collectives and foundations in the institutions section, including Kiran Nadar Museum of Art (New Delhi / NOIDA), Britto Arts Trust (Dhaka), Devi Art Foundation (New Delhi), Art & Soul Foundation (Mumbai), Purushottam Public Trust (Vadodara), Space Studio (Vadodara), K and Prameya Art Foundation (New Delhi).
With an aim to widen access to art and collecting amongst the next generation, the fair hosted a successful edition of the Young Collectors' Programme, which brought together a curated selection of music, art and performance programmes presented at our Partner Venue Bikaner House. Along with this, the YCP also organized art neighbourhood tours, gallery nights and workshops to build a community of like-minded creatives and collectors. The fair also led curated walks for young collectors with a focus on affordably priced works. 
The 2023 edition of the fair was committed to continuing our legacy of hosting an all inclusive event from entry to exit, with accessible seating and floor plan, wheelchair ramps, nursing rooms with diaper changing areas, braille guides, tactile artworks, and a programme featuring dedicated tours and sensitisation workshops for people of all abilities in an Inclusion Lab led by Access for All.
From the planning stages to the execution of the fair, Sustainability remains a priority for the fair. The foundation and base structure of the exhibition tents are reused by events taking place before and after the fair with wooden platforming and booth walls also used year on year. With sustainability as a key thread and focus, the fair façade created by artists and sibling-duo Vayeda Brothers will be  sent to a processing unit in Delhi where it will be repurposed into roofs for urban shelters and upcycled products such as bags, folders, mats and flex pouches for sanitary napkins. In the coming editions, India Art Fair plans to replace the flex which is used for branding and signage with fabric and canvas.
---
"The overall market is seeing record sales figures, with those for contemporary art stronger than they were before the pandemic."
The Art Newspaper
---
---