---
Dates & Venue
28 April to 1 May 2022
NSIC Exhibition Grounds, Okhla
New Delhi, Delhi, India
---
"Crowds of collectors returned in full force to India Art Fair, and they were ready to move fast."
Artnet News
---
---
---
---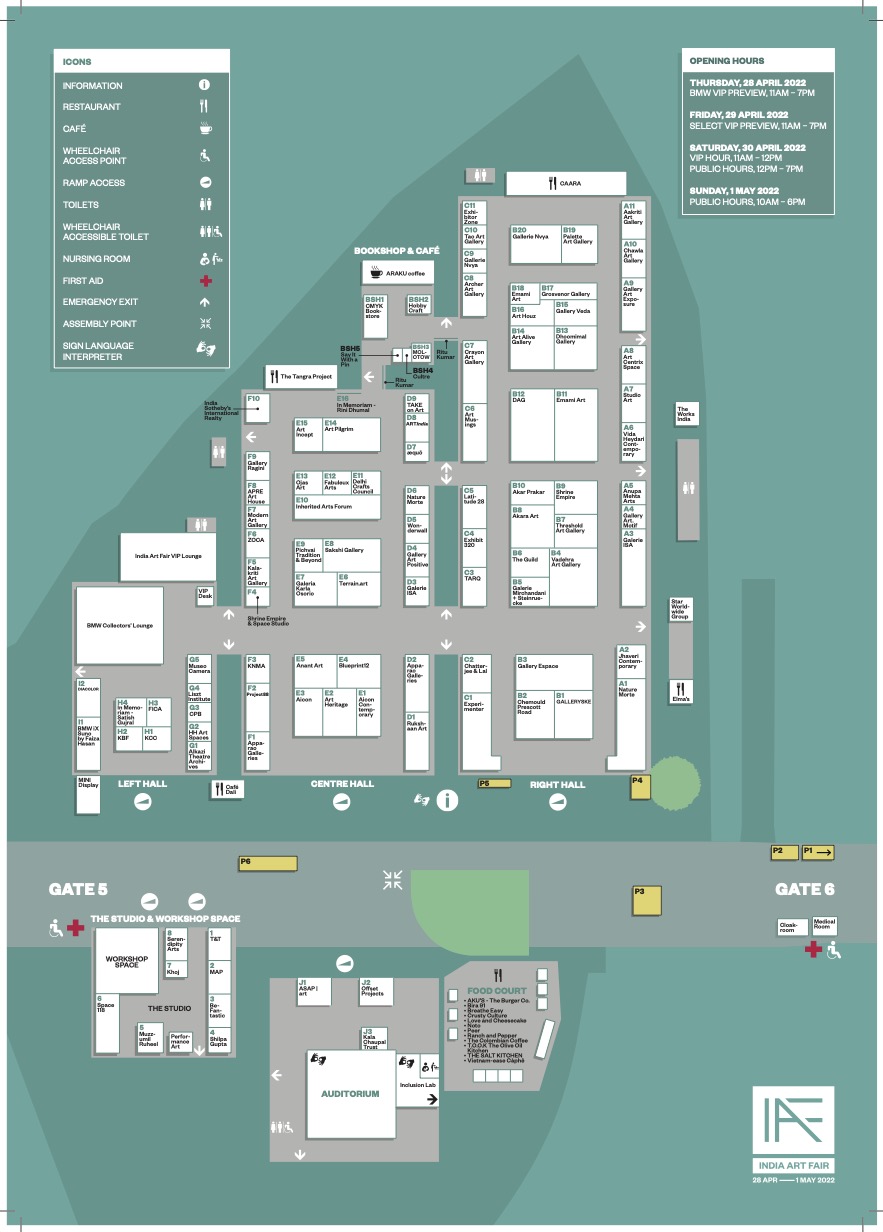 The 2022 edition of India Art Fair, the leading platform to discover and celebrate modern and contemporary art from South Asia, closed on 1 May amid reports of robust sales. Presented by BMW India from 28 April to 1 May 2022 at the NSIC Exhibition Grounds in New Delhi, the fair presented  a strong contingent of 77 exhibitors, including 63 galleries and 14 institutional participants from 16 cities in India and beyond. This edition welcomed new and returning visitors including from leading HNWIs and art patrons, artists and curators, young collectors and students, cementing the fair's position as a platform to engage with, discover and collect South Asian art.
Celebrating the return of its physical format in 2022, India Art Fair unfolded a range of public programmes and tightly curated gallery presentations that championed new trailblazing voices alongside established household names. The fair featured over 500 modern and contemporary artists, an unrivalled representation of non-profits and institutions, an oversubscribed auditorium talks programme, colossal outdoor art projects, Artist in Residence workshops, cutting-edge performances and a reimagined Platform section that showcased underrepresented traditional and folk Indian art forms. Tapping into the growing interest amongst millennials and a new generation of audiences, the fair also introduced an expanded Young Collectors' Programme with the aim of educating and empowering new collectors.         
Indicative of the multifaceted talent of the next generation of Indian artists, India Art Fair also launched The Studio, a section dedicated to experimenting with new ideas in art and technology. Within this section, the fair presented an interactive AR display by the techart platform BeFantastic supported by Tezos India, a visitor-centric installation by Khoj International Artists' Association on urban pollution, and an installation of light and shadow play by artist Tapan Moharana presented by Space 118, among many others.
Celebrating 6 years of creative partnership, Presenting Partner BMW Group India returned to the fair and showcased a wrap for BMW's all-connected and electric iX designed by young Indian artist Faiza Hasan, who was awarded 'The Future is Born of Art' commission. Hasan's car wrap design reflects on the theme of sustainability and expands this into the community by including Urdu words like 'suno' meaning 'listen'. Complementing this partnership, The BMW Art Talk given by Indian contemporary artist Atul Dodiya, one of the most prestigious artist talks, kicked off the programming schedule at the fair.
Leading figures across the cultural landscapes of India and the South Asia region attended the fair to explore and experience the diverse line-up of leading exhibitors and curated programmes. These include art patrons such as Feroze and Mohit Gujral, Radhika Chopra, Kiran and Shiv Nadar, Sunil Munjal, Tarini and Sangita Jindal, Tarana and Tarun Sawhney, Shalini Jindal, Lekha Poddar, Abhishek Poddar, Sunitha and Vijay Choraria, Sonal Ambani, Indira and Pradeep Burman, Vasudha Ruia, Vivek Nanda, Madhu Neotia, Alexandra Fain, Shalini Passi, Meha Patel, Arti Kirloskar, Miheeka Bajaj and V. Sunil. 
Aiming to widen access to art and collecting amongst the next generation, the fair hosted an expanded Young Collectors' Programme, which was a great success with one of a kind music, art and performance programmes featured at Fresh Produce, a show curated by the up-and-coming gallery Method and presented by India Art Fair 'Young Patrons of the Year', MadStarBase. As well as walkthroughs of private homes, corporate collections and New Delhi's foremost galleries and institutions, and social events to build a community of like-minded creatives and collectors. The fair also led curated walks for young collectors with a focus on affordably priced works. 
As in previous editions, the 2022 edition of the fair was committed to hosting an all inclusive event from entry to exit, with accessible seating and floor plan, wheelchair ramps, nursing rooms with diaper changing areas, braille guides, tactile artworks, and a programme featuring dedicated tours and sensitisation workshops for people of all abilities in an Inclusion Lab led by Access for All.
From the planning stages to the execution of the fair, Sustainability remains a priority for the fair. The foundation and base structure of the exhibition tents are reused by events taking place before and after the fair with wooden platforming and booth walls also used year on year. With sustainability as a key thread and focus, the fair façade created by artist Anshuka Mahapatra supported by an open call led in partnership with The Gujral Foundation will be  sent to a processing unit in Delhi where it will be repurposed into roofs for urban shelters and upcycled products such as bags, folders, mats and flex pouches for sanitary napkins. In the coming editions, India Art Fair plans to replace the flex which is used for branding and signage with fabric and canvas.
---
"India Art Fair now turns the spotlight on younger artists hit by the pandemic, seeks new collectors, digs deeper into smaller cities to find art and ropes in art foundations working at the grassroots."
The Week
---
---