Andy Warhol, perhaps the most significant American artist of the 20th century, continues to dazzle viewers with his iconic images of kitsch and pop culture. Just when we think we know all there is to learn about the artist, new areas of his vibrant life and practice are revealed through scholarly publications, exhibitions and international art fairs.
1. He grew up in an immigrant family
Andy Warhol was born Andrew Warhola in Pittsburgh on August 6, 1928. He was the youngest of three sons to Carpatho-Russian parents Andrej and Julia Warhola. The Warhola family immigrated to the United States from the Carpathian Mountains in present-day Slovakia in the early 20th century. They settled in Pittsburgh's Ruska Dolina neighborhood, a working class immigrant enclave. As devoted Byzantine Catholics, Andy and his mother, Julia, worshipped at the local church, Saint John Chrysostom.
Throughout his adult life in New York City, Warhol retained religious practices. Growing up, Warhol suffered bouts of chorea, a nervous disorder more commonly known as St. Vitus' Dance, which occasionally kept him from attending school. While at home, Warhol liked to read comics and Hollywood magazines and play with paper cut-outs. Enraptured by the movies, he often went to local cinemas and watched cartoons at home.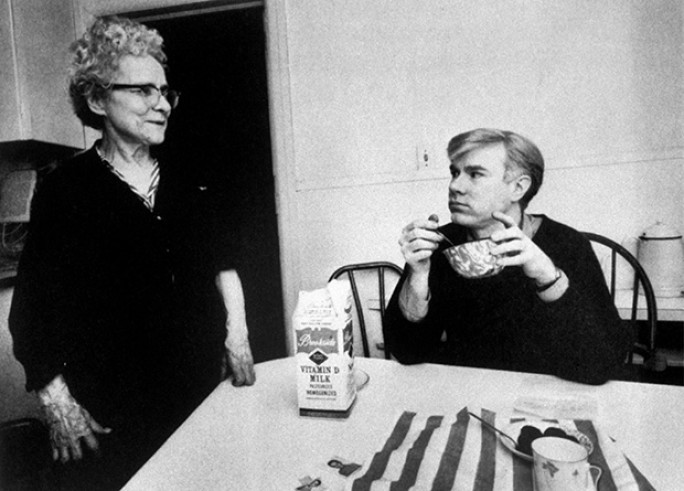 Andy Warhol with his looking at his mother, Julia Warhola © The Andy Warhol Museum Pittsburg and The Andy Warhol Foundation for the Visual Arts
2. Warhol's mother played an active role in her son's artistic life
Julia Warhola encouraged Warhol to draw and colour as a child, and even bought him a camera and film projector. Andrej, his father, died in 1942, the same year that Warhol entered high school. Andrej had always intended for Warhol to attend college, and before he died he set aside funds for his youngest son's education. In order to support the family, Julia worked as a house cleaner, while her oldest sons Paul and John operated a fruit-and-vegetable truck and worked odd jobs. Warhol would be the first in his family to attend college and graduated from Carnegie Tech, now Carnegie Mellon University, in 1949. After graduation, he relocated to New York City and quickly established himself as a leading commercial illustrator in the world of advertising. His mother would join him there two years later. Andy Warhol. Repent and Sin No More, 1985-1986 © The Andy Warhol Museum Pittsburg and The Andy Warhol Foundation for the Visual Arts
3. He has a complex relationship with his Catholic upbringing
The very complexity of Warhol's faith allowed him to appreciate mass-produced images of sacred subjects and transform them into high art. Through repetition and appropriation, Warhol ritually blurred the boundaries between high and low art. His Last Supper series consists of over a hundred works, all depicting aspects of Leonardo da Vinci's iconic mural, painted from 1495 to 1498 in the refectory of Milan's Santa Maria delle Grazie convent. One month before Warhol's death in 1987, twenty-two of his Last Supper works were exhibited in a former monastery directly across the street from the original. Warhol's versions are unbound by tradition: bold, colourful, patterned, repetitive, and at times inclusive of symbols and advertising logos.
4. He loved to travel
In the summer of 1956, Warhol took a trip around the world. The destinations included Japan, Taiwan, Hong Kong, Indonesia, Thailand and India. From Kolkata, Warhol would continue on to Rome, Paris, London and Dublin. A postcard to his mother carries the hand-written inscription, "Hi, I'm alright. I'm in Bangkok. I'm going to India next". It seems that Warhol's travel companion was ill with food poisoning so they departed from Kolkata directly to Rome.

A scan of Warhol's postcard addressed to his mother, 1956 © The Andy Warhol Foundation for the Visual Arts, Inc.
5. BMW invited the artist to paint a car
Finally, one rarity among Warhol's entire career is his hand-painted BMW Art Car. The company's exclusive Art Car Project had already commissioned three major artists — Alexander Calder, Frank Stella and Roy Lichtenstein — all of whom worked with 1:5 scale models so that fabricators could transfer the imagery onto actual race cars. When he was invited to create his own car in 1979, Warhol decided to disregard the scaled models.
He was informed that he would have to travel to Munich to paint the newest model of the BMW M1 race car. With quick brushstrokes of yellow, green, blue and red, Warhol finished his artistic creation in less than 30 minutes. Of the finished car, he said, "I attempted to show speed as a visual image. When an automobile is really traveling fast, all the lines and colours are transformed into a blur". The same year, the Warholian sports car raced in Le Mans in Paris and came in second place.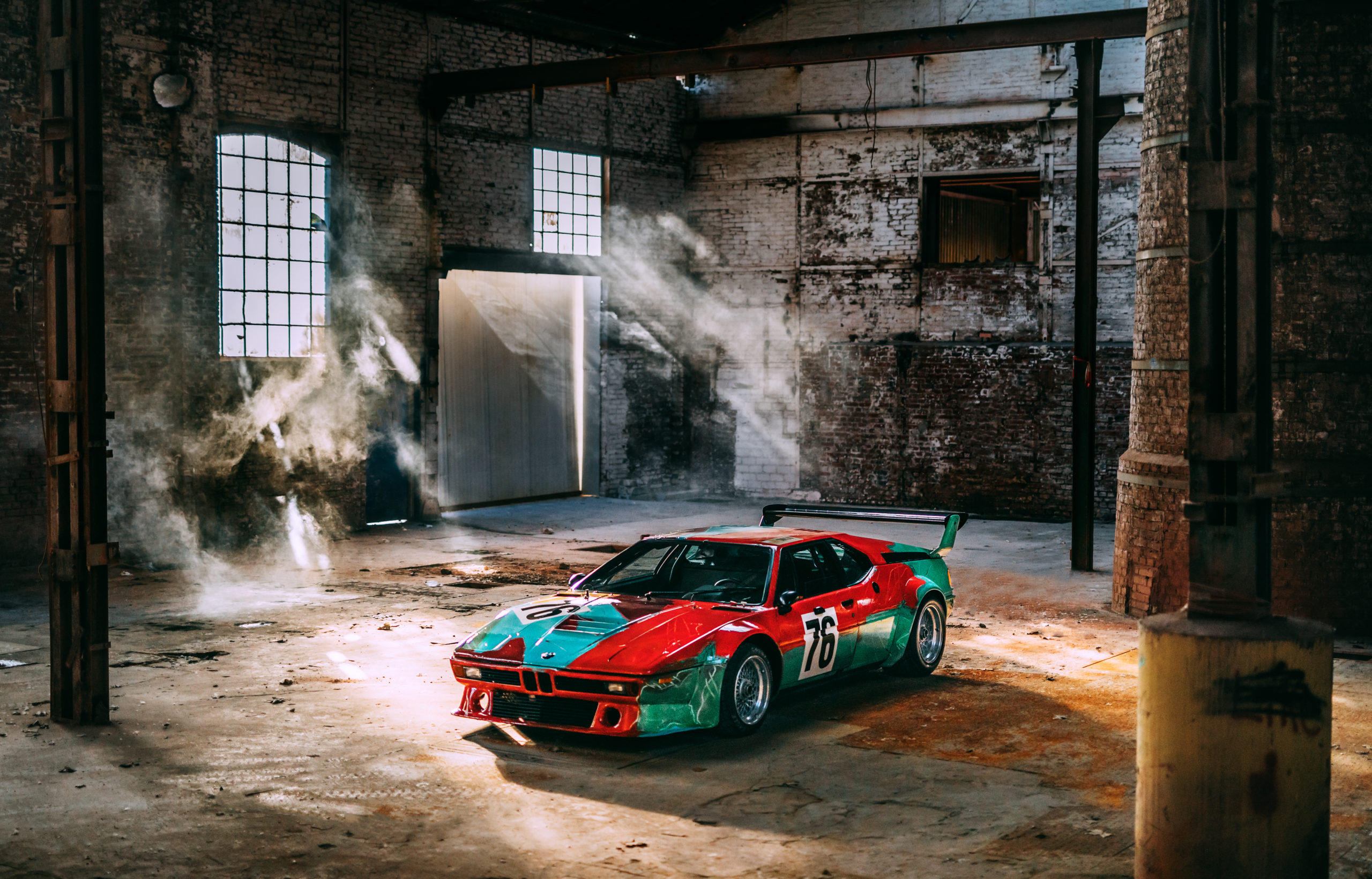 BMW Art Car by Andy Warhol, 1979 © BMW Group Culture
José Carlos Diaz is the Chief Curator at The Andy Warhol Museum. The artist's iconic BMW Art Car was on view at India Art Fair 2020.