With 12 million residents, Mumbai – formerly Bombay – is India's largest city. Home to the famous Bollywood film industry, it also offers some of the country's most exciting arts spaces, ornate colonial architecture and a host of hidden gems.
For first-time visitors, Mumbai can both mesmerize and overwhelm. We share an insider guide to the city, captured here through a series of black and white photographs by lifelong resident and celebrated screenwriter, photographer and filmmaker Sooni Taraporevala.
Must-see arts spaces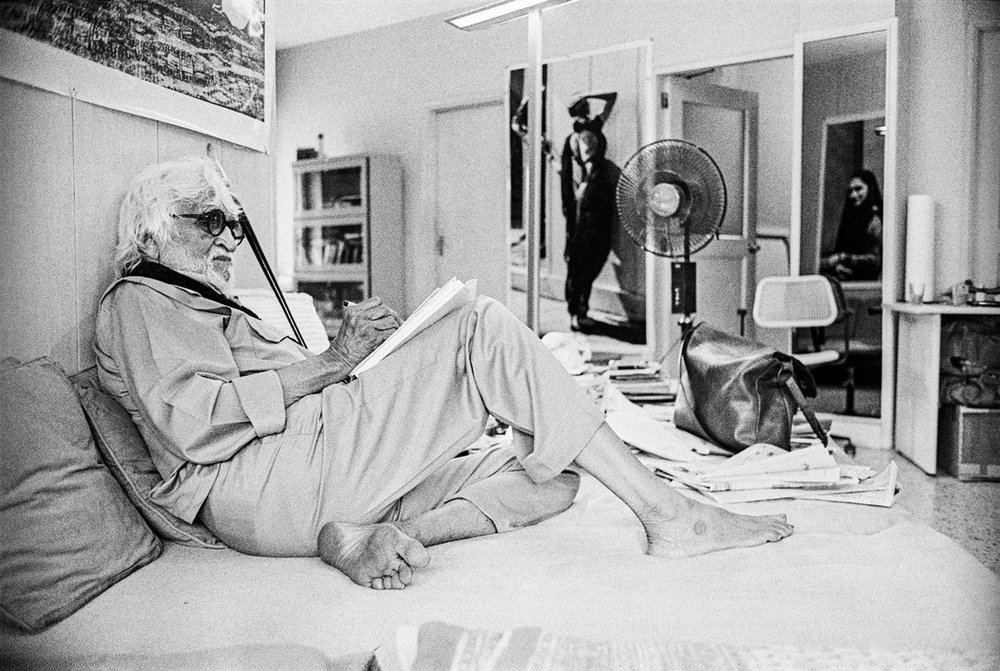 Sooni Taraporevala. M.F. Husain at home in Mumbai, 2005. Courtesy of Vadehra Art Gallery
South Mumbai is home to the city's 'Art District' – an area that includes some of India's oldest museums and galleries, as well as contemporary arts spaces. Highlights include Bhau Daji Lad Museum, National Gallery of Modern Art Mumbai and Chhatrapati Shivaji Maharaj Vastu Sangrahalaya (CSMVS), as well as DAG, Gallery Chemould, Jhaveri Contemporary, Galerie Isa, Galerie Mirchandani + Steinruecke, Akara Art, Project88, Sakshi Gallery and Chatterjee & Lal.
The Art District also provides an opportunity to walk the routes taken by some of Mumbai's most celebrated artists, including Maqbool Fida Husain (pictured above). Having moved to the city aged 20, Husain studied at the Sir JJ School of Art located in the area before founding the revolutionary Bombay Progressive Artists Group in 1947. The group sought to develop a form of modernism that celebrated traditional Indian painting while acknowledging the pioneering artistic developments taking place in Europe and America.
Fondly referred to as the 'Picasso of India', Husain's work features a diverse cast, from movie stars to mythological creatures and politicians. Today, work by the Bombay Progressive Artists Group remains highly sought-after.
Historic places of worship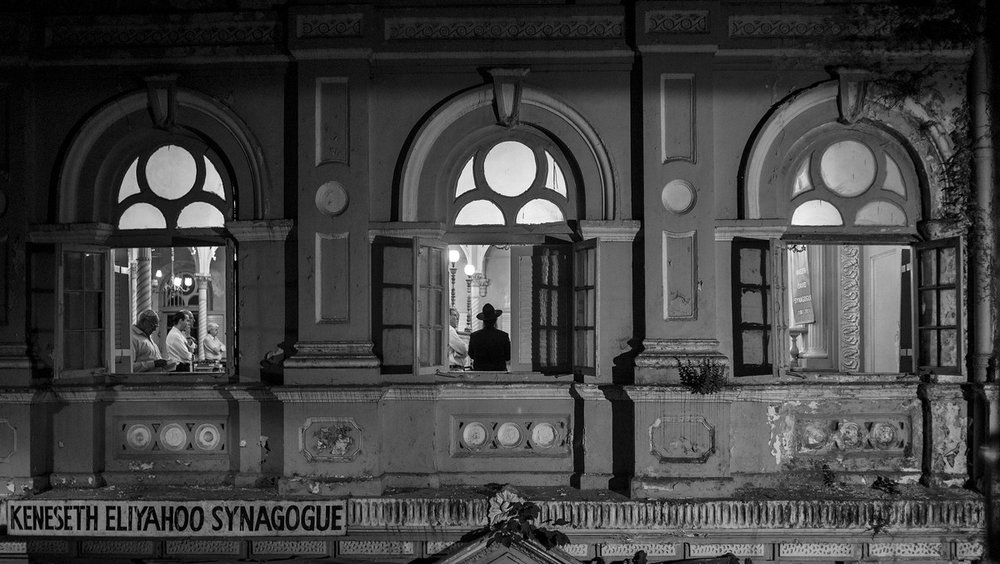 Sooni Taraporevala. Knesse Eliyahoo Synagogue, 2012. Courtesy of Vadehra Art Gallery
Mumbai is home to a host of religious spaces – from ornately decorated churches to temples, synagogues and shrines. Among the best-known are Shree Siddhivinayak Temple, the mid-sea Haji Ali Shrine, and the Cathedral of Holy Name.
The atmospheric photograph above depicts the view through a window of another historic religious site – the Knesse Eliyahoo Synagogue in South Bombay, which was built in 1884 by Jacob Sassoon. Nestled amongst the area's cafes, stores and galleries, this vibrant turquoise building features Corinthian columns, tall stained-glass panels and intricately carved marble.
Iconic architecture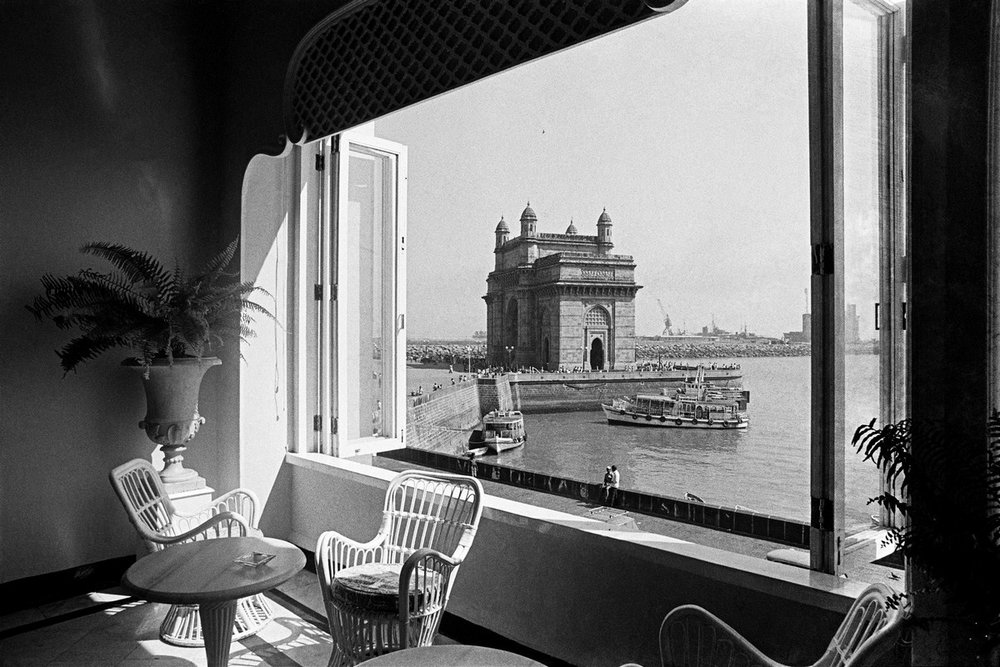 Sooni Taraporevala. The Gateway of India from the Taj Mahal Hotel, 1977. Courtesy of Vadehra Art Gallery
Located in Old Mumbai, Colaba features high-end fashion boutiques and the famous Taj Mahal Palace Hotel, known for its colonial tea lounge and sea views. A walk around the area shows the influence of architectural design from across Europe, with notable examples including Chhatrapati Shivaji Terminus (CST), or Victoria Terminus, a railway station, cinema theatres including Regal, Eros and Metro, as well as the historic Crawford Market, all of which are UNESCO World Heritage Sites.
Other must-sees include the Gateway of India – an imposing arch-monument built to commemorate the arrival of the first British monarchs in India, which continues to welcome visitors arriving by sea. Its majestic arches, domes and minarets combine diverse elements of Hindu and Muslim architecture.
Mumbai's oldest fishing communities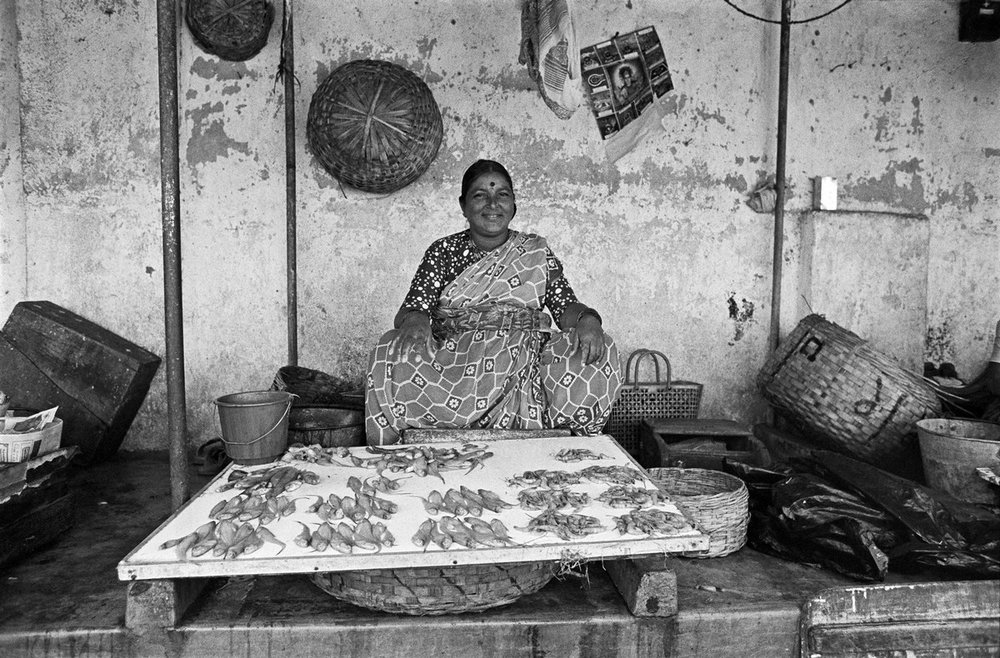 Sooni Taraporevala. Koli Fisherwoman, 1977. Courtesy of Vadehra Art Gallery
No guide to Mumbai would be complete without the Koli fishing community, who have lived and worked along the city's coastline for over 500 years. Often described as its 'original inhabitants', their presence has shaped the city, with areas including Worli, Dongri, Mazagaon and Naigum bearing names bestowed by them.
Today, visitors to the city can explore the Sassoon Dock Fish Market where Koli women, dressed in vibrant sarees, sell their produce to bustling crowds of tradesman, passing inhabitants and chefs eager to strike a bargain. The area also provides a glimpse of some of Mumbai's best street art, created by St+art India Foundation in collaboration with over 30 artists.
A glimpse of Bollywood
Sooni Taraporevala. Raj Kapoor and fan at the premiere of Janbaaz at Metro Cinema, 1986. Courtesy of Vadehra Art Gallery
Mumbai has gained as a reputation as India's 'city of dreams', so-called because of the aspiring directors, actors and producers drawn by the lure of Bollywood: one of the largest film industries in the world, which accounts for over 100 productions each year and nearly 43% of the global film industry's annual revenue.
The studios in the city have launched the careers of some of the genre's biggest stars. Those eager to get closer to the industry can visit Dadasaheb Phalke Chitranagari Film City. Accounting for nearly 60 per cent of India's film productions, the site spans more than 500 acres and includes 20 indoor studios.
Film and art have a close history in Mumbai: Maqbool Fida Husain hand-painted movie billboards and directed films including Gaja Gamini with his muse Madhuri Dixit as lead. Acclaimed filmmaker Satyajit Ray had a lifelong collaboration with photographer Nemai Ghosh, who captured Ray's productions as they came to life.
Sooni Taraporevala is best known as the screenwriter of Mississippi Masala, The Namesake and Oscar-nominated Salaam Bombay (1988), all directed by Mira Nair. She was awarded the Padma Shri by the Government of India in 2019 and her photographs are in the permanent collections of the National Gallery of Modern Art, Delhi and the Metropolitan Museum of Art, New York.