I started Cymroza Art Gallery in Bombay in 1971 with the aim of establishing a new kind of creative space where artists could not only show their work but come and create together. As a young painter and a student of English Literature, I was exploring the art and cultural scene of the then Bombay. The address for the 'anything happening' around art at the time was the Fort precinct in South Bombay. A cluster of renowned art galleries such as Jehangir Art Gallery, Pundole Art Gallery, Gallery Chemould, Chetna, and the Taj Art Gallery were the loci of the contemporary art scene. Besides gallery shows, annual exhibitions organised by institutions like Sir J.J. School of Arts, Artists' Centre and Art Society of India filled up the art calendar. Despite the dynamism, energy and artistic spirit of these venues, I realised there were not many spaces or platforms available for young, emerging artists. 
Cymroza was founded to create that space: to spark new ideas and create new possibilities for the yet-to-be-discovered artists. The vision was to create a community responsive to what was happening around in the world, and to nurture a spirit of collaboration to carry forward the modern sensibilities that characterised Bombay's cultural life of the 60s and 70s. Collaboration was the very foundation of Cymroza Art Gallery, and its core was moulded through endless conversations with the community that helped me create this space.

Top: Phiroze Shroff, Pheroza Shroff, Cyrus Shroff and Mitha Shroff pose against a B. Prabha painting at the inauguration of the Cymroza Art Gallery in October 1971. Bottom: Rock musicians like Rohinton 'Ronnie' Mistry performing at the gallery. Courtesy of the Cymroza Series, PJG Collection and the Godrej Archives
One of my most sacred collaborations was with the Bhulabhai Memorial Institute, right around the corner from the Gallery, on Warden Road that would also go on to become a hub for a creative community of artists, theatre performers and musicians. It was here that Ebrahim Alkazi ran his School of Dramatic Art and Ravi Shankar established his famous Kinnara School of Music. The Bombay Progressives Artists' Group and modernists such as V.S. Gaitonde, Dashrath Patel, M. F. Husain, Madhav Satwalekar and Prafulla Joshi set up their studios here as well. More often than not, on visits, we would hear Rati Mehta's piano recitals while walking past his studio. It indeed provided a stimulating atmosphere and collaborative spirit that every artist, and the city at large, thrived on. 
Energized and guided by the spectacular cross-pollination of various art forms brought in by the Bhulabhai Memorial Institute, Cymroza too soon emerged as a nerve centre of a diverse artistic community of painters, sculptors, graphic artists, musicians, theatre professionals, writers, poets and cultural enthusiasts — the list goes on. It became a space that wouldn't shy away from reinventing its role as a gallery and its purpose as one. We were open to art beyond painting and sculpture, from poetry recitals, performances of Hindustani classical, Western music and jazz, everything that led many to call ours a "kaleidoscopic approach of its times." 
"We were open to art beyond painting and sculpture, from poetry recitals, performances of Hindustani classical, Western music and jazz, everything that led many to call ours a 'kaleidoscopic approach of its times'"
Not just the masters of Indian classical music such as Zakir Hussain, Ravi Shankar, Brij Narayan, N. Rajam, the gigs at Cymroza also featured the likes of Ronnie Mistry, as the now novelist Rohinton Mistry was known in his previous life as a rock musician, Devika Khanna-Bhojwani and their contemporaries. We held screenings that included but were not restricted to art films and documentaries. Later, Cymroza's association with the Hi Youth Club steered by a group of young journalists and cultural activists including Rajika Kripalani, Kulamarva Balakrishna and Prabhakar Salian, resulted in sparking many conversations at Cymroza where art and activism found an equal space. As a newspaper then described Cymroza, we became "an important centre for interaction among artists working in different media and even different disciplines."
The community kept expanding as my interests extended in various directions. Cymroza always encouraged artists who had little support and opportunities to exhibit, including textile artists, ceramic sculptors, print-makers and photographers. We also paid attention that all this work was documented through our annual catalogues that encouraged contributions from art critics as well as art historians, that were then distributed to a wide community of visitors, collectors and art admirers.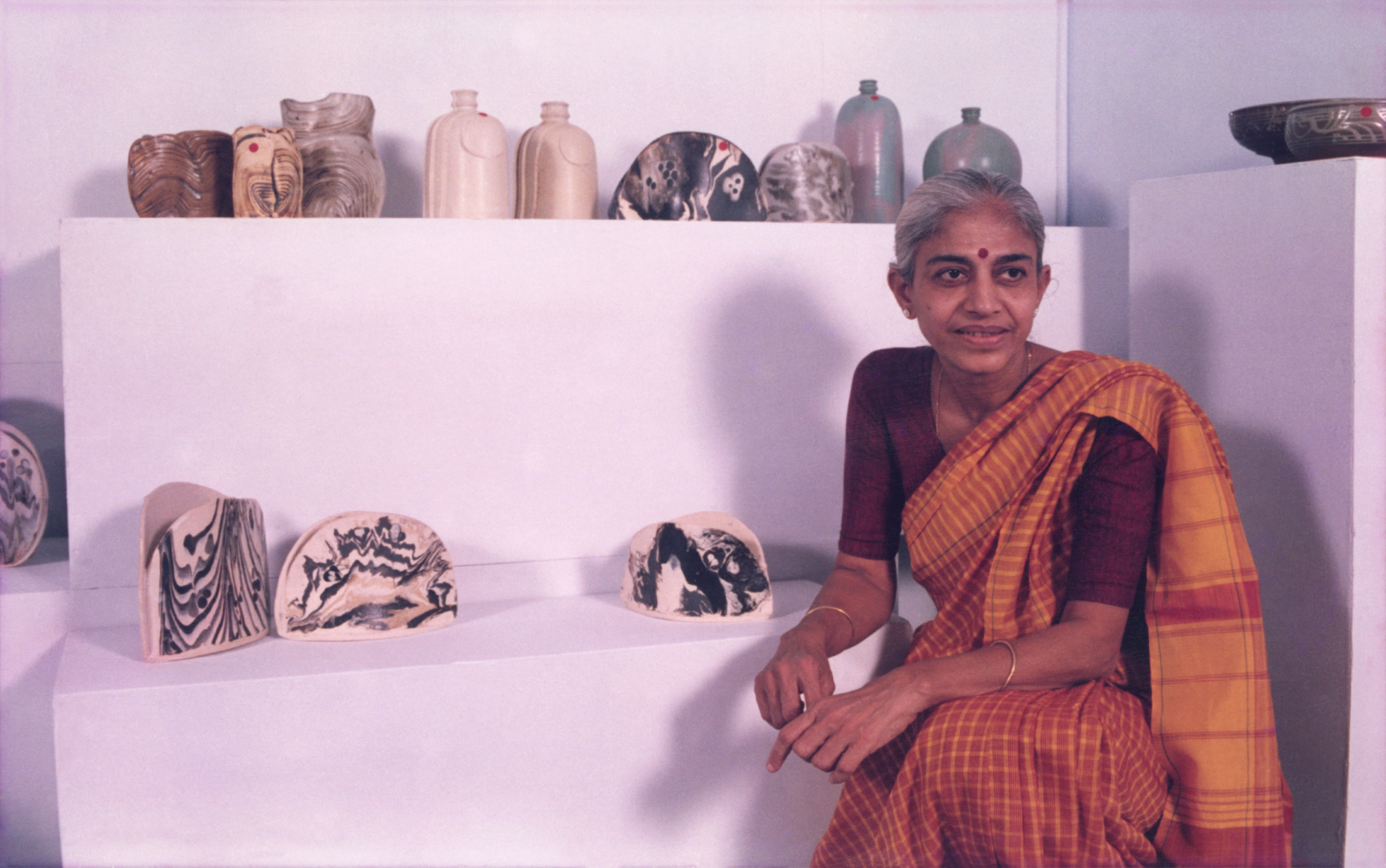 Top: Artists Anju Dodiya, Atul Dodiya, Sen Kapadia and Krishnamachari Bose at the gallery in 1983. Bottom: Artist Jyotsna Bhatt with her ceramic works at a show at Cymroza Art Gallery in 1993. Courtesy of the Godrej Archives
My own engagements with museums such as National Gallery of Modern Art and Chhatrapati Shivaji Maharaj Vastu Sangrahalaya, and my participation in drafting cultural policy, curatorial projects, research publications through these associations, encouraged Cymroza to move into a role where it acted as a conduit for the artistic energy of the city and the Indian nation. 
In the last fifty years, I am proud to see Cymroza grow as a space that relentlessly sparked conversations, ushered in new ideas and tapped bold possibilities for creating a culture around art that truly engages with the larger community. In turn, it has transformed all the lovers and makers of art that it brought together in the decades of its collaborative existence.
Cymroza Art Gallery was founded in Mumbai in 1971 by Dr. Pheroza J. Godrej. Cymroza@50, a constellation of three exhibitions held in 2021, celebrated the golden jubilee of Cymroza Art Gallery showing rare archival materials and special artworks from the Jamshyd and Pheroza Godrej Collection.