Marcel Dzama's singular aesthetic encompasses a range of artistic forms — while grounded in drawing, it extends to film, collage, sculpture, diorama, design and dance. Painted in burgundies, olives and deep browns, his intricate works are peopled with strange, dreamlike and oddly erotic beings. Through pop culture references, an omnivorous use of text, and recurring human and animal figures, Dzama creates worlds that are instantly recognisable yet have an alluring, mysterious quality.
His source material is everything
Marcel Dzama's style is playful and eclectic, owing to the range of sources that his work engages with. He is keen on art historical quotation, drawing on the work of artists such as Francisco Goya, Marcel Duchamp, Francis Picabia, and Hieronymus Bosch, as well as authors like William Blake and Federico García Lorca. He is also interested in the culture of childhood, and very frequently, 1920s cartoon characters like the original Betty Boop or Pinocchio appear in his work. Being a father is a huge influence in this respect; watching silent cartoons and reading sinister fairy tales during the quarantine inspired him to make a colouring book – Colouring the Moon Pink – for his son.
In 2015, Dzama also started producing zines in collaboration with artist Raymond Pettibon. The zine project was sparked by how two artists would go out for dinner with both of their four-year old sons and draw together on menus, napkins and tablecloths. They started to fill up small publications with the same energy and enthusiasm, taking politics as their subject. It takes a particularly agile mind like Dzama's to bring these disparate influences together with such wonder and creativity.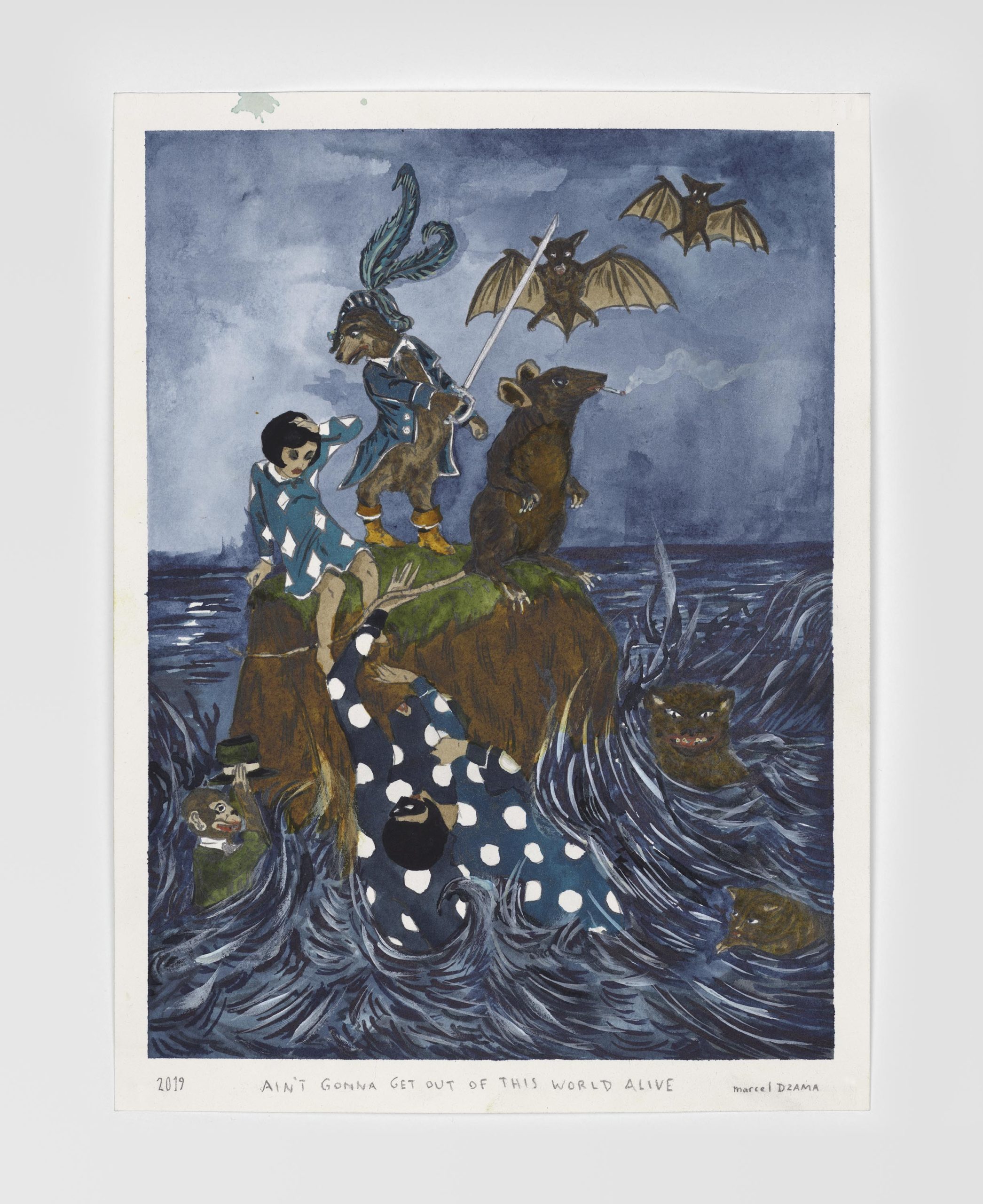 Marcel Dzama. Ain't gonna get out of this world alive, 2019. Courtesy the artist and David Zwirner
His work has been used extensively in popular culture
 The popularity of Dzama's artwork isn't difficult to understand. His hybrid creatures, imaginary worlds, and fanciful visual language have been widely enjoyed for their humour and playfulness. His work has been used on the covers of numerous North American record albums, including The Else by They Might Be Giants, Guero by Beck, and Reconstruction Site by The Weakerthans.
The adaptability of his work to the musical genre goes further than just album art. His costume designs can be seen in the music videos for Bob Dylan's When the Deal Goes Down, N.A.S.A.'s The People Tree, and No One Does It Like You by the Department of Eagles. The musical score for Dzama's film Une danse des bouffons or The Jesters' Dance was written and recorded by the band Arcade Fire's Will Butler, Jeremy Gara and Tim Kingsbury, who also collaborated with the artist on a 7-inch vinyl record. Championed by author Dave Eggers and filmmaker Spike Jonze, and collected by Hollywood stars like Brad Pitt, Jim Carrey, Gus Van Sant and Nicolas Cage, Dzama has become a cult figure of sorts. 
Marcel Dzama painting a wall-sized mural and signing limited-edition zines as part of his debut at India Art Fair, 2020 © India Art Fair
He has designed costumes for the New York City Ballet 
When Justin Peck, the New York City Ballet's resident choreographer, came across a video of Dzama's surreal drama Une danse des bouffons at David Zwirner Gallery in 2014, he quickly got in touch with the artist to invite him to collaborate. Dzama was the perfect partner; his fondness for storytelling, his fantastical aesthetic, and the presence of dance in his work gave him the creative edge that the ballet was looking for. The two decided to bring The Most Incredible Thing by Hans Christian Andersen to the stage—a dark and unusual story about a king who offers up half his kingdom and his daughter's hand in marriage to anyone who can show him the "most incredible thing" in the world. 
Dzama got to work on creating strange and surreal costume designs for the show. His drawings leap and pirouette off the page; a cuckoo bird in ochre and carmine, a sinister jester, the seven deadly sins, a grasshopper, and a chess-piece queen are all part of his ensemble. Visually, his costumes draw from a range of influences. The inspiration he takes from Oskar Schlemmer's 1922 Bauhaus masterpiece Das Triadisches Ballett—an avant-garde ballet performance based around extravagant costumes that restricted the dancers' movements—is apparent, as is his nod to Marcel Duchamp's fascination with chess. Dzama also designed some of the backdrops and scenery for the ballet, making this one of his most ambitious projects to date.
Performance of The Most Incredible Thing at the New York City Ballet, 2016. Courtesy of David Zwirner
Born in 1974 in Winnipeg, Canada, Marcel Dzama lives and works in Brooklyn, New York. His colouring book, Colouring the Moon Pink, made in collaboration with his son for an exhibition at David Zwirner can be found here.