Noa Eshkol was born in 1924 to Russian-Jewish parents in Israel. An artist unlike no other, she experimented with music, dance and textile art and was deeply committed to research and teaching. The students that joined her when she founded her dance group stayed with her for decades, becoming some of her closest friends and collaborators.
She was a dancer, choreographer and educator
Noa Eshkol was immersed in the world of music and dance from her childhood, and found her lifelong passion at an artistic dance school in Tel Aviv, where she encountered the work of Austro-Hungarian dance artist Rudolf von Laban. It was his method of recording human motion on paper, 'Labanotation' that sparked her curiosity, an interest she continued to pursue throughout her life. 
Eshkol quickly made a name for herself after she founded the Chamber Dance Group in 1954, a pioneering school of artistic dance that was performed with no music and only to the sound of the metronome; with no stage design and an emphasis on pure movement of the human body. With this Group and her close collaborator Avraham Wachman, Eshkol developed her own movement notation system — the 'Eshkol Wachman Movement Notation' — with which she devised unique performances. To her, the system was a tool for deep observation, one that she used to give her students new insight into the complex phenomenon of human movement.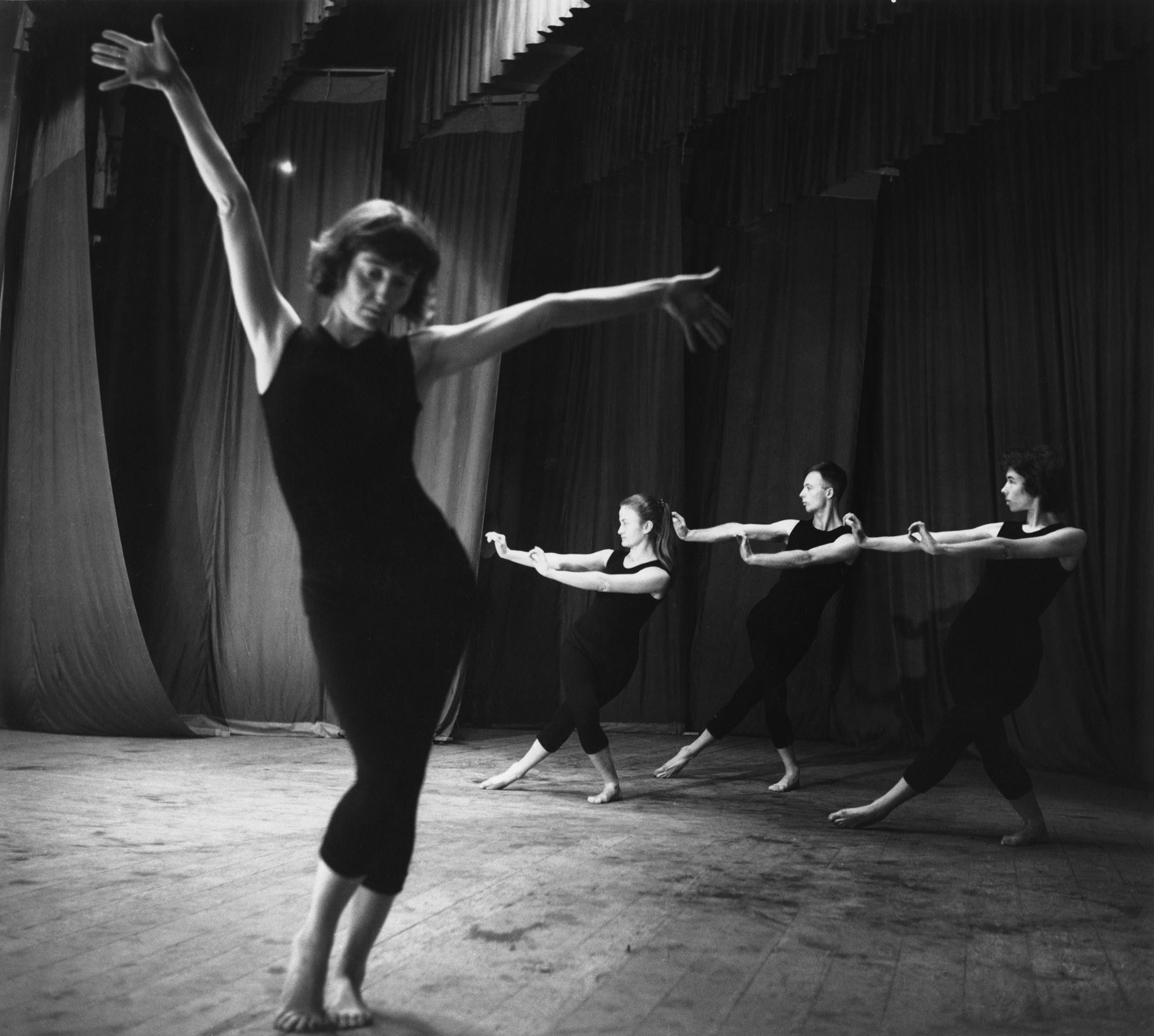 Noa Eshkol performing Promenade with her dancers in Tel Aviv, Israel in 1954-55. Courtesy of The Noa Eshkol Foundation for Movement Notation in Holon, Israel
She made vibrant wall carpets out of found fabrics
In 1973, with the onset of the devastating Yom Kippur War between Israel and a coalition of Arab countries, the Chamber Dance Group was unable to perform. As an artist in search of a new medium of expression and creativity, Eshkol started using discarded fabrics, as if they were paint, to create textile artworks or 'wall carpets', for which she is now best known. 
Working on the floor of her studio at home, she would piece together scraps of fabric collected from around her neighbourhood and pin them onto larger swatches of discarded curtains, blankets or bedspreads. Made only of these found elements without a single fragment ever being cut, she would work with her students to sew the pinned compositions.
The works were sometimes figurative with floral and botanical elements and sometimes more abstract, evoking stilled top-down views of her dancers. Eshkol produced about 750 wall carpets over the course of the 35 years till her passing, making 3 to 4 works a week at the height of her career. 

Left to Right: Noa Eshkol at work in her studio creating one of her wall carpets; Tree of Paradise, 1980, wool, cotton and silk cellulose, 275 x 210 cm; The Strange Carpet, 1990, cotton, 205 x 140 cm. Courtesy of The Noa Eshkol Foundation for Movement Notation, Holon, Israel, and neugerriemschneider, Berlin
Her work has gained widespread recognition in recent years
Noa Eshkol initially did not set out to present her wall carpets publicly, creating them out of "an entirely personal urge to make something." In fact, she participated in her first solo exhibition at the Tel Aviv Museum of Art only in 1978 and while her work did gain some recognition in Israel after she started exhibiting, widespread international acclaim only came after her death in 2007. 
This acclaim was in large part due to the engagement of American artist Sharon Lockhart with Eshkol's legacy, who began presenting Eshkol's dance scores and wall carpets together — practices that the artist had kept separate during her lifetime. Workshops and presentations of Eshkol's choreography set against her wall carpets in venues like the Dia Art Foundation in New York, the LACMA in Los Angeles and The Israel Museum in Jerusalem quickly led to Noa Eshkol becoming a recognisable name in the international art world, along with a revival of her movement notation among dance and choreography circles.
Today, her work remains some of the most uniquely collaborative and multidisciplinary in its nature, inspiring us to look at art in new ways.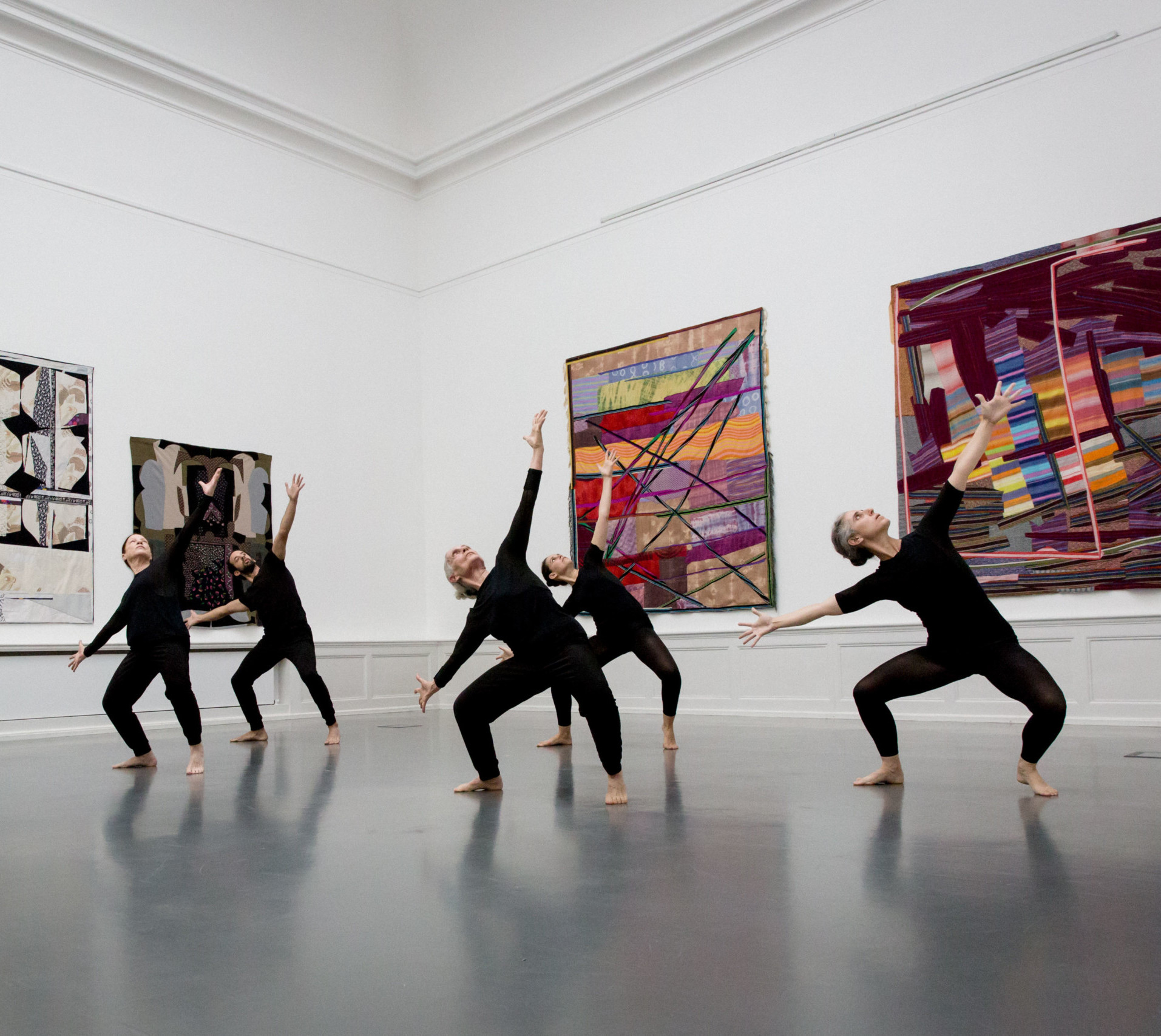 A performance by The Noa Eshkol Chamber Dance Group at an exhibition opening at Kunstverein, Karlsruhe, Noa Eshkol: Angles & Angels, 2016. Courtesy of The Noa Eshkol Foundation for Movement Notation, Holon, Israel, and neugerriemschneider, Berlin
The artist Noa Eshkol passed away in Holon, Israel in 2007. A selection of her wall carpets will be shown by neugerriemschneider in India for the first time at India Art Fair 2022.