Artist Haroun Hayward creates rhythms with oil paints, sticks, scalpels and brushes on wooden panels. His large panels are often sectioned into richly coloured abstract forms, reflective of his multicultural background and experience. The forms repeat within and across his paintings, creating visual patterns for us to follow, as if we were listening to music.
Each morning, he wakes up, makes his coffee, goes out for a run before starting work in the studio where he spends most of his day. "The advantage of working from my home studio is that I can be at work seconds after having a thought," he tells us. Stacks of books on topics from Japanese Graphic Art to Raphael and an expanding collection of textiles from around the world fill the space.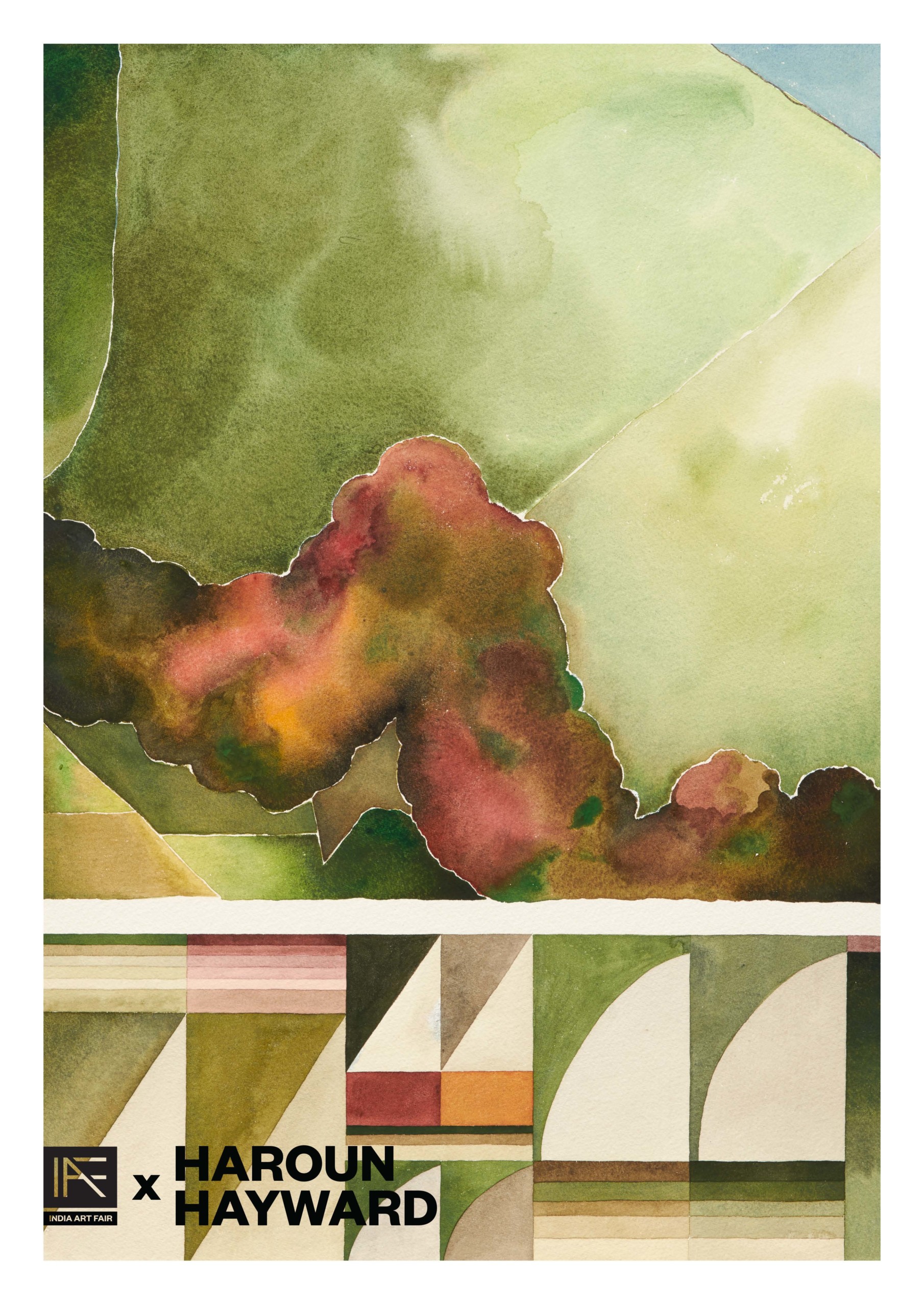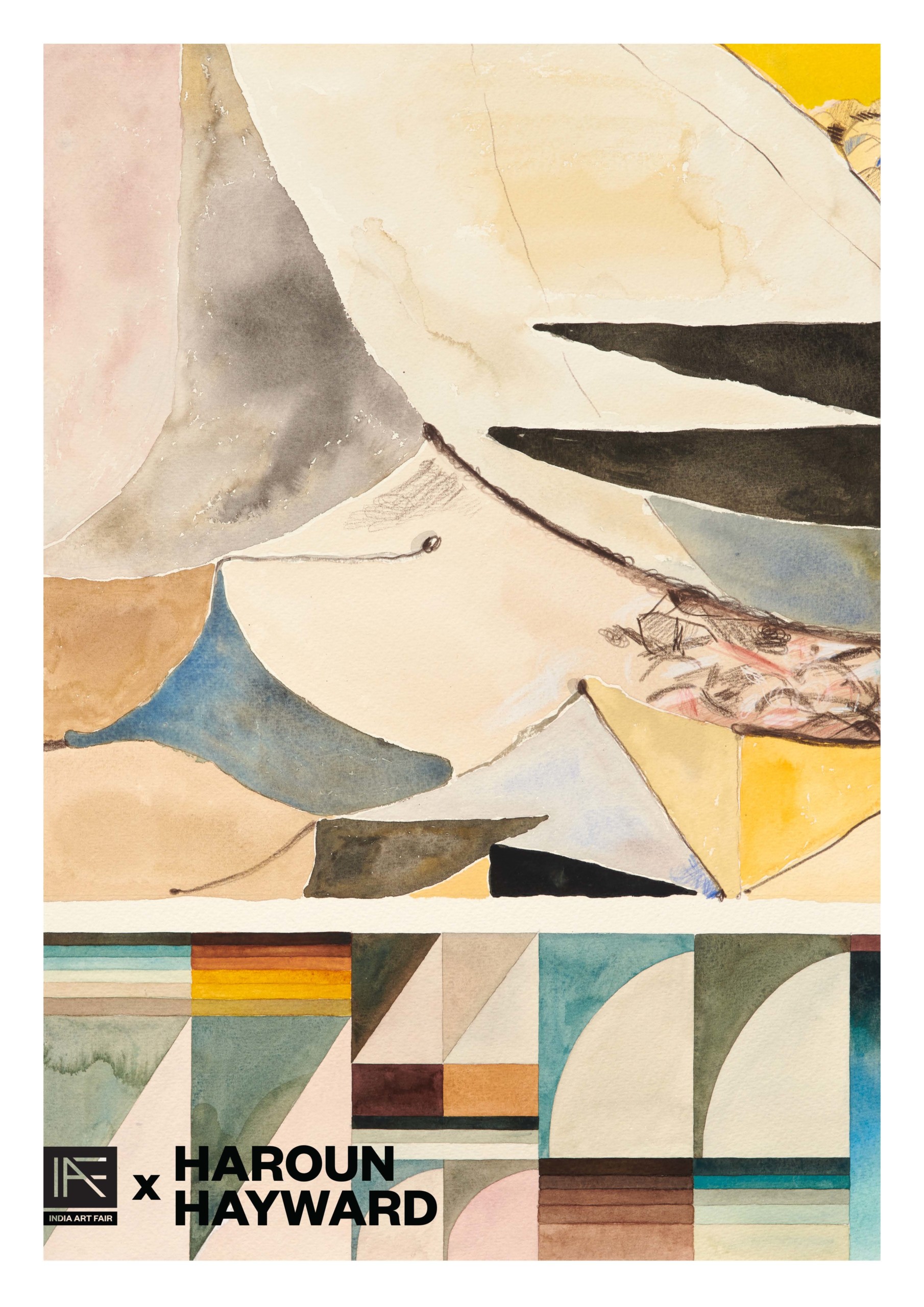 Born to a Pakistani mother and a father from England, Hayward grew up in Haringey, North London, and now lives and works in Hackney in the Eastern part of the city. Describing life in London, he says, "The city is a melting pot. I grew up with friends from all different backgrounds. A lot of people are being squeezed out now, but I think London is still very plural and retains its underground character." Hayward finds equal inspiration in places such as the Victoria & Albert Museum, one of his favourite places to see art in London. "It's always exciting!," he tells us. "From Chinese lacquered tables and chairs to Mughal miniatures, you walk in there and find something new each time. It's such a hodge podge."
"It felt dishonest to not bring the plurality into my work," he says, explaining how his diverse environment made its way to his art. "Being mixed-race and growing up in London, amalgamation is all there was, and all there continues to be. In life and in art, I have been a bit of a magpie, taking a bit of this and that."
"Being mixed-race and growing up in London, amalgamation is all there was, and all there continues to be. In life and in art, I have been a bit of a magpie, taking a bit of this and that."
Among the influences that attracted the artist ever since his childhood were his mother's large collection of Indo-Persian textiles. His parents also introduced him to painters like Edward Burra and post-war British painters like Paul Nash and Graham Sutherland. Later, the discovery of techno producers from Detroit like Model 500 and Kevin Saunderson, and British house musicians like A Guy Called Gerald added a second register of influences that Hayward continues to draw upon. "In the visual world, there is an image that repeats, and in the techno world, there is a sound pattern that repeats," he tells us, drawing a link between his inspirations.
For Hayward, art is a source of meditative joy. "A few years ago, I had an idea of scratching into wood with paint on it, and since then the technique has been a part of my paintings," Hayward tells us, explaining his unique treatment of oil paints. Hours of slow and repeated application of paint on panels while listening to classical music "creates a sense of spirituality" not just for him, but in the work itself. With the subtle scratches on the paint, he creates harmonious "scores" on canvas, creating a visual effect reminiscent of patchwork fabric, collage and embroidery.
The artist favours instinct over art school intellectualism. "Allowing the process to take over is what is most successful," he says, "I want to make something that makes me happy and brings happiness to the people who view them. I find this to be a very powerful idea."
Haroun Hayward lives and works in London. His works will be shown by Galerie Isa at India Art Fair 2022. Download his special artist poster featuring new experiments in water-colours and an interpretation of landscape painting.