Where do you work? 
My studio is in an area called Stoke Newington in Northeast London. I live 10 minutes away from there in Islington. I share this space with my partner Annie Morris, who is also an artist. 
What inspires you?
My wife Annie, my kids Jago and Maude, and my late mother Cheryl have been the biggest inspirations in my life. I am also drawn to classical music and have used music scores by Beethoven, Schubert, and Chopin in some of my earlier works. Reading literature, especially poems by Philip Larkin and T.S. Eliot, is something I really enjoy.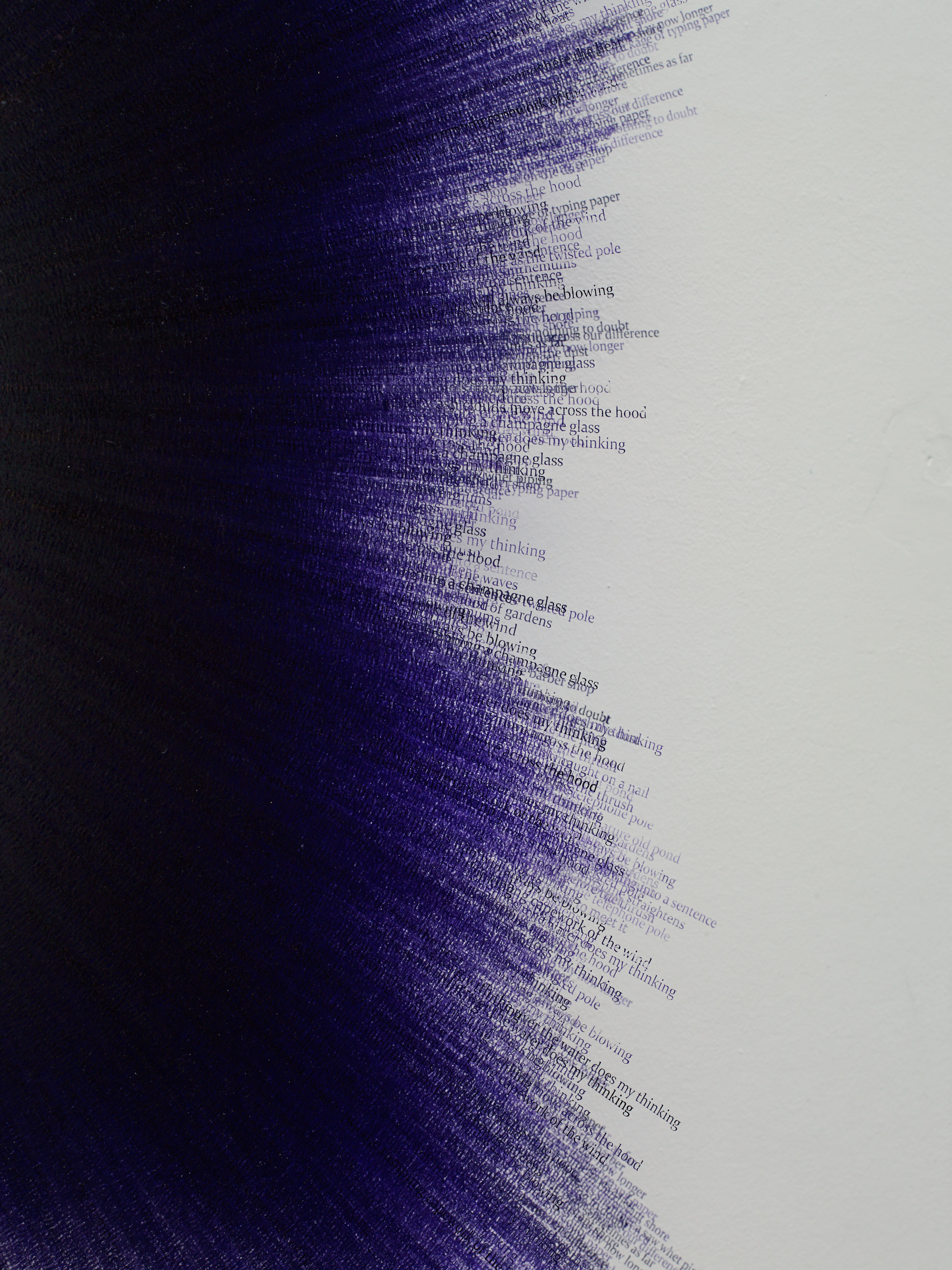 Idris-Khan. Nothing to Believe, Nothing to Doubt, 2018. 3 glass sheets stamped with purple oil based ink aluminium rubber. Courtesy of the artist and Victoria Miro Gallery
What was your most recent exhibition?
My most recent exhibition of work was a commission for the British Museum's new Albukhary Gallery, dedicated to Islamic art from around the world. I produced a series of 21 paintings inspired by a ritual that takes place during the annual Hajj pilgrimage, where pilgrims throw stones at a single wall that represents the original three pillars of the Jamarat. I wanted to recreate this moment of the stones hitting the wall, with the pilgrims' words and prayers exploding into a physical language. It was quite a meditative process for me. I hope that the viewers enjoy it.
Which artists influence your practice? 
I really admire people who dedicate their life to aesthetics. Some of my favourite artists are Agnes Martin, Cy Twombly and Mark Rothko. Raqib Shaw, a great friend of mine, is another incredible artist. I am also fond of photographers like Hiroshi Sugimoto and Bernd and Hilla Becher. 
Where do you go to see art? 
Living in London, we are spoilt for choice in terms of the museums and galleries. I love going to the National Gallery, the Royal Academy of Arts, Tate Modern and the Serpentine Gallery. I am also very fortunate to have had the opportunity to travel around the world and see some of the best museums and private collections. One of my favourites is The Louisiana Museum of Modern Art, located on the outskirts of Copenhagen.
Idris Khan was born in 1978 in Birmingham and currently lives and works in London. He is represented by Galerie Isa in India and has been showcased at India Art Fair in previous editions.