A short rickshaw ride from Bolpur station and you are in the tranquility of Rabindranath Tagore's Shantiniketan. Here, time stands still and the landscape is unmistakably that of Nandalal Bose, Binod Behari Mukherjee, Ramkinker Baij, covered in trees, gently flowing canals and of course, the Santhals.
This was my place of pilgrimage, twice or sometimes thrice a year since 1985. In anticipation and with a quickening of the pulse, one would board the train in Howrah, Kolkata. We sped away from the city, into thick bamboo groves and the baul singing his songs of celestial love and longing. A mood of religiosity begins to set in.
First stop is the venerable Somnath Da's studio. With some cajoling, he would bring out his bronze sculptures crafted with so much love and angst, his white-on-white paper 'wounds' and early etchings. In his gentle rasping voice, I would hear words of wisdom, talk about his failing health and the state of the humanity.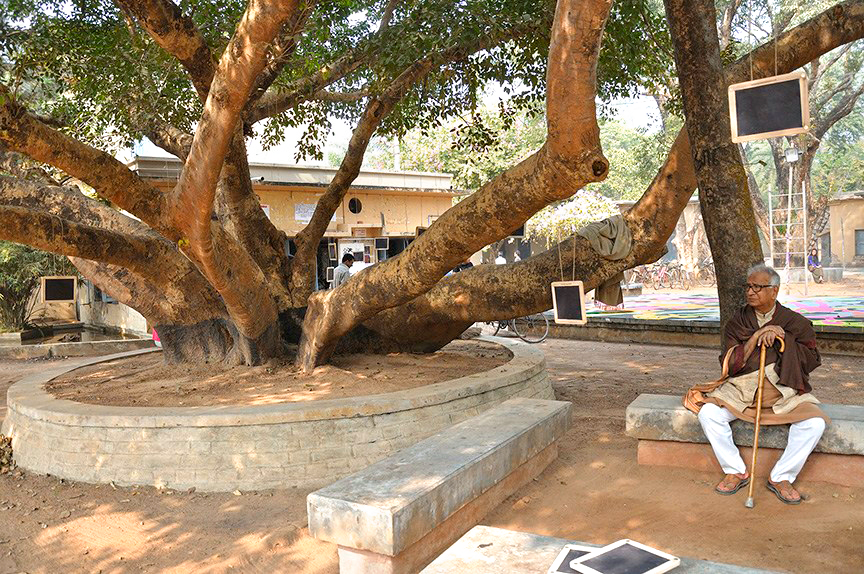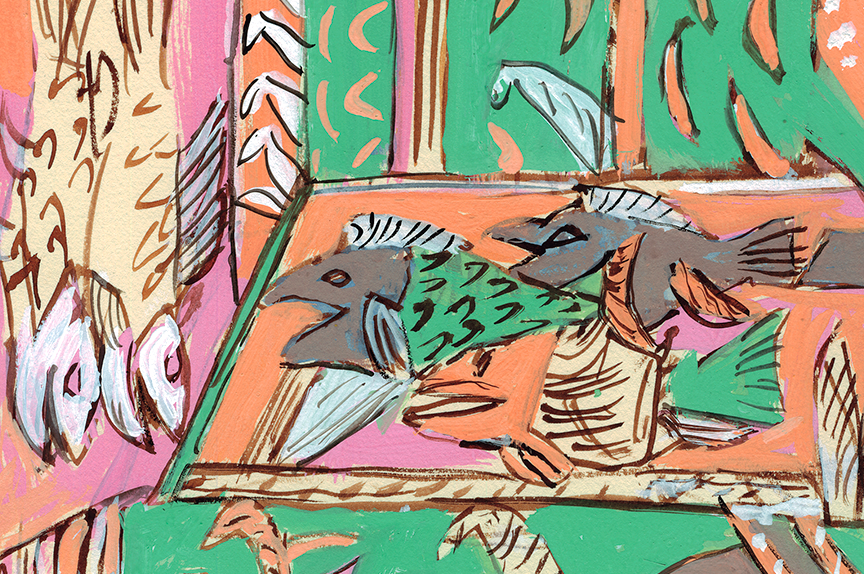 Artist and teacher K.G. Subramanyan spent more than a decade of his late career in Shantiniketan, where he produced a prolific body of work including murals, paintings, toys and textiles. Images courtesy of Sakshi Gallery and Asia Art Archive
Fish is being sold on the pavement. Alley cats wait in anticipation of morsels. Nearby, a rooster awaits his fate, and the meat seller sharpens his knife keeping an eye on his goat. There's a sense of déjà vu…. I realise we have seen it all in K.G. Subramanyan's paintings! We spend an hour with the artist himself, whom we know and love as Mani Da, and his wife Susheela ji over lunch and local gossip. And yes, we plan a solo exhibition.
On an earlier visit, I had seen Mani Da on the scaffolding in Kala Bhavan, painting the famous black and white mural on the walls of the Design Department building — what a vision! Decades later in 2011, I would relive the experience when he refreshed and repainted the same mural.
I spend a few hours in the classrooms seeing the work of students and visiting artists in their studios. As always, there is time to visit the Tagore Museum to pay homage to the Nobel laureate and his legacy. I renew contact with the fabulous mural by Binod Bihari Mukherjee which decorated the ceiling of the hostel dormitory. And later, as dusk falls, we roam the campus in search of Ram Kinker Baij's iconic modern sculpture Santhal Family and other treasures.
Soon, the sun sets and the mosquitoes begin their drone, as if inspired by Rabindra Sangeet! It is time to head back to the station.
Founded in 1863 by Rabindranath Tagore, Shantiniketan is one of India's most prestigious universities dedicated to art and literature. The artists mentioned in this essay — Somnath Hore, K.G. Subramanyan, Binod Bihari Mukherjee and Ramkinker Baij — all studied, lived or taught at Shantiniketan.