After graduating from the University of Baroda with a degree in Applied Arts, Serigraphy and Photography, I relocated to Ahmedabad as a graphic artist for an advertising firm. Ahmedabad was, and continues to be, India's design capital, home to the National Institute of Design and a dynamic art scene that attracts a host of creatives from designers to architects. While working at the firm, I decided to start Archer, a design studio, where I made my own serigraphs, silk screen prints, that I exhibited around the country. This studio became the centre of my life, the place where some of my most significant friendships blossomed.
I had some difficulties with Archer in the beginning with serigraphy not being a widely recognised artistic medium at the time and so I started working on commercial jobs for clients ranging from Reliance to Amul and the Institute of Rural Management who required screen printing. This move made Archer an overnight success and in 1988 architect B.V. Doshi came to the studio to get his serigraphs printed and was thrilled with the results. Later, in the early 1990s, he introduced me to the great M.F. Husain, who visited the studio to create a large serigraph while on a visit to Ahmedabad to work with Doshi on the now famous underground art gallery, Amdavad ni Gufa.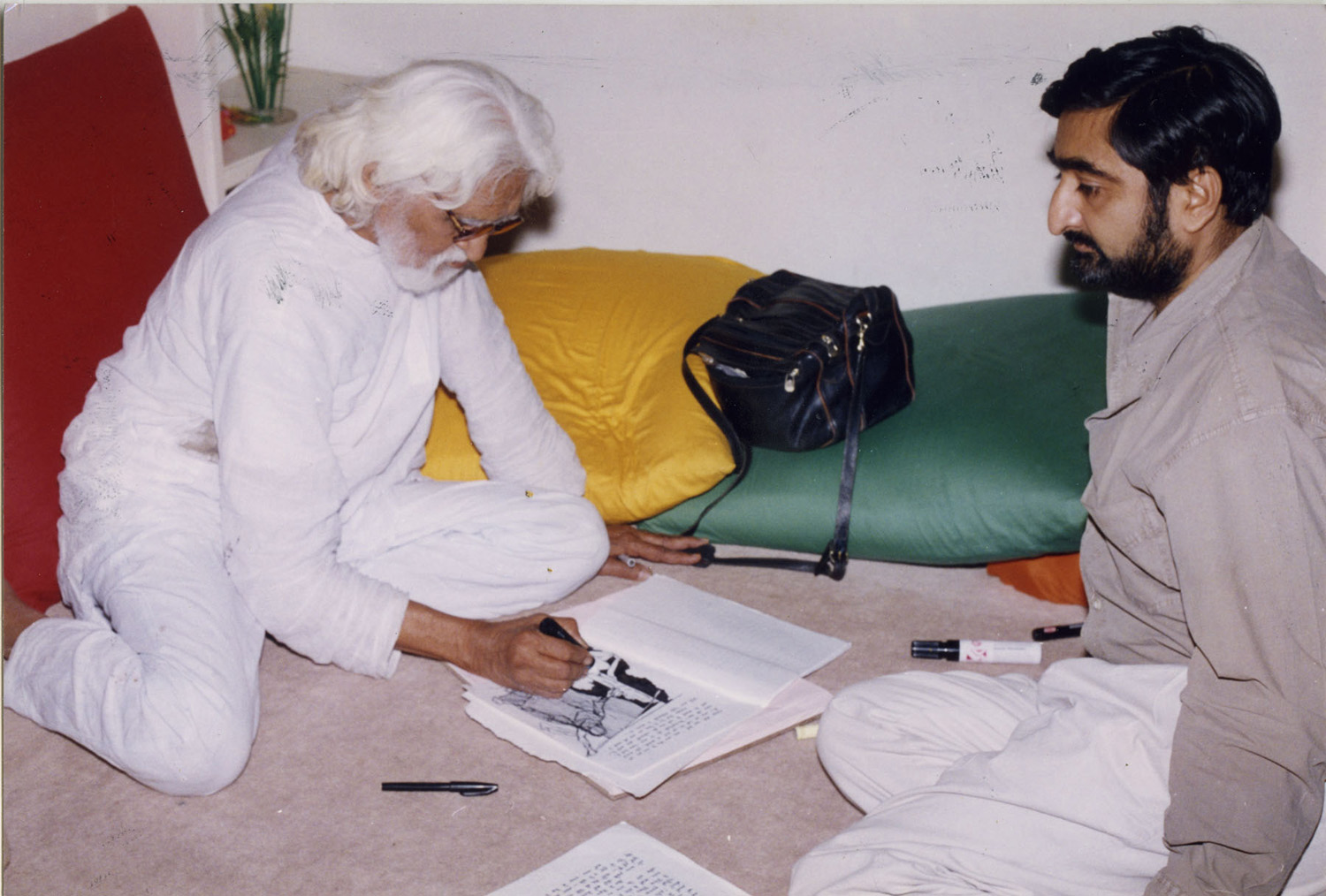 M.F. Husain and Anil Relia maintained a lifelong friendship even since their first meeting in the 1990s. Courtesy of Archer Art Gallery
Husain was highly impressed with my passion, dedication and quality of work. And thus began a journey of collaboration and co-creation which lasted years. My first project with him was on the series of serigraphs titled Yeh Kaun sa Mod Hai Umar ka, themed around a song of the same name in the Bollywood film Hum Aapke Hai Kaun, starring actress and Husain's muse of the time, Madhuri Dixit. It was part of his effort to make art available to all using the reach of cinema and the medium of printing. He wanted the serigraphs to have a silver background representing the silver screen and to be exhibited simultaneously in up to 50 Indian cities during the release and screening of the movie. In many of the smaller cities that did not have galleries, the prints were displayed in poster boxes outside the theatres. Art had found a way to the common man's abode.
Seeing my commitment to art and this medium, Husain insisted that I should invite other artists to my studio. He introduced me to many of them from all around the country and I started working with the likes of S.H. Raza from Bombay, Jogen Chowdhury from Calcutta, Manjit Bawa from Delhi, Bhupen Khakhar from Baroda and Thota Vaikuntam who came all the way from his native village in Andhra Pradesh. Even teachers like K.G. Subramanyan and Jyoti Bhatt from my alma mater would come to Ahmedabad to work in my studio. Most of the artists who visited my studio ended up staying at my home which resulted in lasting friendships, conversations, connections, mutual trust and bonds that made us feel like we were one big family.
"My house became a hub for artists and my house became their canvas — not just the studio, our relationships spilled over to the kitchen, my routine and my family."
As a studio, we did a lot of technical experimentation in the serigraphs to make the prints as artistic as possible. For example, for Haku Shah's last series on Gandhi, we used handmade khadi paper with deckled edges. In another experiment, we created reverse printed serigraphs on acrylic to authentically represent artist Madhvi Parekh's style of painting. The personal relationships that I had nurtured with the artists had made me sensitive to their style, work and approach. If an artist used transparent colour, then we developed translucent ink in the prints to remain as faithful to the artists' style as far as possible. If the desired colour quality was more opaque, then we made thick depositions of ink to achieve the desired effect. The harmony and rhythm we achieved between an artist's work and translated to the serigraph made the prints invaluable yet affordable. Now, an individual could enjoy the serigraph as much as they would have enjoyed the original work.
My house became a hub for artists and my house became their canvas. Not just the studio, our relationships spilled over to the kitchen, my routine and my family. My wife Tanuja's Surti Kadhi, a Gujarati yoghurt-based curry, became a favourite of the great modernist K.G. Subramanyan who was my teacher at the University of Baroda. I had not talked to him as much in the five years I was his student, as I did when we worked together in the studio. He would call my wife on his way to Ahmedabad to request his favourite dish — and his arrival made the ordinary Kadhi a special delicacy in our home.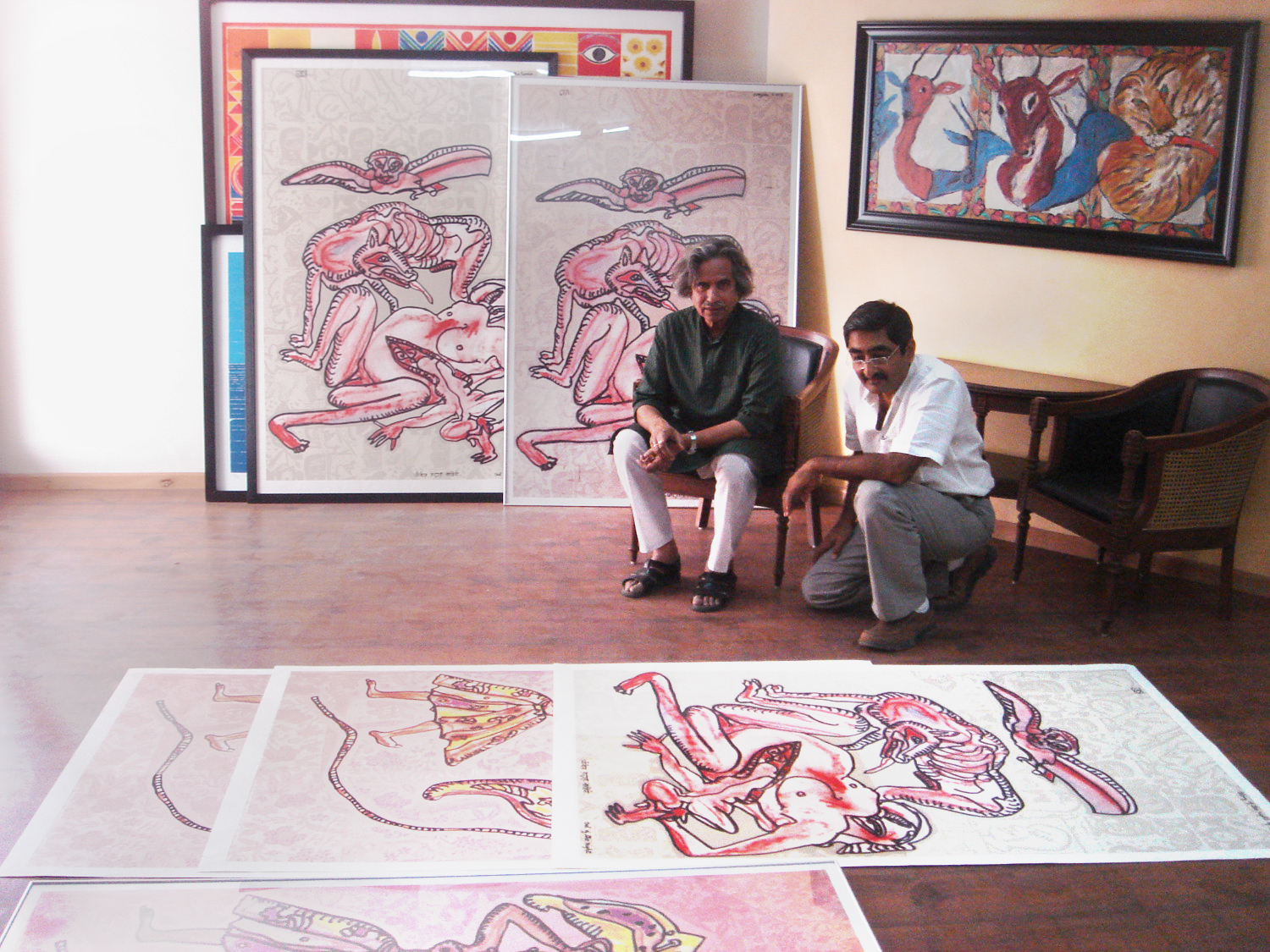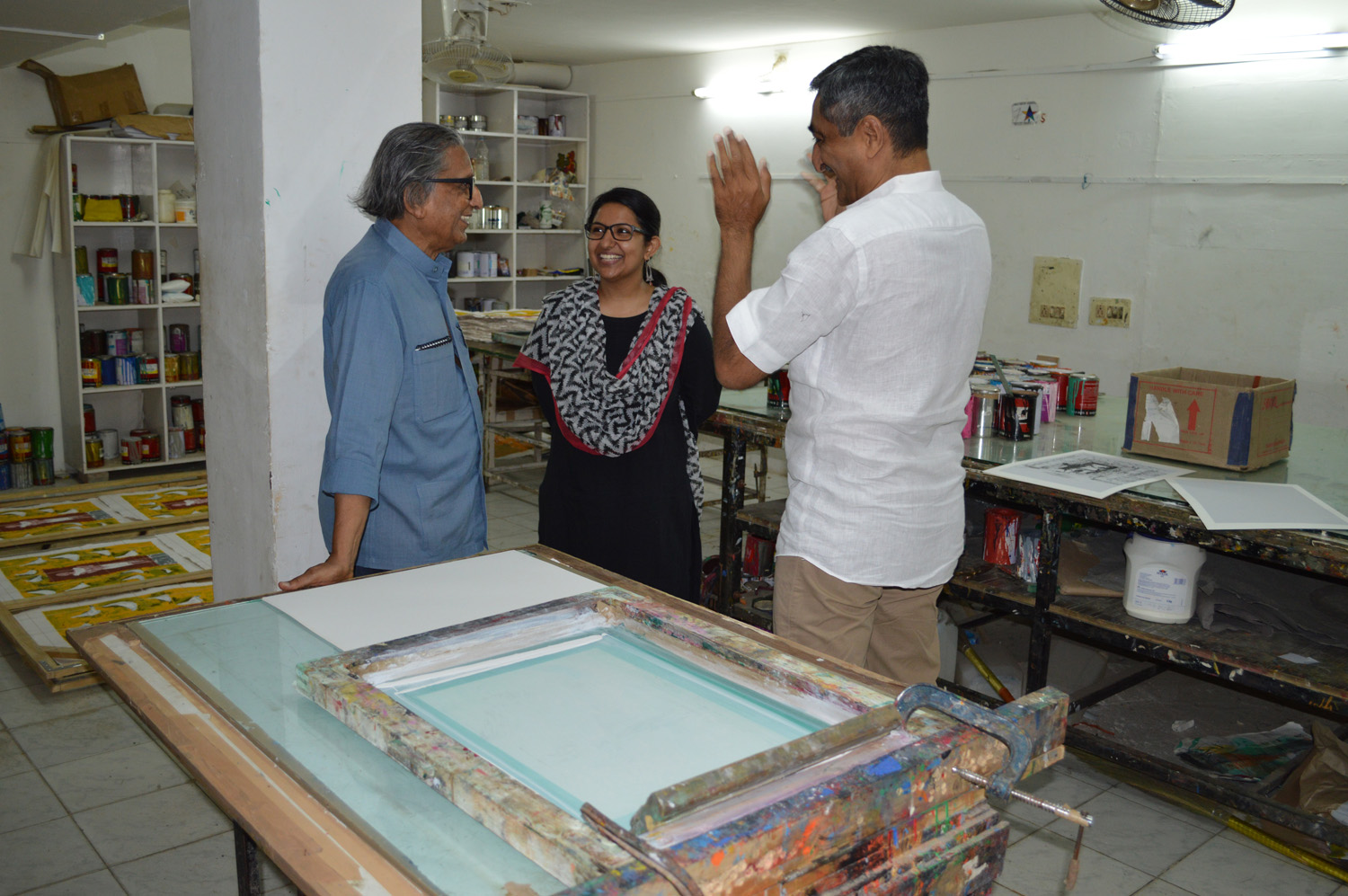 Located in Navrangpura in Ahmedabad, Archer Art Gallery became a hub for artists who wanted to explore screen printing techniques, with those like B.V.Doshi (top image), Jogen Chowdhary (middle image) and Jyoti Bhatt (bottom image) making frequent visits to the studio. Courtesy of Archer Art Gallery
I remember a conversation between Jogen Chowdhury, Manu Parekh, Amit Ambalal and Bhupen Kakkar about food, which ended with Jogen making Bengali-style brinjal in mustard oil for all of us. It was not just food, we shared many other memories together. Jyoti Bhatt bought new tennis shoes to accompany me on my morning walks when he came to Ahmedabad. Manu Parekh bought a house in Ahmedabad and would frequently visit my studio. I still remember Raza crying sitting inside Hriday Kunj, Gandhi's home in Sabarmati Ashram when we visited the Ashram together.
Our collective experiences of finding joy in the seemingly mundane things, like cooking, eating and walking, that we would otherwise take for granted became the highlights of these visits. The boundaries of professional and personal merged and spilled into one another at the studio. Serigraphy connected me to a rich plethora of artists who became not only my collaborators but also my family.
Founded by Anil Relia in 1978, Archer Art Gallery in Ahmedabad has shown serigraph prints by the leading modernists in the country and continues to exclusively deal in archival quality limited-edition prints with the aim of making fine art more accessible.