In recounting wonderful friendships, I want to share one that was particularly special: between my mother Khorshed Gandhy and the great Indian modernist, S.H. Raza. The relationship between my parents and Raza dates back to the 40s when he would show his work at the Chemould Framing shop, my father Kekoo Gandhy's first venture into art, as a young mentee of Walter Langhammer, an Austrian artist who lived in Bombay and inspired many of the Bombay Progressives. But it was only in the late 60s when Raza had firmly created his base in Paris and married Janine Mongillat, his incredible artist wife that a lifelong relationship between my parents, Raza and Janine was established.
Letters become testimony to what existed, and among the memorabilia at the Chemould archives has been the endless letters that were exchanged between my mother Khorshed and Raza. It should be said that they were both ardent communicators. My mother's letter writing skills are legendary and her ability to keep her friends and family abreast of goings on has left an indelible mark of occurrences from the time. Raza on the other hand wrote about his process, what he had recently completed and often went into deep explanations of the philosophy of his work. The letters are an incredible exchange of friendship and communication between an artist and his gallerist.

Letters from S.H. Raza to Khorshed Gandhy, Kekoo Gandhy and Shireen Gandhy between 1987 to 1989. Courtesy of Chemould Prescott Road
Mother had put herself into a new role. She had 3 children (minus one – me!) and felt capable of taking on the role of heading the gallery my father was offered to run. She had a natural ability to lead, her administration skills for someone that had only run a home were surprisingly good, and her eye for good art was on its way to becoming cultivated.
In all of this, a symbiotic, empathetic relationship developed between a gallerist and her artists. It was right around the time when galleries were becoming the gateway for an artist, and artists were acting as the listeners and advisors within that stable. In all certainty, Raza became that for my mother.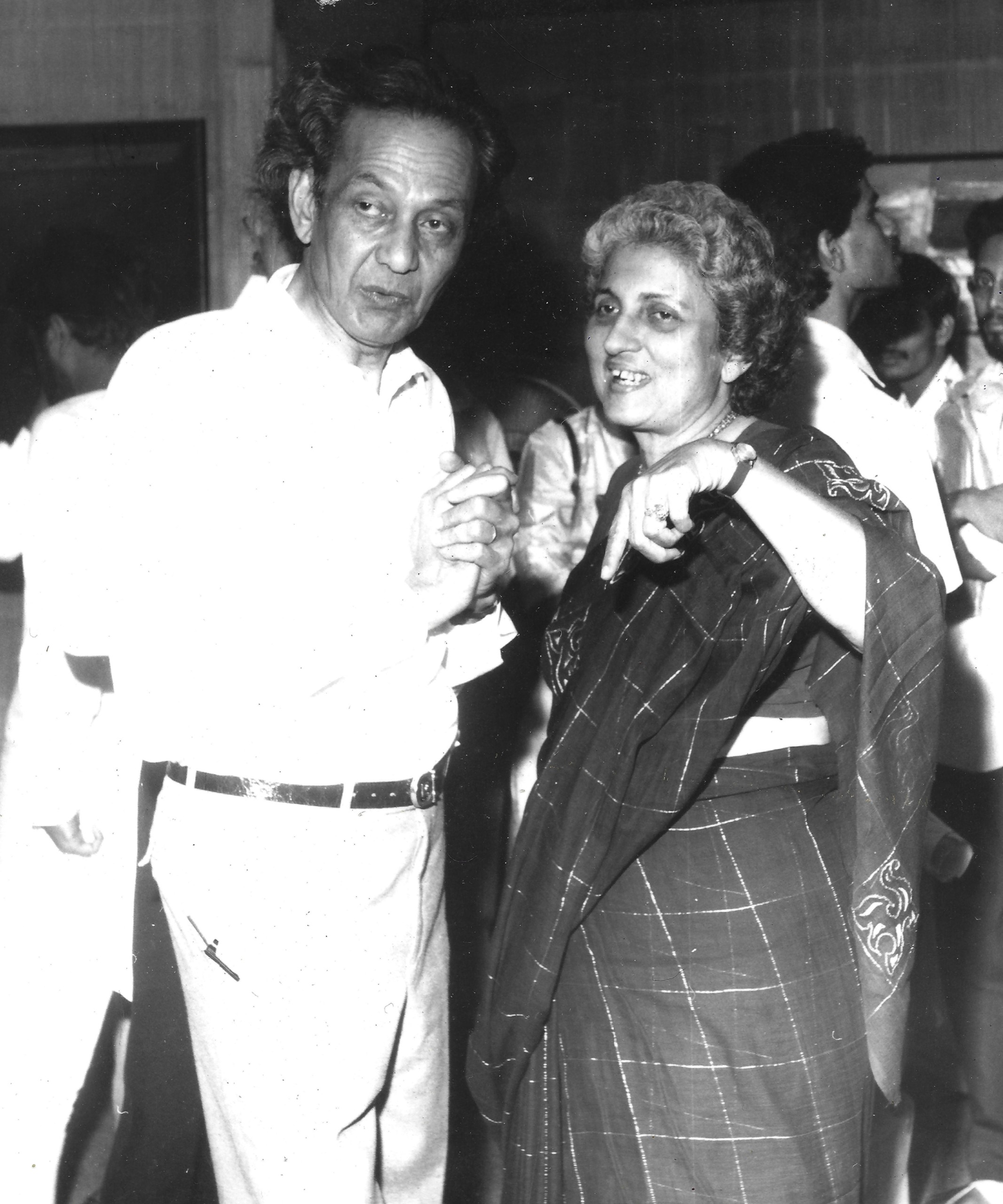 S.H. Raza and Khorshed Gandhy at the gallery. Courtesy of Chemould Prescott Road
If she became his manager, his coordinator, his banker, and of course, his gallerist for several years while he lived in Paris, Raza became the ear that she trusted the most. He would help her plan landmark exhibitions in those days when curators did not have a marked role in the Indian arts scene. He would introduce her to artists, draw in collectors to the gallery and most of all, be a firm critic of the artists that the gallery showed. His opinion counted hugely for my parents and his keen artist's eye often guided them.
As the years rolled by, their relationship went beyond the professional. In the mid-70s, Raza lived at our home for six months, holidayed with my parents in their most sacred holiday home in the nearby hill station of Matheran, and even made a painting by that name. Likewise, the extended Gandhy clan became early visitors to his studio in Gorbio in the south of France, creating a firm bond between the Razas and the Gandhys. To me, a youngster growing up surrounded by artist friends, Raza who was well into his fifties, became my guiding light. I would stay at his home in Paris and be introduced to Parisian museums and galleries through his eyes. I do believe those early days were the beginnings of my love for all things art!

S.H. Raza. Untitled (Matheran), 1975. Courtesy of Chemould Prescott Road
Chemould Prescott Road opened in Mumbai in 1963 and has been a pioneering gallery and platform for Indian modern art, championing artists such as S.H. Raza, whose first solo exhibition at the gallery was in 1968.