We work out of our studio in Gurugram which is an hour's drive away from New Delhi. It is a huge, bright space that allows us to produce paintings, sculptures and installations on a grand scale.
It is our second home. When we are not travelling, we spend most of our time in the studio with members of our team, many of whom have been with us for over a decade.
Our team includes former sign painters and screen printers. They ran out of jobs when vinyl printing took over in the 1980s. We work collaboratively with them; their inputs are essential to our creative process.
We work in absolute silence. When we are in the studio, we feel empowered and totally on top of our game. It is the best place to conceive and execute ideas.
We designed the studio ourselves and it took nearly three years to complete. It is an eco-friendly building equipped with solar panels and a rainwater harvesting system.
Our days are usually jam-packed with meetings, planning sessions and other social activities. We have a never-ending list of ideas that we have to set in motion.
Gurugram is a bustling city but does not have too much of a cultural rhythm. It has grown three times in size and population since we moved in 2007, but it seems like independent artist spaces and initiatives have been swallowed up by commercial interests.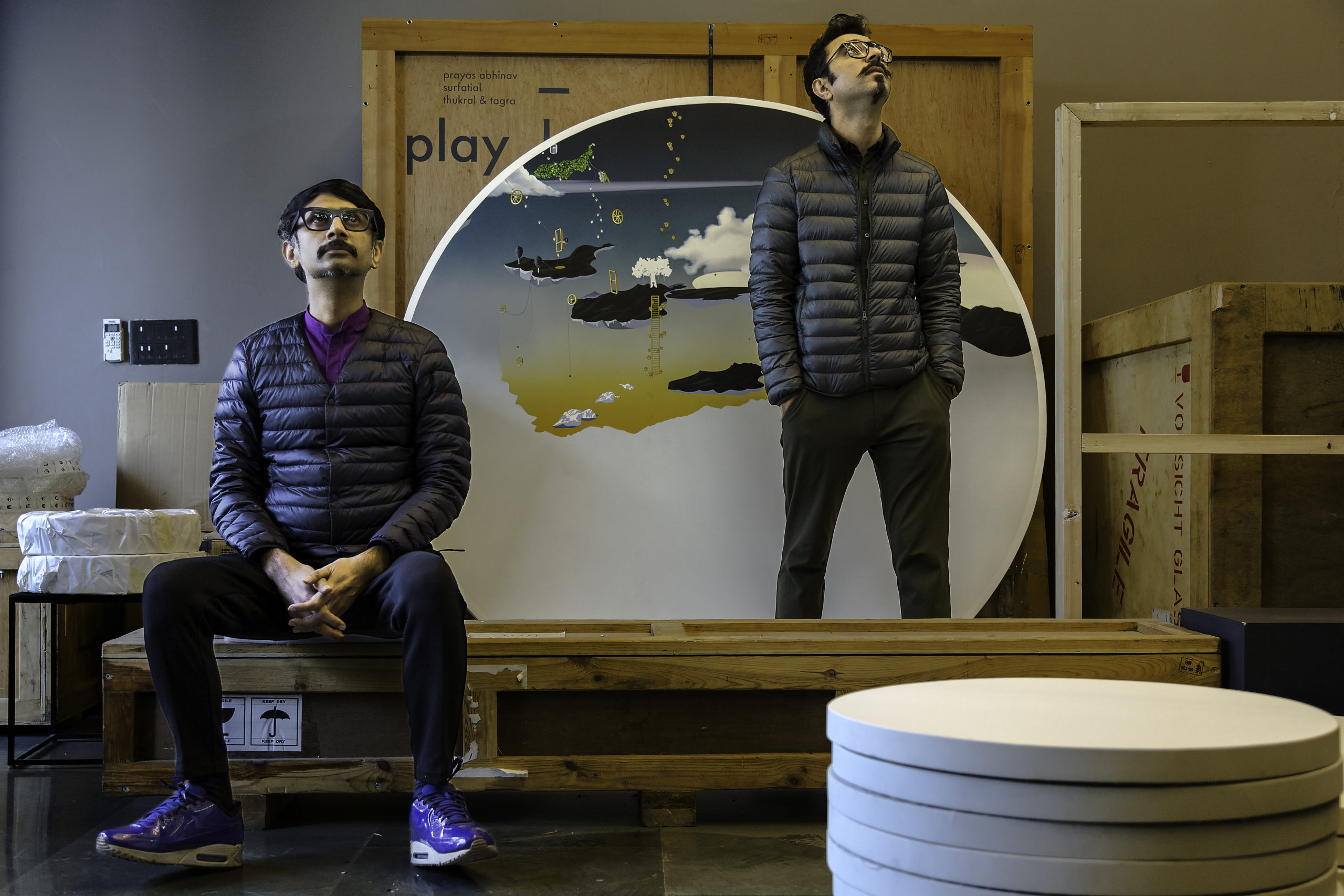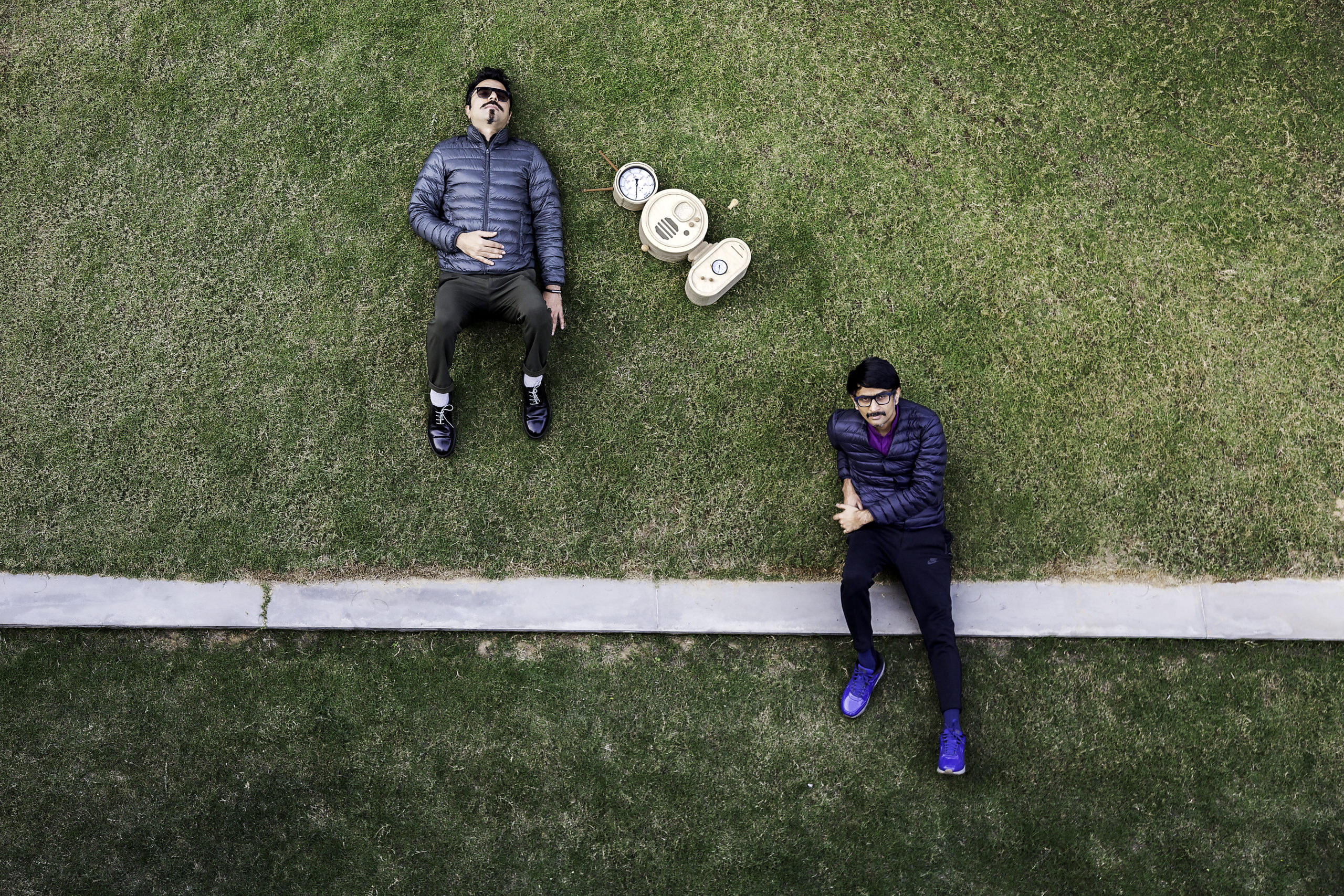 The artists pose for us in their Gurugram studio, 2018. Photo credit: Suryan & Dang © India Art Fair
We want to open our studio doors to the public. The idea is to foster creativity, whether it is through small, intimate exhibitions and pop-ups or poetry readings, dance or music performances.
A few artists live and work in the area, including our partners Astha Bhutail and Princess Pea. Some like Bharti Kher, Tanya Goel and Vishal Dhar have converted apartment duplexes into incredible studio spaces.
Nighttime is the best time to work. It is more peaceful and we are able to conceptualise, read and create. It feels like we are reliving our college days all over again.
Our idea of expansion doesn't always mean going big. Deepening our practice may involve scaling down or even relocating to a different space in the future.
Every project requires a great deal of preparation at all stages of conception, execution and display. We are constantly experimenting with new mediums and disciplines, including interactive games, performances, videos, immersive installation and graphic design.
Our recent work has been informed by our initiatives with the agricultural community. Being natives of Punjab, this issue is particularly close to our hearts. Hardships faced by farmers, including shifting cultural values and environmental degradation, are subjects that we grapple with through our work.
We plan to revamp our studio space. A research lab is currently in the works and we also hope to create a relaxing corner for visitors to lounge and read from our library of art books.
We have many exciting projects in the pipeline. We are working on four new publications of our very own, set to come out later this year.
Jiten Thukral & Sumir Tagra are a multimedia artist duo whose collaborative work cuts across disciplinary boundaries. Since they started working together in 2004, Thukral & Tagra have redefined the role of interactive art with their playful and conceptual outlook.