Why ceramics?
I enrolled myself in a course on wood, metal and ceramics at the Manchester Metropolitan University, hoping to pursue a future in furniture making. Even though ceramics was compulsory, I was initially not interested  in working with the material. I rather disdainfully saw it as a crafty, feminine pursuit, the sort that I was trying to escape and distance myself from. Much as I tried to resist, I became seduced by the immediacy of clay. It was a material that could be formed without the use of machinery or tools. It responded directly to your hands. allowing you to create forms almost as you conceived them.
What inspires you?
I was born in Tanzania but moved to the United Kingdom where I was raised in a traditional Indian household. Growing up in North London, I had a foot in different cultures and was conflicted about my aesthetic choices. India happened to be the first place I independently chose to travel to, first in 1988 and then in 1990 – thanks to a scholarship awarded by my tutor Eduardo Paolozzi when I was studying at the Royal College of Art. The visit threw up many questions of heritage, identity and dualities in my work which I often found myself navigating against. While I may have been confused in the past, I feel much more comfortable today with the world being so interconnected. I try to just make work rather than thinking too much about the roots of the aesthetic.
"Much as I tried to resist, I became seduced by the immediacy of clay… It responds directly to your hands, allowing you to create forms almost as you conceive them"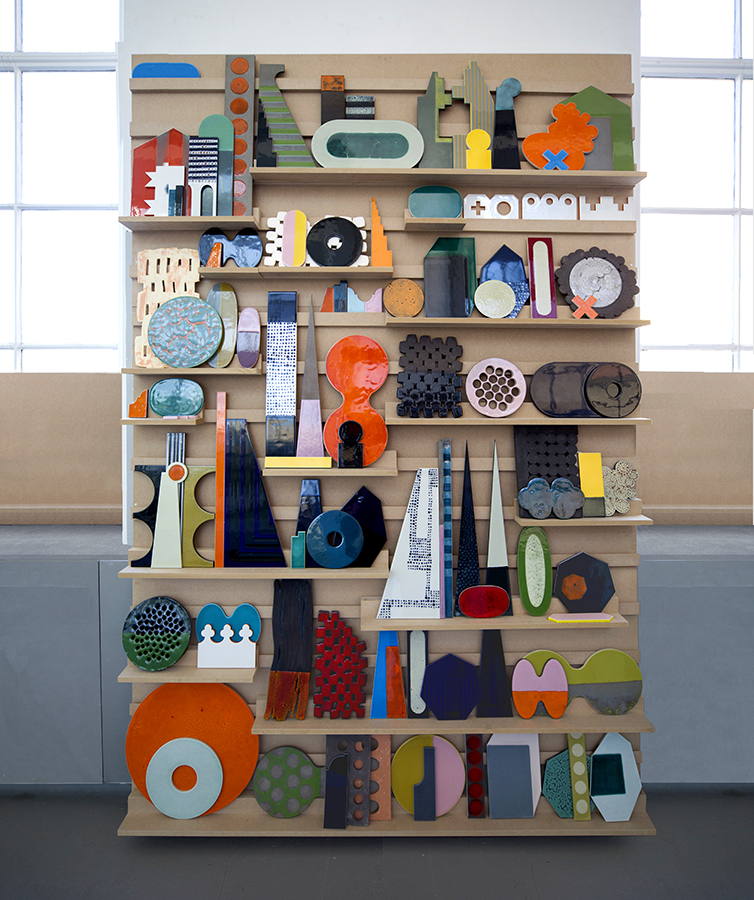 Titled Serial Structures, Lubna Chowdhary created this installation of ceramic works during a residency at the Victoria & Albert Museum in London, 2017. Courtesy of the artist
What was your most recent exhibition?
I feel at home in India and have been welcomed warmly by everyone. It felt that my reputation as an artist had preceded me as I had exhibited with Jhaveri Contemporary in 2017. Showing at India Art Fair has been stellar and seeing the audience open their arms to me with a complete understanding and acceptance of my work is refreshing. It frees me up to just create work as an international artist without the usual compartmentalisation that occurs in the West. 
What is the most special item in your studio? 
I have a very long, narrow shelf of small tiles and tests I made over the years. I have collected my favourites and it is the sort of mix that I could never create again. Some of the glazes are very old and the recipes are forgotten. Some are happy accidents and some are just wonderful surprises from the kiln. They have been there so long now, some of them for over 20 years that the surfaces are starting to dull.
Where do you go to see art? 
It depends on the art but I used to love the Whitechapel Gallery when I lived in East London years ago. It was situated in the midst of the Bangladeshi community that inhabited the area: a strange juxtaposition of art world and real world. There are so many brilliant galleries and museums in London that it is difficult to single out one – we are very lucky.
Lubna Chowdhary was born in Tanzania in 1964, and currently lives and works in London, United Kingdom. She is represented by Jhaveri Contemporary and debuted at India Art Fair in 2018.