What is your favourite place in Delhi?   
The city is changing all the time but an intuitive answer will be the Crafts Museum in New Delhi. I used to go there often as a student and have seen the collection grow under the leadership of Jyotindra Jain in the '80s. It is a beautiful building designed by Charles Correa and while I haven't been there for some time I remember how this place always feels like an oasis. It is a wonderful combination of many things and activities connected to crafts — the culture and history is really brought to life in this excellent museum. Attached to this is Cafe Lota which serves contemporary versions of regional food. It really is an active and vibrant environment.
What inspires you?
A world of ideas opens up when you are looking at the living traditions of this country. At the Crafts Museum you can see the artisans in practise — the materials they use and their engagement with these materials. I find this relationship between maker and material very inspiring because my own work is equally about hands-on materials like paper, fabric, jute, wood etc. Like them, I often employ different methods to create something. I also believe that the investment one makes in terms of both labour and idea in creating something is very personal. I am as much a maker as they are, so I definitely feel a connection to these fellow makers.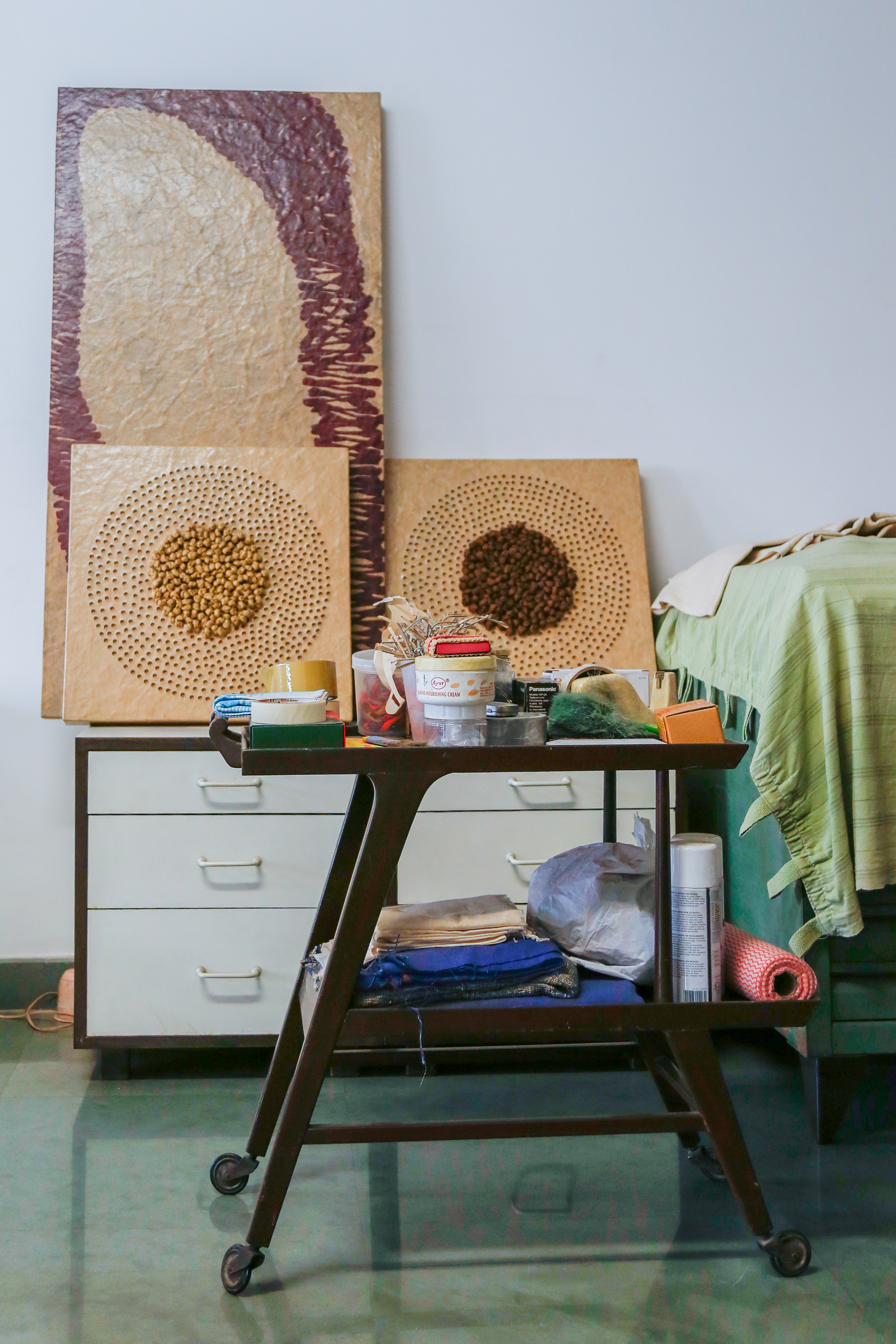 Manisha Parekh's artistic practice pays reference to the craft and textiles traditions. Courtesy of India Art Fair
What brought you to Delhi?
I went to school in Delhi. After having traveled and lived in many places from Baroda to London,  I finally came back in 1995. However Calcutta was where I spent most of my childhood and because I live in Chittaranjan Park in South Delhi I sometimes feel as if I am back there. Originally this neighbourhood was a refugee colony for all those who came from Bangladesh after the war in 1971. The markets have a very definite Bengali flavour and you get lots of things from Calcutta. The old occupants continue to be around to this day. It is very rooted and that is what I like about living there.   


 The artist in her New Delhi studio. Courtesy of India Art Fair
What is the most special thing about India's art scene?
It is growing fast. Especially in the last decade. I'm not sure if it's headed in the right direction but it is definitely buzzing. That's the good thing. However, I would like to see the art scene develop towards more interaction and engagement. I think artists are busy making works by themselves in their studios and unfortunately there are limited platforms for dialogue and commentary.  I'm not sure why this is or how we can change this. Perhaps, we can start by trusting and learning from each other. Engaging in healthy dialogue about one's own and others' practices is also very essential.
Manisha Parekh was born in 1964 in Uttarsanda in Gujarat, and lives and works in New Delhi. She is represented by Jhaveri Contemporary, Mumbai, and has showcased at India Art Fair in previous editions.