Zaam Arif works primarily between the hours of 8 PM and 4 AM, accompanied by the calm of the night and the evergreen ghazals of Mohammad Rafi and Jagjit Singh, compiled into a playlist by his father, with whom he shares his studio in Houston, Texas. With two artist parents, A.Q. Arif and Mussarat Arif, Zaam Arif's career as a painter seems fated, despite the circuitous route through which he arrived at it — after being a student of physics, an aspiring writer, a filmmaker, a graphic designer and a photographer. His paintings carry the traces of these past lives, conveying stories in paint that feel as nuanced as novels and as epic as films — while transporting viewers to the heady realm of abstract and existential questions about the nature of presence, home and time.
Here, we ask the artist about his life as a painter and about the obsessions that keep him awake in his studio while the rest of the world sleeps.
Where is home for you, and what is home for you as an artist?
I work out of my studio in Houston, Texas, where I moved with my family in 2018. I grew up in Karachi, but because my father loves to move around, I have always lived in different houses and cities. In fact, since we moved to the U.S., the furthest away from Karachi we have ever been, the question of "home" became a prominent part of my work. When you're very close to something, you can't see the whole picture, and since I have been away from home, my work has evolved a lot. I have memories to look back on, and the question has been able to emerge: "what is home?"
I am an artist because of my father and mother, both of whom are artists. Because of them, I grew up around the art fraternity in Pakistan, and was exposed to a lot of art from an early age. I've learnt all I know about art from my parents — I would say my father taught me how to see, and my mother taught me how to paint. I share my studio with my father now, and my mother works from our home, so they are always around, which was a challenge in the beginning. Only because I am a very secretive painter and don't show my work to anyone until it's complete. 90 percent of my paintings never see the light of day. I paint for no one else but myself.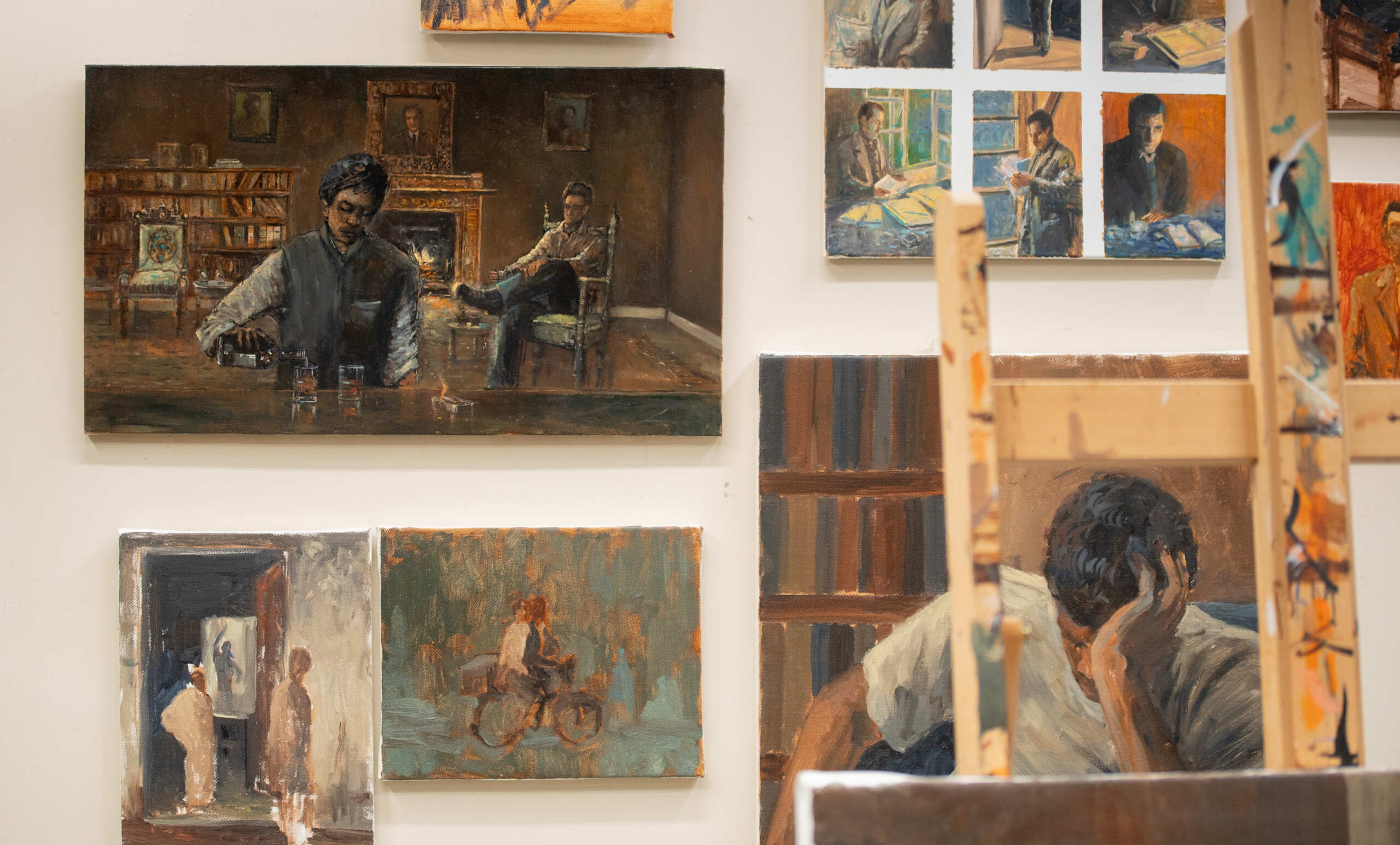 Zaam Arif's studio is full of paintings inspired by classic works of literature and film. Courtesy of the artist.
Tell us about your love for the worlds of literature and cinema.
I read Crime and Punishment by Dostoyevsky once or twice a year, and have a special connection to the other Russian greats. Recently I've also found the Japanese writer Yukio Mishima through his book Spring Snow. I love Stanley Kubrick and Andrei Tarkovsky. What all these artists seem to ask is "why am I here" — I love them because all their characters are yearning to understand their place in the world as they are hit with something tragic or difficult to process. Yes, it's all quite depressing, but I also find humour in this kind of work, and conversely so much pain in writers like Bukowski who are overtly comedic. I find my work dark and humorous in the same way.
Actually, I grew up wanting to be a writer, and even got myself a typewriter when I was 16 or 17 years old, because I thought that's what writers were supposed to do! And even though I am no longer trying to be this kind of writer, words still guide me. I've been thinking a lot about a quote in The Mirror by Tarkovsky of late, "words can't express everything a person feels," for example, or the phrase, "wait a minute" has been on my mind all the time, by itself.
How did you start painting and what is your relationship with it now?
When I was starting out with painting, I spent a lot of time looking at all the painters that resonated with me, like Francis Bacon and Lucian Freud, who also share something in common with the writers and filmmakers I love. With the painting itself, I tried to let the paint lead me. I put all the shades on my palette and realised I was only drawn to four or five of them — burnt ember, burnt sienna, yellow ochre and some blues. I would work for days and days and find that I was only using up these particular colours. I guess they felt like home. 
Over my time as a painter, I've realised that there is a very thin line between a neurotic person and an artist. So with painting, I try now not to be an "artist". That is, I try to give up the control. I had been asking myself, "What am I trying to say as an artist? Am I trying to say something?". But not really any more. My paintings exist without me, and yet, they let me be myself.  When you listen to a piece of classical music or look at a work by Mark Rothko or Agnes Martin, you know that it's so lucid and yet you can't say what it means or what is saying. 
What does the human figure mean to you? 
There is so much in the figure. The whole world is in a figure. A figure is like a knife that one puts through a floating piece of paper. That is what the figure is to me. 
On a simpler level, the figures in my work are simply stand-ins for myself and the people in my life. I almost always start with thinking of a painting as a self-portrait, using a model, often my brother, as a reference for myself. By doing this, I am trying to look for myself in others. By the end, sometimes these self-portraits remain as such, and sometimes they take a different life, with the person I am painting taking over the canvas. And other times, a figure in my painting may not even be a reference to anyone real, and only someone I have imagined or dreamt. 

Zaam Arif, Dasein (Human Being), 2021. Oil on Canvas. 36in x 48in. Courtesy of the artist and Vadehra Art Gallery.
What are you working on now?
I've started painting my sister again. If you look at my paintings, you'll find very few women in them. I did not want to contribute to the tradition of male artists painting women that has often been driven by the male gaze. I thought that the world did not need another male artist to be painting women. But of late, I've let go of these self-imposed restrictions and realised that when I am painting, I am just painting a person, be it a man or woman. It's been a process of letting go. I had painted my sister once three years ago actually, but the paintings now feel more like her. 
When I was starting out a few years ago, every painting felt like a full on war between myself and the work. The work was asking me to sacrifice myself and I was asking the work to sacrifice itself to me. Now, I try to be looser, to be like water and take whatever the work brings to me in my stride and flow. In this sense, it goes back to the earliest cave drawings, made by people simply trying to make sense of their world and leave their mark on it. They were not thinking about who would find their drawings and what they would say. I am in my cave now, and I am making my cave drawings. That is where I am at. 
Zaam Arif was born in 1999 in Karachi, and currently lives in Houston, Texas. His works will be shown by Vadehra Art Gallery in a solo show alongside India Art Fair 2024.