Despite being an ancient city — destroyed and rebuilt over seven times since 3000 BCE — in the last two centuries, Delhi has emerged as a modern metropolis. In the 19th and 20th centuries, artists responded to its colonial transformation, with the modern city becoming an important subject. Here, we give a tour of the city's most iconic monuments through some of the incredible images they produced — from prints and photographs to paintings and postcards, sent to show off the imperial capital to loved ones back in Blighty. Our art historical guide to Delhi is sure to inspire first-time visitors and seasoned locals alike.
1. Qutub Minar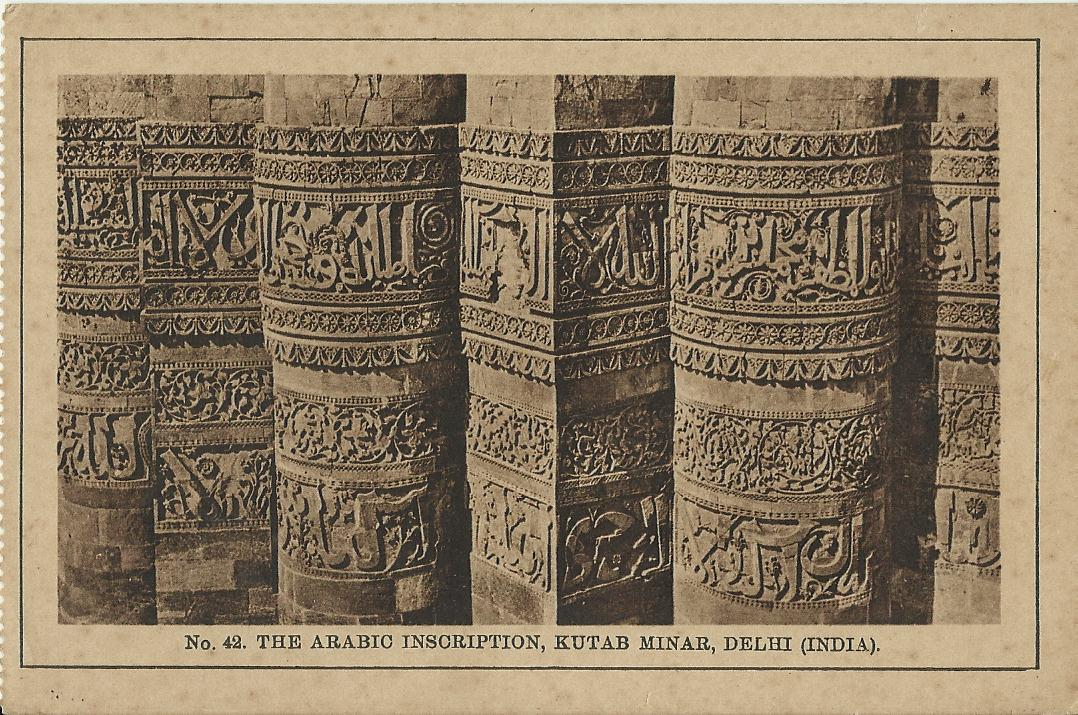 The Arabic Inscription, Kutub Minar, Delhi, 1890s. Photographic Postcard. Courtesy of Heritage India
If the fact that Qutub Minar is the "second tallest brick minaret in the world" isn't quite exciting enough, you might want to consider that it is one of the greatest and earliest monuments of Islamic architecture in the subcontinent. Here we see a photographic postcard of the Qutub Minar that was printed in late 19th century Germany, where the majority of image postcards of the time were produced. Looking at the elegant fluted structure up close, it examines the gorgeous calligraphic details and floral motifs on the lower storeys of the minaret.
2. Purana Qila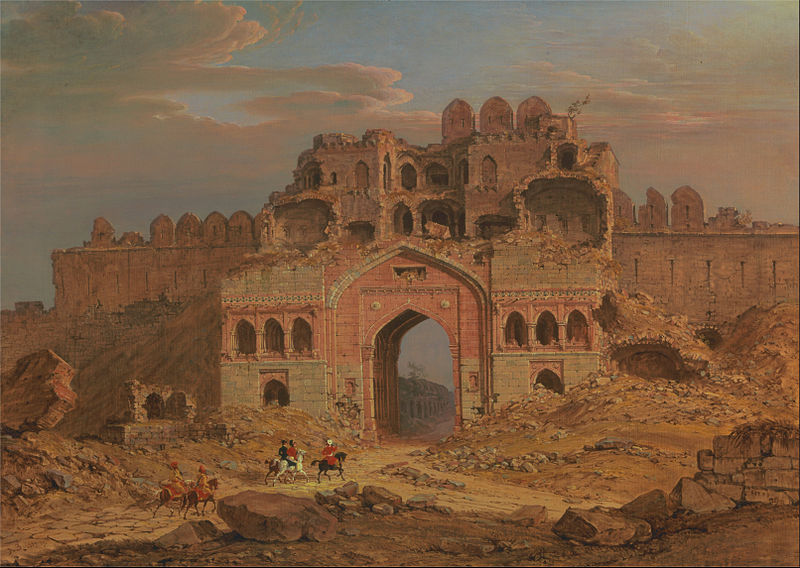 Robert Smith. Inside the Main Entrance of the Purana Qila in Delhi, 1823. Oil on canvas. Courtesy of Google Art Project
The colonial imagination was entirely struck by the ruins that populated the old Mughal capital. Like James Baillie Fraser, it is apparent that artist Robert Smith found something "Gothic or Roman" in the city's antiquated buildings. Smith's 1823 painting of Purana Qila, also known as the "unlucky fort", conveys the remnants of this fort's rich history with its stunning colouring and Gothic proportions. Located in the heart of New Delhi, this gateway's ancient splendour is not to be missed.
3. Humayun's Tomb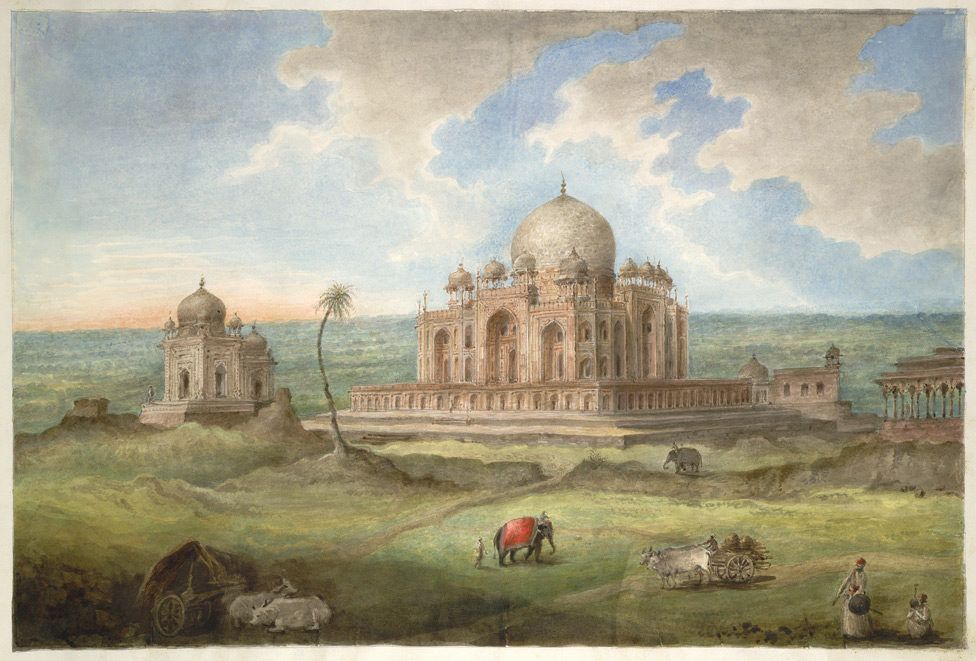 Sita Ram. The Tomb of the Emperor Humayun with Surrounding Tombs and Pavilions, 1815. Watercolour. Courtesy of the British Library
Just a stone's throw from Purana Qila, the Mughal emperor Humayun's tomb is one of Delhi's most beautiful monuments. Combining Mughal and Persian styles in a manner that later influenced the building of the Taj Mahal in Agra, the tomb also played an important role in India's architectural history. As a result of extensive restoration work, Humayun's tomb almost looks today almost as it did in 1815, when this piece by Sita Ram was painted. Ram, a watercolourist who was inspired considerably by English painters like William Hodges and Thomas Daniell, paints in true Orientalist style. His panoramic vista of Humayun's tomb is accordingly embellished with a few elephants, and exudes a rural charm.
4. Jama Masjid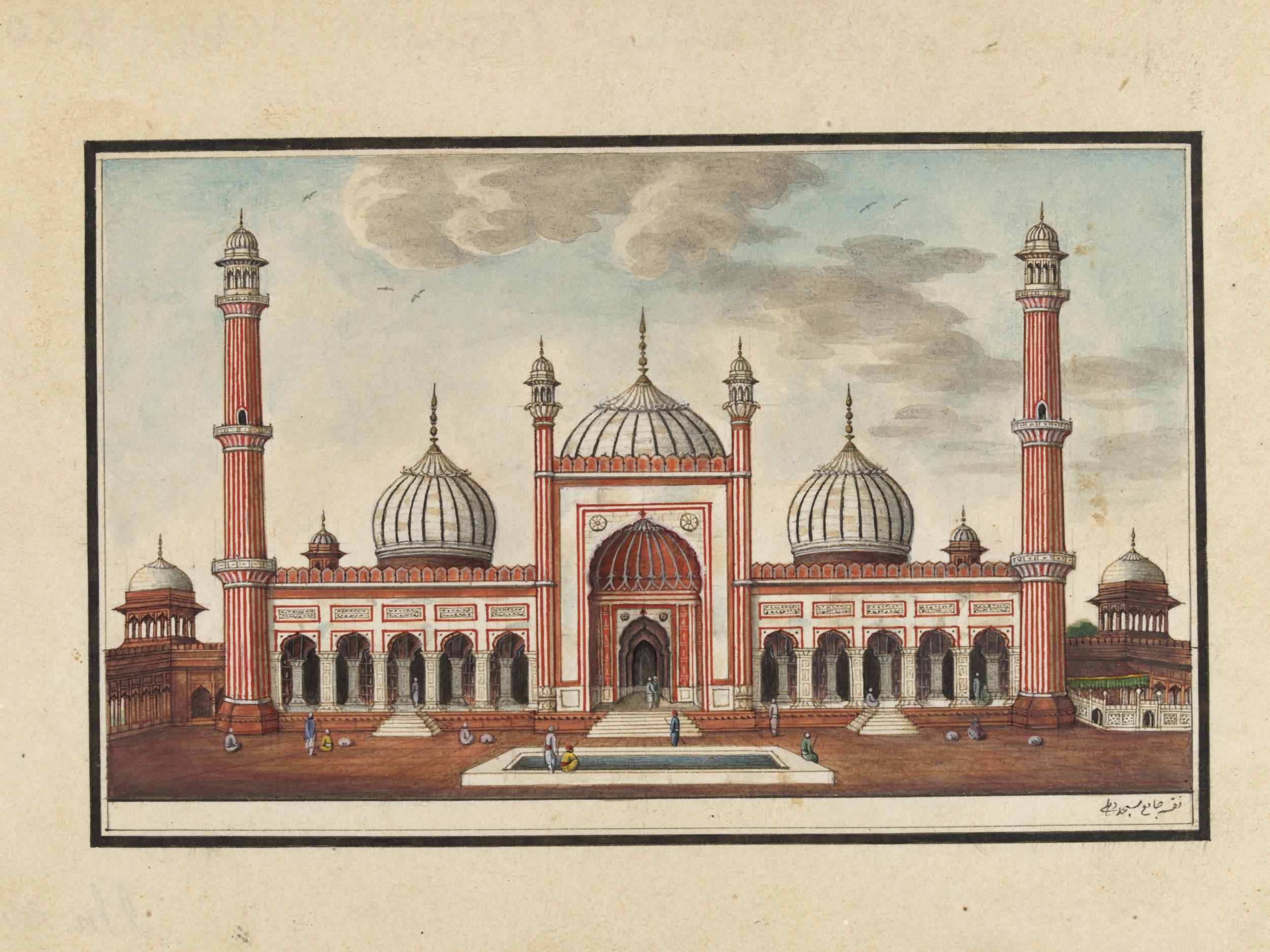 Unknown Artist. The Jami Masjid, Prayer Court in Delhi, 1836. Watercolour. Courtesy of the Victoria & Albert Museum
This 1836 painting of the Jama Masjid shows off the distinctive architectural features of India's largest mosque — namely, its eleven marble arches, generous courtyard and bright red sandstone façade. This idyllic representation of Jama Masjid, peopled with a just a few local figures, is typical of what is called company painting. These paintings in the company style, which blended dimensional European painting techniques with the brighter and flatter indigenous style, were popular during the period. As here, their subject matter was very often documentary, so Mughal monuments were a popular choice. Built by the emperor Shah Jahan, who also commissioned the Taj Mahal, this gem is certainly worth visiting after Humayun's Tomb.
5. India Gate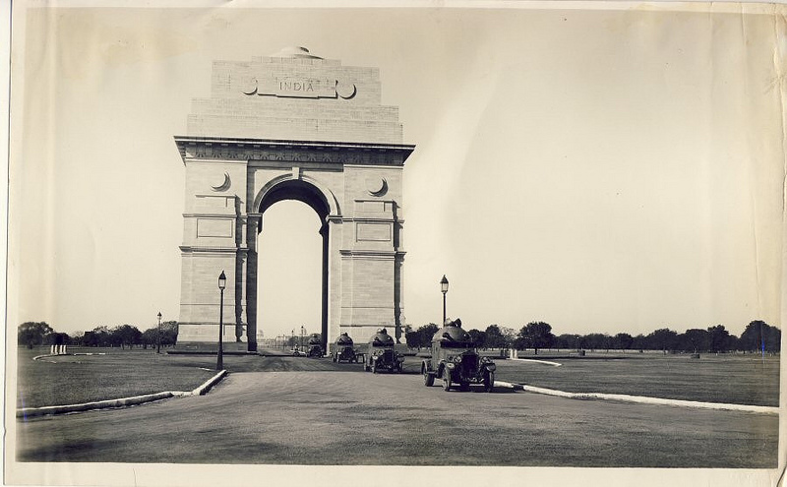 Unknown Artist. India Gate, 1930. Photograph. Courtesy of Columbia University
Once you've finished exploring the highlights of Delhi's Mughal architecture, step into the 1920s by taking a trip to India Gate. You might already know that this war memorial was designed by Sir Edward Lutyens to commemorate the 70,000 soldiers of the British Indian Army who died in the First World War. As photography slowly killed off the traditions of miniature painting inspired by the Mughal courts in the late 19th century, it is fitting that this modern monument is captured here in a relatively new medium.