Born in 1931 in West Bengal, Kartick Chandra Pyne was one of the first Indian artists to experiment with Surrealism. Raw, whimsical and expressive, his paintings combine observation and imagination, opening a window to a world filled with colourful creatures and characters. "Art is never appreciated through logic," he wrote, "yet it is never illogical."
Recently, Pyne was the subject of a major survey at Kolkata's Emami Art. Entitled The (In)Visible & The (Un)Revealed, the exhibition provided a rare opportunity for viewers to see his work spanning seven decades, from early watercolours to large oil paintings and acrylics on canvas. For those (like us) who missed it, here is a glimpse into his enigmatic life and work.
He led a reclusive life
Born into a wealthy merchant family – and cousin to celebrated modernist Ganesh Pyne (1938-2013) – Kartick Chandra Pyne lived a private, reclusive life in Kolkata, West Bengal. He did not gain recognition in the art world till late in his career, with only a small circle of friends, family and students bearing witness to his prolific work and dedication to art. This changed when his piece Bird in a Cage, painted in the 1970s and originally sold for only a few thousand Indian rupees, fetched a record price at a Sotheby's auction in 2005.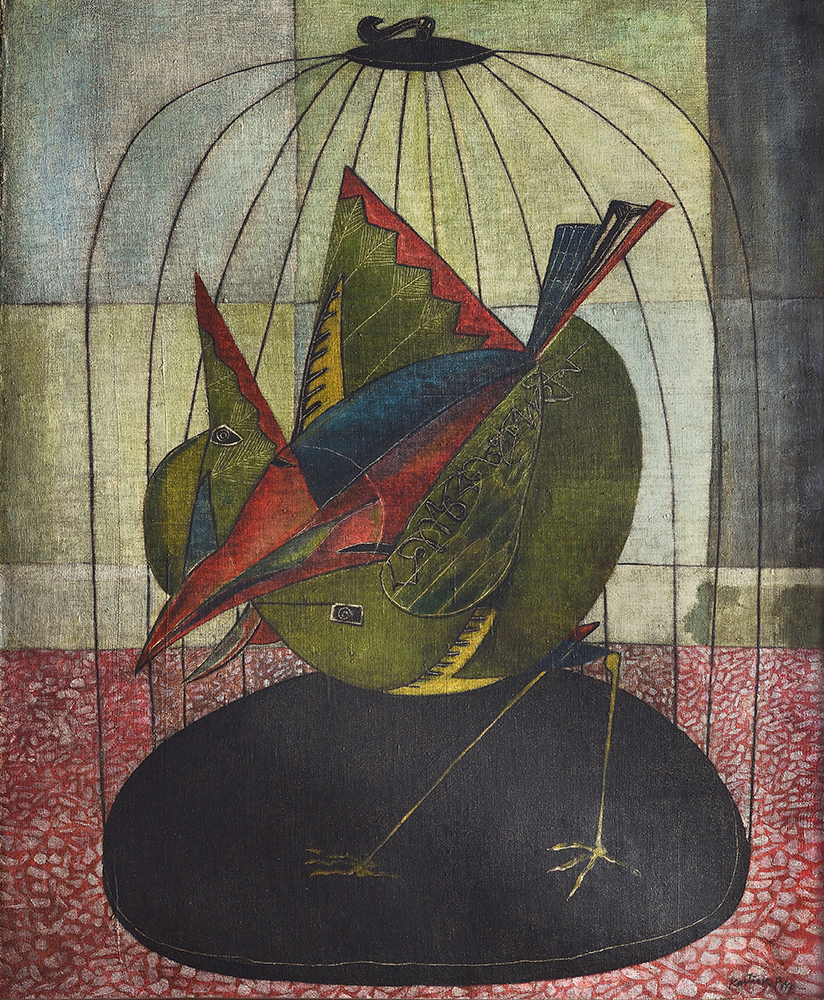 Kartick Chandra Pyne. Bird in a Cage, 1970s. Oil on canvas. Courtesy of Emami Art
Despite the sudden interest in his work from curators and collectors that followed, Pyne retained his stance away from the public eye. "Even we who were from Kolkata were unaware of him", says artist and friend Jogen Chowdhury about Pyne's introversion, who only came across his work by chance in a gallery in New Delhi. Another contemporary and one of Pyne's select familiars, Ganesh Haloi spoke of his "heart-felt reverence for this publicity-shy, dedicated painter" and regarded his privacy as a source of the "unlaboured originality" of his work.
He combined Indian folk and Western artistic traditions
Pyne grew up during the last decades of British colonialism, a turning point in Indian history that brought with it not just independence but a Partition, communal strife and famines. Pyne's own ancestral home was looted during a riot in this time, after which his family moved to a new house and saw their fortunes wane. In the context of these extraordinary experiences and to express his reflective interior life, Pyne developed an artistic language that borrowed from both Indian folk and Western modernist traditions.

Top: Life Curtain, 2008. Bottom: Dissatisfaction, date unknown. Oil on canvas. Courtesy of Emami Art
The influence of Marc Chagall, Marcel Duchamp and Joan Miro can be seen in the fantasy, colour and imagination of Pyne's work. Equally, his enduring interest in the Hindu Vaishnava iconography of his childhood shows throughout his oeuvre. An example is Moon Bath (1962) – which was exhibited at the historic Asian Artists Exhibition in Fukuoka Art Museum in Japan in 1979 – and shows the Hindu goddess Radha as a reclining nude, making a simultaneous reference to Henri Matisse. Throughout his life, Pyne continued to draw inspiration from a variety of sources, endeavouring to paint a perfect picture albeit with "something untold in the composition".
He continued to create art through a debilitating illness
In 1994, aged 63, Kartick Chandra Pyne suffered from a stroke that left half his body paralysed. A complete surprise, the loss of movement was a grave loss and entailed intensive and exhausting physiotherapy during which period painting was impossible. However, in only a few months, Pyne started painting again from his bed, often holding his canvas in-between his legs or in his hands.
Kartick Chandra Pyne. Undying Dreams (Excerpt), 2007. Courtesy of Sankar Majumdar and Chitrakoot Art Gallery
"Just that I could paint again gave me tremendous joy," he said, expressing an urge to paint despite the illness and pain. The vibrancy of the crayons and watercolour on paper from Pyne's early work remained a central feature of his later paintings too. From birds, monkeys and horses to humble cart-pullers, posterboys and workers, the abundance and freedom in his work remains exemplary.
A pioneering Indian modernist and surrealist, Kartick Chandra Pyne passed away in Kolkata in 2017. The exhibition at Emami Art – The (In)Visible & The (Un)Revealed – was one of the largest surveys of the artist's career to date.