Where do you work? 
I work partly in my studio located in Brooklyn, New York, as well as on site to create large scale installations. This essentially involves working directly on walls in various museums, galleries and fairs around the world. An example would be a collaborative painting that I did as a performance with Dhruvi Acharya as part of the special curated programme organised by India Art Fair in 2015.
What inspires you?
Stories that seem hidden or nestled within more familiar narratives – be that in the realm of art history, politics or everyday life. Lately, I have been continuing an ongoing exploration of the inextricable entanglements between deep past and far future which manifests in a dynamic connection between mythology and science fiction. There are always untold stories trying to rise to the surface, and I find these particularly inspiring.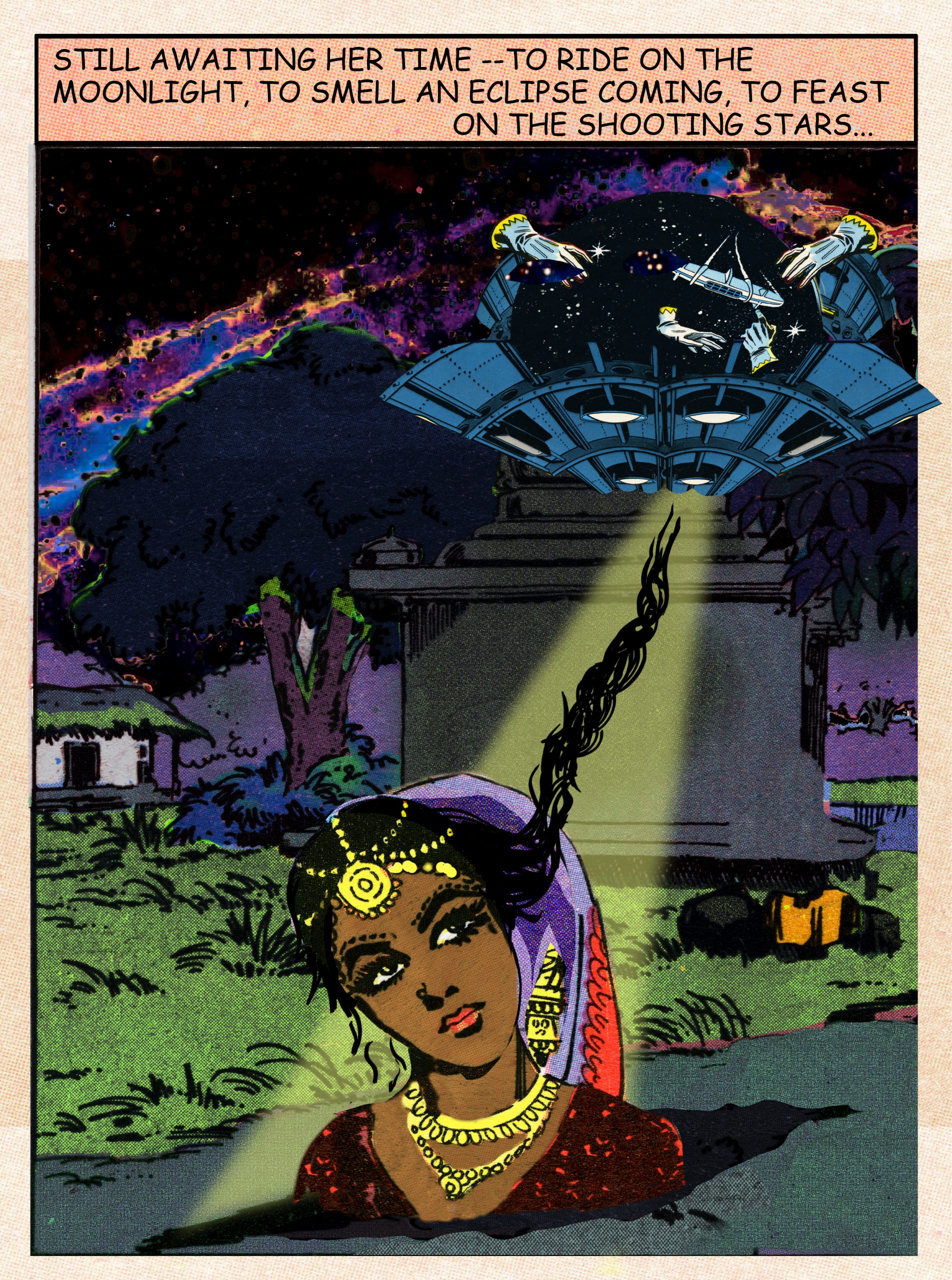 Chitra Ganesh explores gender, sexuality and feminine power typically absent from canons of literature and art. Pictured here is a print titled Still Awaiting Her Time
, 2018. Courtesy of the artist and the 
Rubin Museum of Art, New York
What was your most recent exhibition?
My most recent exhibition, which is still currently up, is a solo show at the Rubin Museum of Art in New York. Curated by Beth Citron, it features site specific animated interventions that respond to the museum's permanent collection as well as works on paper along with commissioned science fiction posters. For this project, I worked with a wonderful animation company called Studio NYC. The animations explore links between depictions of the future and they connect to the deep past, thereby investigating new modes of speculative visual storytelling. I was also a part of a wonderful group exhibition called Beyond Transnationalism which took place at the Bhau Daji Lad Museum in Mumbai recently.
"There are always untold stories trying to rise to the surface, and I find these particularly inspiring"
Which artists influence your practice? 
Although their works diverge from mine, I have long been influenced by the explorations of psychic and physical dislocation and feminine forms in the works of Zarina Hashmi and Mrinalini Mukerjee. A broad range of mass mediated print culture in India including comics, painted movie posters, graphic art and typography have been abiding influences in shaping my practice over the last two decades. Lately, I have been looking at works by Elizabeth Catlett who is an amazing African American graphic artist and sculptor.The project I am currently working on has been greatly influenced by Flemish artist Franz Masereel's post war wordless novel in woodcuts called The City.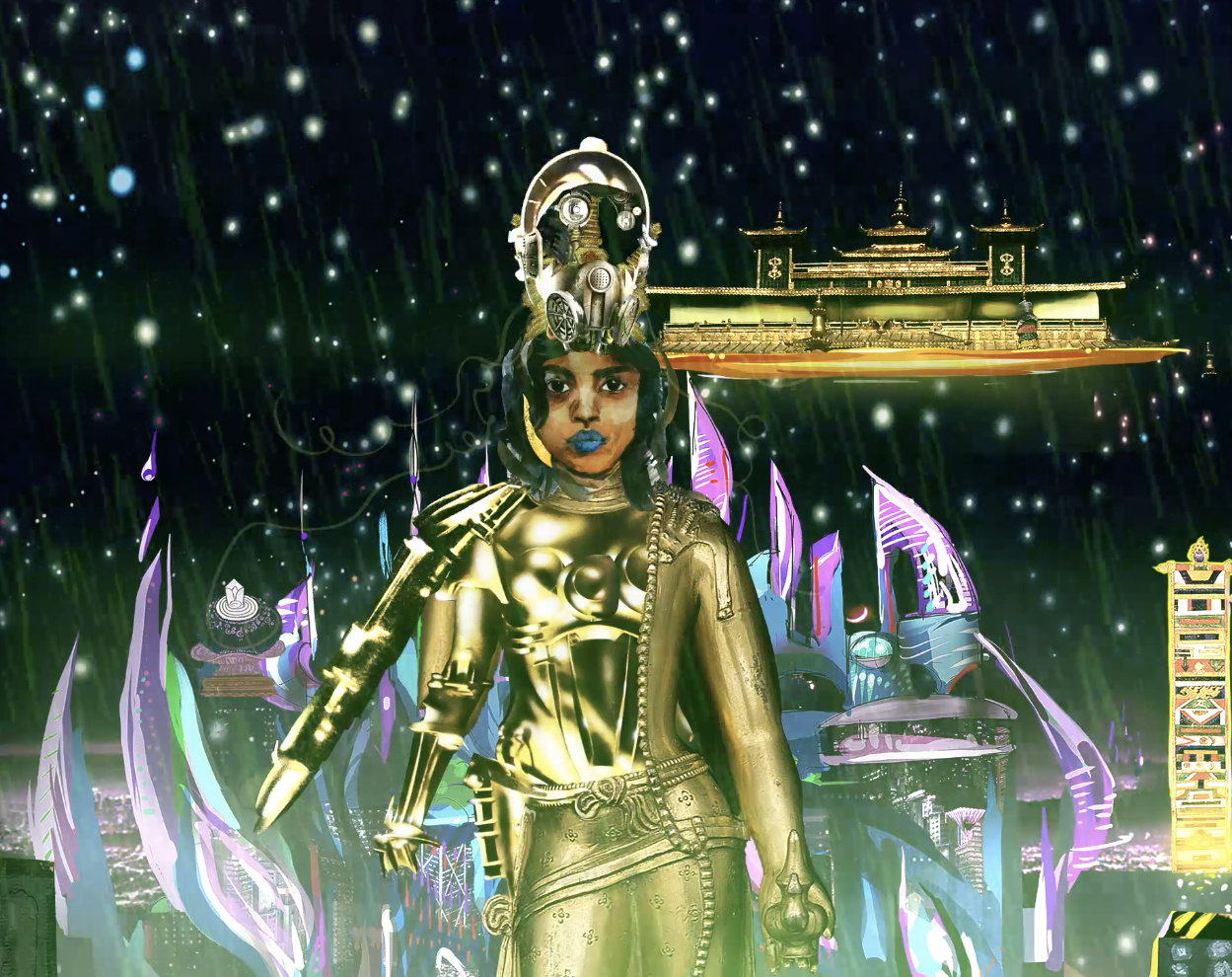 Chitra Ganesh has garnered attention for her unique portrayal of female figures, 2018. Courtesy of the artist
Where do you go to see art? 
I am lucky to see art that inspires me every day – from street art and murals in New York and New Delhi to comic books that delve deep into the worlds of literature and science fiction. I cherish unexpected moments of beauty that I encounter moving through the city every day. Music, specifically traditional qawwali music, is amongst my favorite and most inspiring art forms.
Born in 1975, Chitra Ganesh currently lives and works in Brooklyn, New York. She has widely exhibited throughout the world and is represented by Gallery Espace in India.