Known for his eponymous brand and Viya Home, Goyal first cut his teeth perfecting the art of metal, and brass in particular. The expertise his studio embodies is unparalleled: many first-time visitors walk around, mouth agape, trying to digest the scale and precision of skill, which he tells us in this interview, took decades to perfect. Now praised by domestic and international audiences alike, Vikram Goyal is a name firmly etched in the design universe.
Tell us about your work in metal.
We've been working with metal for the past 20 years. We have our own workshop, and our own studio. We work with around a 100 artisans and for a lot of them, this work is intergenerational. Within metal work I'd say, there are two areas where our studios have been able to push the boundaries:
One is this work of Repousse, which is a way of bringing 3D into metal. So, unlike wood where you're chipping away rocks to create a figure, in this, you're chipping into heated metal to create a form. 
The other one has been hollow joinery: that's a technique where the weld marks are removed from blocks of metal, and it looks like they've been sculpted out of metal. These pieces look heavy but they're actually very light.
What is it about brass that calls your name?
Brass is very malleable and can be used in a variety of ways. It's actually the most amenable to the creation of form amongst all the metals. It's an alloy between copper and zinc so you can change the composition to get different colours. 
Another reason for choosing brass is that in India, there's a history of people working with this metal. Either for making ritual, everyday or decorative objects. 
Which project is closest to your heart?
Repousse is very close to my heart. We've managed to push the boundaries of this technique in a number of ways. We've experimented across a whole spectrum of design from our own interpretations on deities, to miniature paintings, abstract forms, and impressionist art – we've done a lot that was never done in Repousse. This project is important also, because of the way we've pushed boundaries in scale: we've made 20 to 30 ft wide installations. Lastly,  we've also made interventions in training. Typically, artisans work on a number of products with very similar designs, which are very repetitive in nature. To get them to make Chinese cranes for example took a lot of time and a lot of sampling. It was a long process but we're happy with where we're at.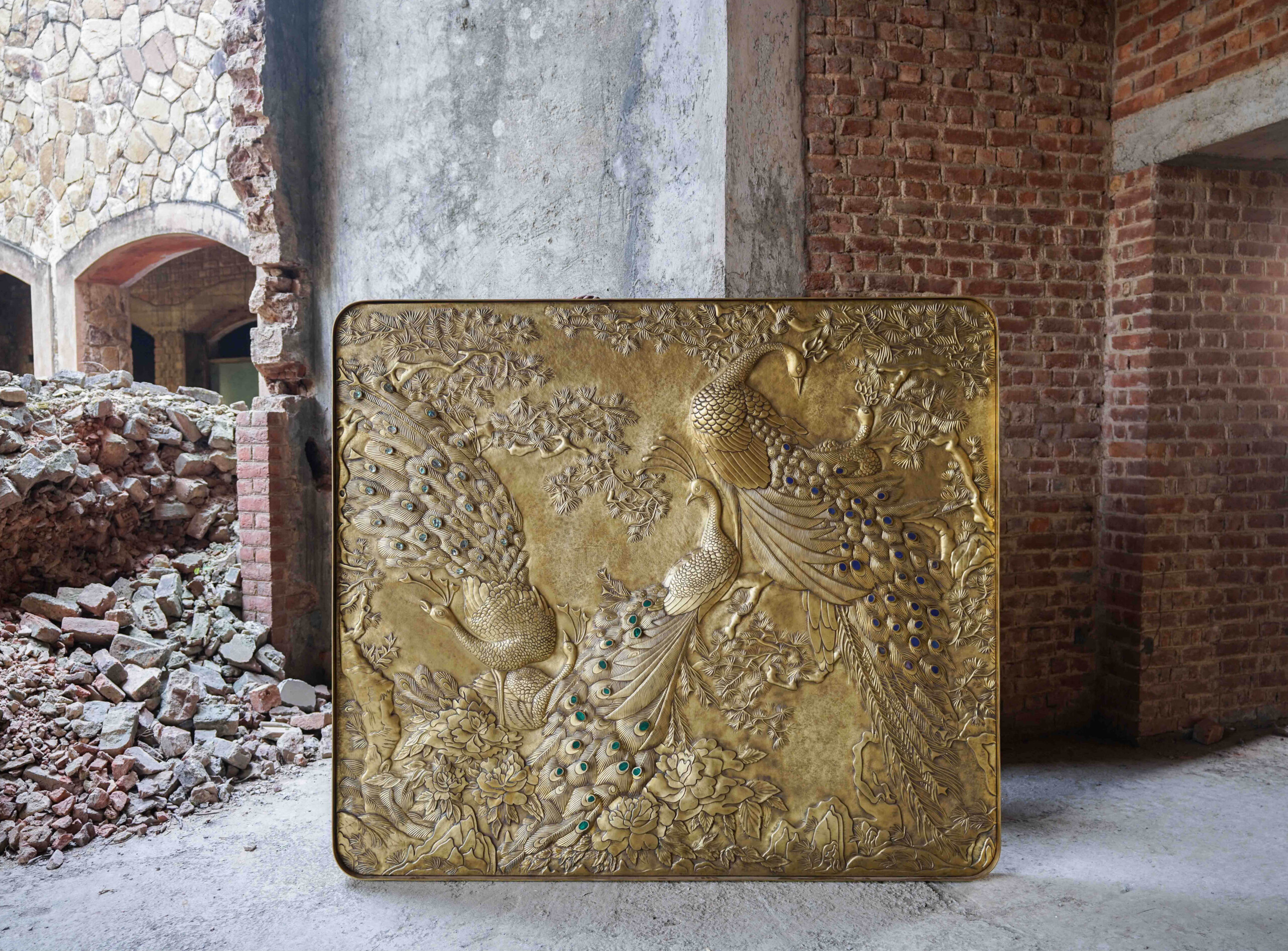 What are the most peaceful and stressful parts of your work?
Peaceful = Creation. It's when I'm exchanging ideas with people and working with different design teams. The worst is producing and meeting deadlines. With anything new, it can be a bit of a challenge. 
What are you most grateful for?
We've been really fortunate to travel the seas and showcase in Europe. It's been an immense learning experience in terms of material, finishing, and quality. The fact that we've taken our work from these kaarkhanas to some of the best galleries in the world has been very gratifying.
How do you keep your creative instincts fresh?
Traveling, visiting museums, galleries, flea markets, reading, Instagram.
How do you think your audiences' in India have changed?
When we started 20 years ago, we were working with a modern take on Indian motifs. 
During that time, a lot of the high-end interior market was full of imports from Italy. The audience weren't even looking at Indian brands. There were not many Indian designers. 
That has shifted – the audience has started looking at Indian brands. And within brands, the audience's tastes have moved as they've started traveling. A large part of them have moved away from Indian motifs, like peacocks and lotuses. They're looking at things which are more abstract and contemporary.
What do you think it is about your work that makes it resonate with international audiences?
One, is the design itself. That we've been able to speak their language. People like the scale and experimentation. For them, it's a new language in terms of working with brass. Most of the designers internationally work with cast brass, which is poured into molds. We work with sheets, which is much more painstaking, complex and part of the artisanal heritage. So we're doing design which no one else is.
Second is the increasing appreciation for the confluence of craft and design. We are working with a skill that's been around for 100 years, and there's a desire to keep these skills alive. There's also a global appreciation for the local-made, artisanal, farm-to-table, and manmade. Our work very much falls into that family of thought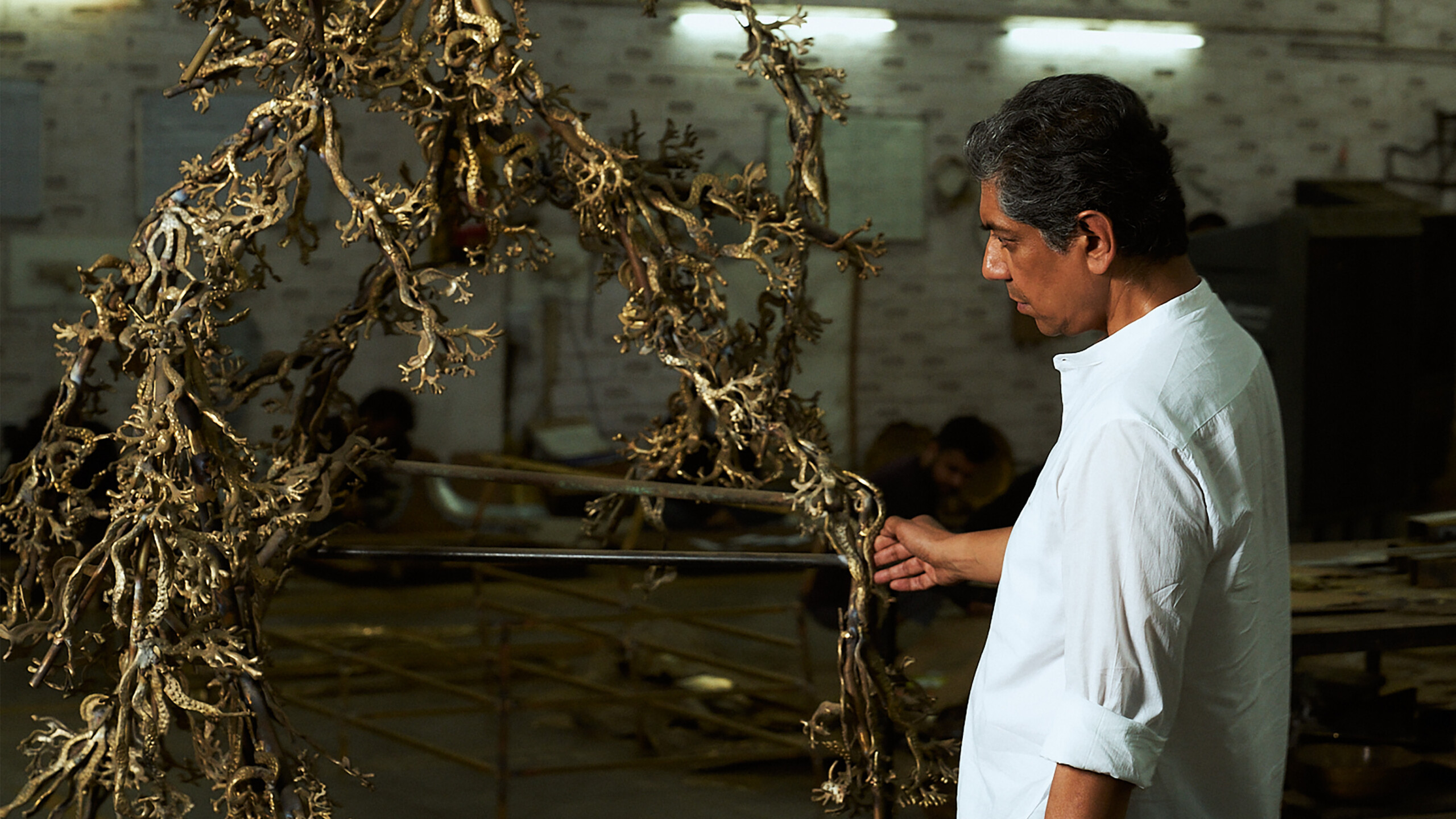 If you could meet one designer, who would it be?
Jean Dunand: A French designer. I am amazed by his scale of work across furniture, vases and these wonderful large panels he did which really resonate with my love of repousse. He worked at a great scale.
Also, Paul Evans. He's an artist / sculptor who practiced in New York in the 60s. His work with metal has been a huge inspiration for a lot of our metal work. He was very prolific. 
What's the last piece of art you purchased?
I bought this astrological map with Mt Meru in the center. It's such an old map but it looks so contemporary– almost like a Raza painting. It's  calm and peaceful. 
What's a design object you're tired of seeing in people's homes?
Fendi sofa. *laughs*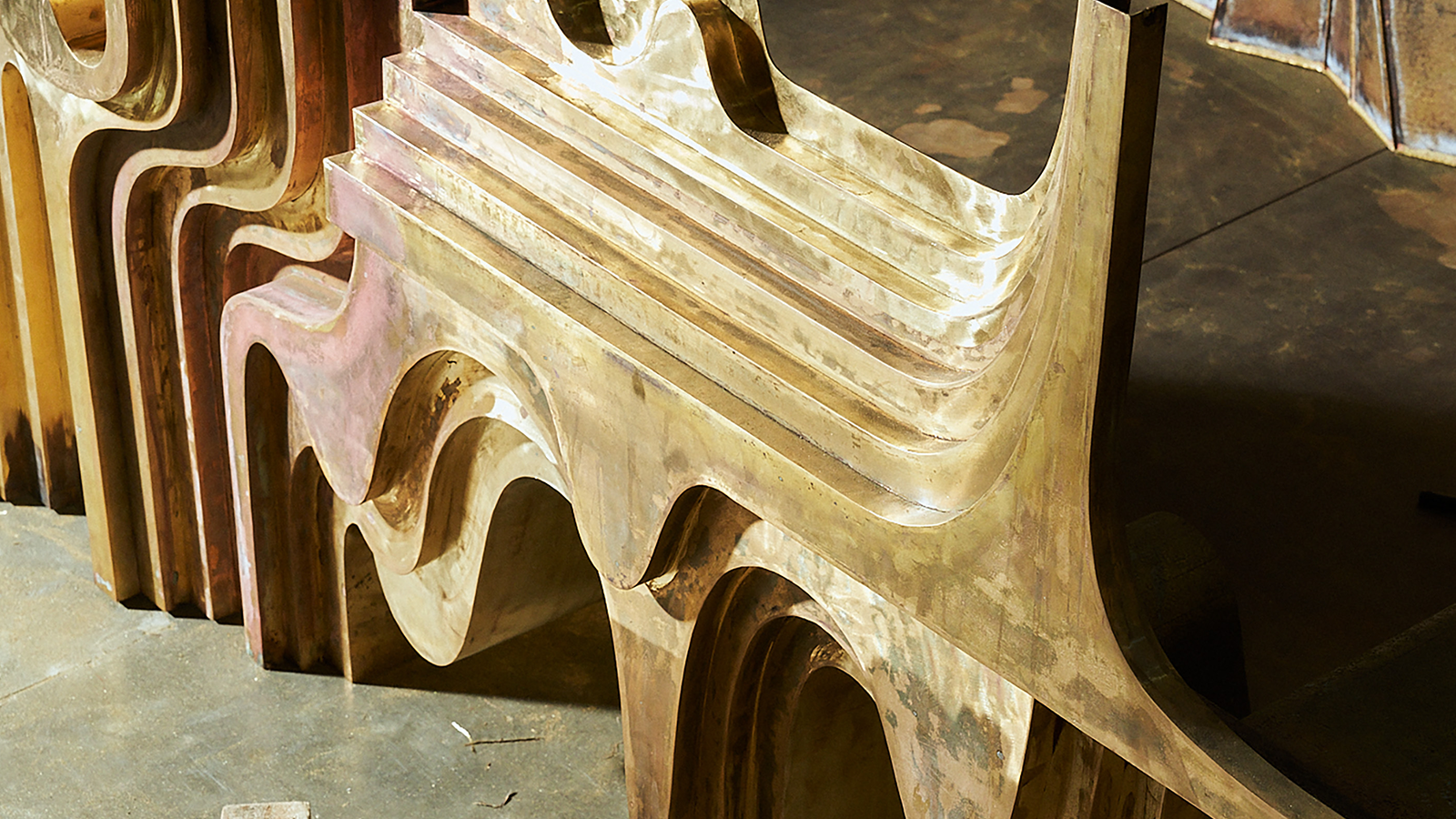 Which part of India's craft heritage have you yet to explore?
Most of India. There's so many different crafts and I feel like I've barely scratched the surface. Much to discover. Much to explore.
Favorite examples of architecture in Delhi.
Delhi's architecture is spectacular! Purana Qila, Red Fort from the Medieval era; the Modernist Ford Foundation and World Bank; new age structures which have since been pulled down at Pragati Maidan; and then of course, all of colonial Delhi; Rashtrapati Bhavan, Art Deco……I could go on and on.
My favorite is Humayun's Tomb.
Tell us something about Vikram Goyal in 2030?
I can't even tell you about Vikram Goyal in 2024. *laughs*
Who knows? I keep changing. 
What would you add to your practice?
Hospitality, maybe. 
A Vikram Goyal hotel?
*laughs mysteriously*
Vikram Goyal will be part of India Art Fair's inaugural Design section in 2o24.