I met M.F. Husain in the late 1980s, just after I had established the gallery. I had two works from him that I was unable to sell at the time and was nervous to tell him, at that time at the height of his career. To my surprise he visited the gallery himself, armed with rolls of drawings and canvas works that he deposited into my care. Our early relationship with Husain Sahib was a turning point for the gallery and earned us the confidence of our audiences as well as other artists.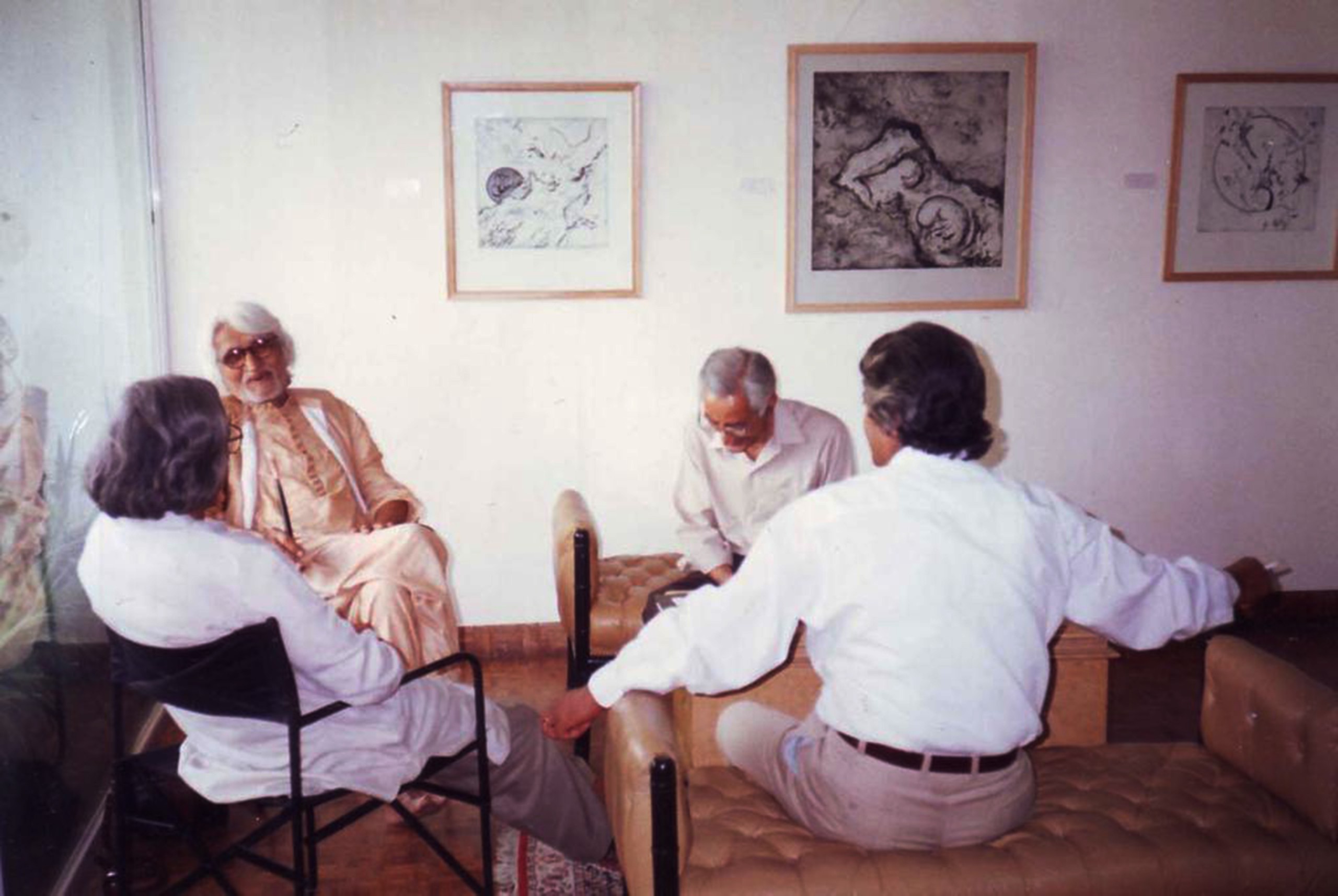 Arun Vadehra with modernists Tyeb Mehta, M.F. Husain and Ramkumar at the gallery in New Delhi. Courtesy of Vadehra Art Gallery
Our relationship grew from strength to strength. He had an aura that encompassed everything it touched, including the gallery, which he converted into his studio while in Delhi and where he spent days and nights painting and living passionately. He engaged us all, much to our pleasure, in a self-proclaimed yet affectionate proprietorship over the gallery, so much so that all our hearts could dance to his tune.
"He was among the first Indian artists to embody the charms of the modern artist–genius while remaining totally free from the earthly trappings of modern life."
For Husain Sahib, his art was his home, his sole purpose. He was among the first Indian artists to embody the charms of the modern artist–genius while remaining totally free from the earthly trappings of modern life. He was spirited to say the least — honest and eccentric but also cooperative and open-minded. In spite of the fact that he had no formal education in art, his knowledge of art history, both Western and Asian, was formidable. He was a keen student of Indology, both of the Ramayana and the Mahabharata as well as of more contemporary writers like Premchand and Nirmal Verma. I learned a lot about Indian mythology and our scriptures over the twenty years that I spent in his company.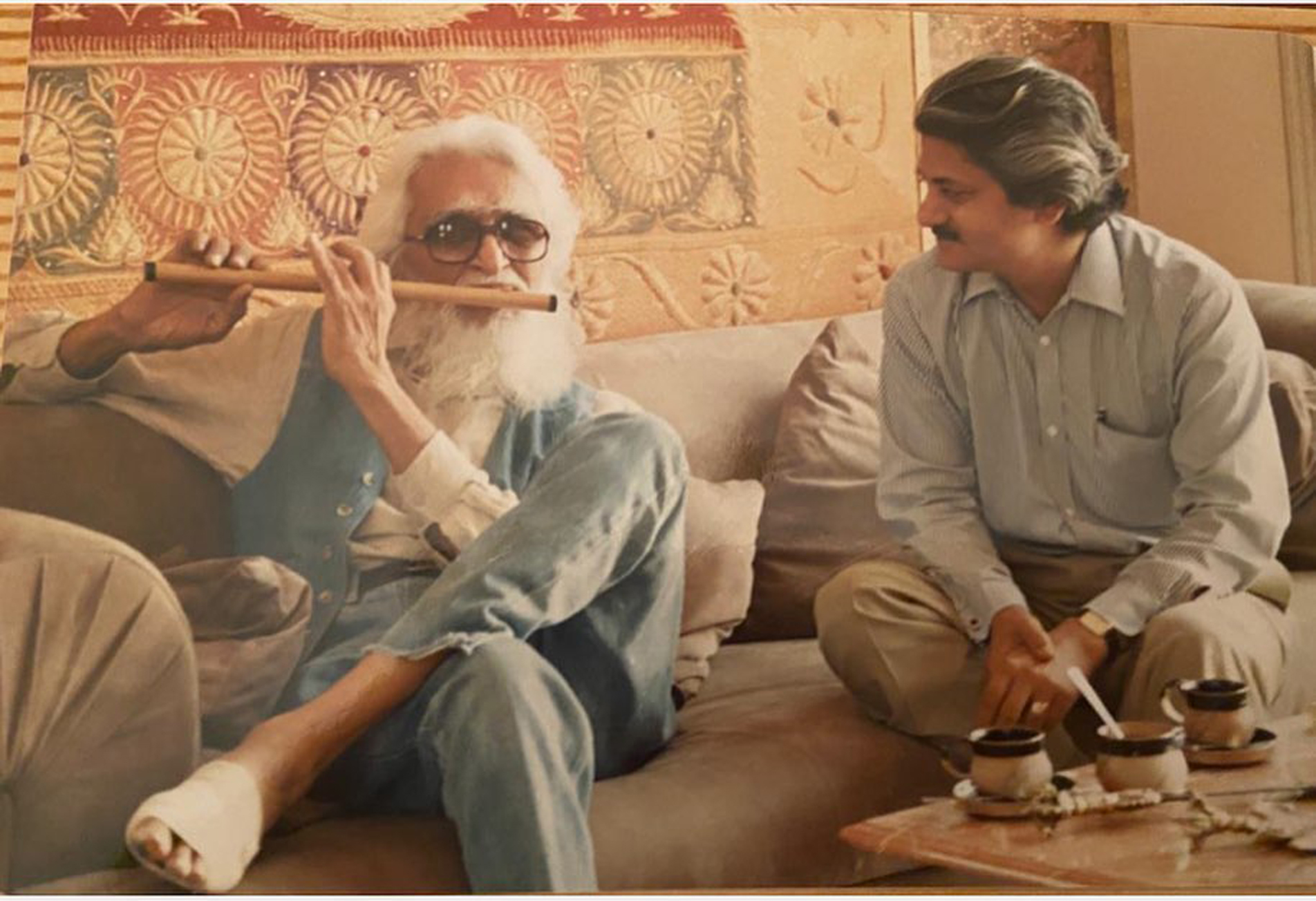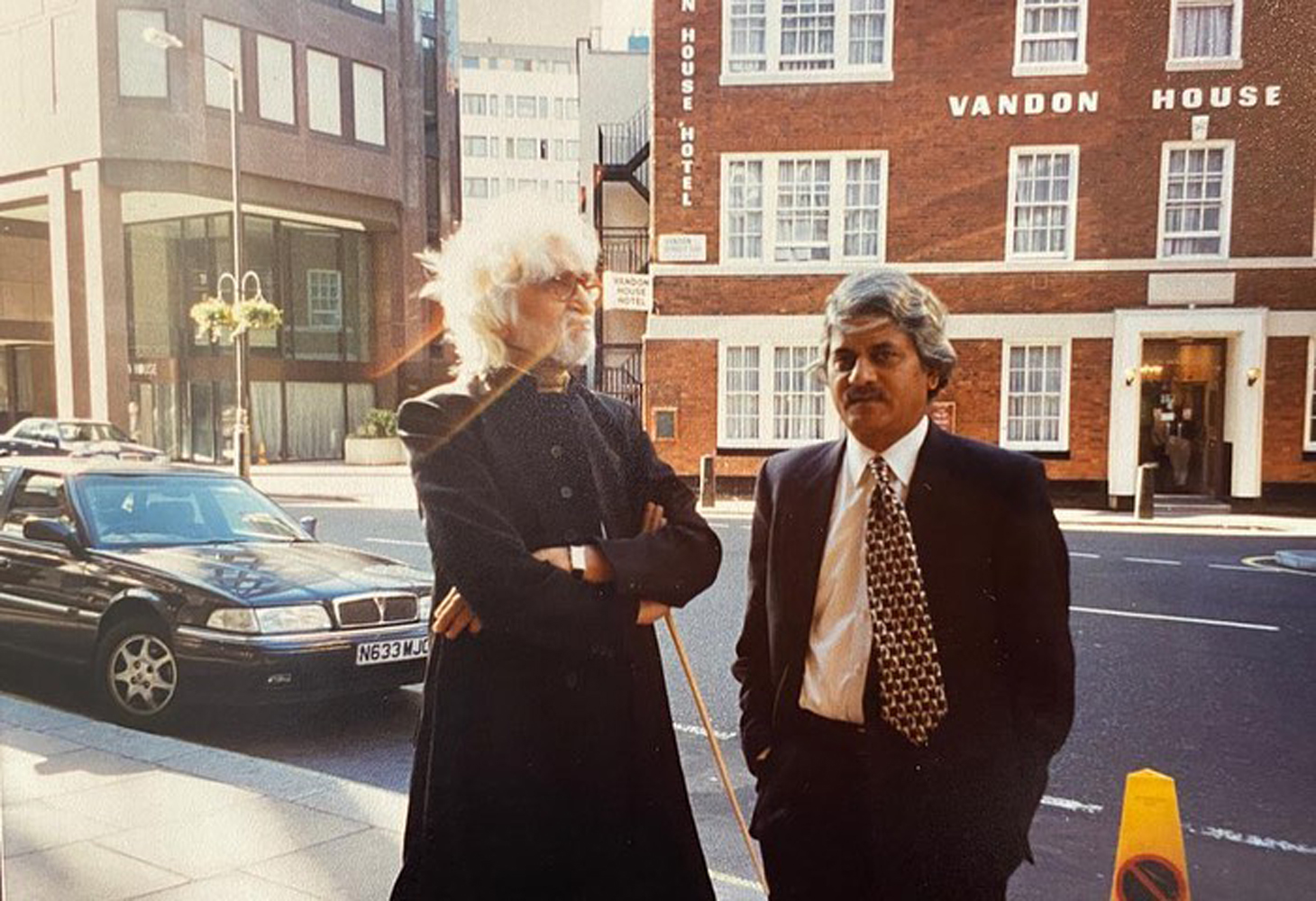 Husain and Vadehra worked together throughout their careers and developed an abiding friendship. Courtesy of Vadehra Art Gallery
I had always nurtured a desire to make Indian art go international. When I signed a contract with Christie's for the first-ever auction for Indian art abroad, Husain Sahib extended his full support by happily attending the auction. Once there, Husain Sahib was already a superstar, with people from Delhi and Mumbai to London and New York all vying for an autograph. As an Indian artist, even by today's dictum, he achieved unparalleled fame. But when Husain Sahib and I discussed Husain the artist, he couldn't tell me how or why he had become such a myth. He simply returned to the canvas every day, finding all the answers he needed in his paint.
On the eve of his death, I remember sitting by his bedside in a hospital in London. He asked me to make reservations at a French restaurant for lunch the next day. He passed shortly after, but his unwavering zest for life lingers on.
Founded in 1987, Vadehra Art Gallery is one of India's oldest and well-respected galleries and a hub of artists, art-lovers and enthusiasts. The gallery also runs The Foundation for Indian Contemporary Art (FICA) that aims to broaden the audience for contemporary Indian art, enhance opportunities for artists, and establish a continuous dialogue between the arts and the public.