Last summer, I said goodbye to my twenties. I turned 30 on December 8th. While this is a milestone for many, it was quite uneventful for me. No drinking, no dancing. But it did provoke some reflection. I meditated upon what kind of future I want as an artist, and thought hard about why I make art.
I live in Sydney, where there is an expectation to enjoy the summer at the beach — baking in the sun and posting photos on Instagram. This prospect has never appealed to me! I spent much of 2018 travelling and making BIG work — for the Dhaka Art Summit, Art Basel Hong Kong, and for a solo exhibition at Sullivan + Strumpf in Singapore.
After all of this, I really wanted to spend some time at home by myself. I finally had the chance to reconnect with something I've always loved: drawing. Being so used to making sculptures that are very laborious, technical, and require a lot of engineering, it was liberating being 'confined' to just crayons and paper. I drew every day. It sounds odd, but I was mesmerised by the sound of the oil pastels as they met the paper. The scratchiness; the crumbliness; the way the table shook when I made marks.
New figures and ideas came to life. Some very bizarre imagery emerged. Drawing gave me the chance to think about the animals I've always been fascinated with: tigers, monkeys and peacocks. I sit here now with a sketchbook full of drawings, which I'm thinking of bringing to life as sculptures in 2019. I have a box full of books to read and things to research. I am palpably excited.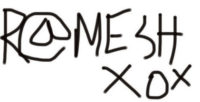 Sydney, 23.12.2018