My studio is situated in Porvorim in North Goa. It is a residential area and my studio is actually an integral part of my house. It's a spacious room that gets a lot of sunlight throughout the day. We live in a relatively new building, about five years old, surrounded by new as well as old family homes, a home-run bakery and abundant greenery that flourishes in the monsoon. Many stray, wild and pet dogs and cats are also a conspicuous part of this scenery and they are fed and dearly loved by the entire neighbourhood.
I share the studio with my fellow artist and friend, Aditi, and we've named it 'Baadalghar.' Our philosophy revolves around nurturing our individual art practices while offering a space for community engagement through open studios, workshops, and curatorial projects. From the outset, we've held a strong fascination for the potentials of collective art-making, where art serves as a catalyst for critical thinking and meaningful dialogue. The presence of diverse energies in the studio is consistently rewarding. This dynamic was evident during our time in art school and throughout the various residencies I've been a part of. It charges you differently, sparking new channels of thought and unveiling a spectrum of collaborative processes.
I start my morning with a hearty breakfast and a cup of coffee. I have the advantage of having my studio in my home, so it is always an enjoyable dance between domestic and artistic duties. I work best with music and daylight, so, I try to wind up before the sun sets, which also creates a healthy routine. But then, there are always those days of being overly invested and stimulated by the happenings in the studio. On such days, all routine flies out of the window.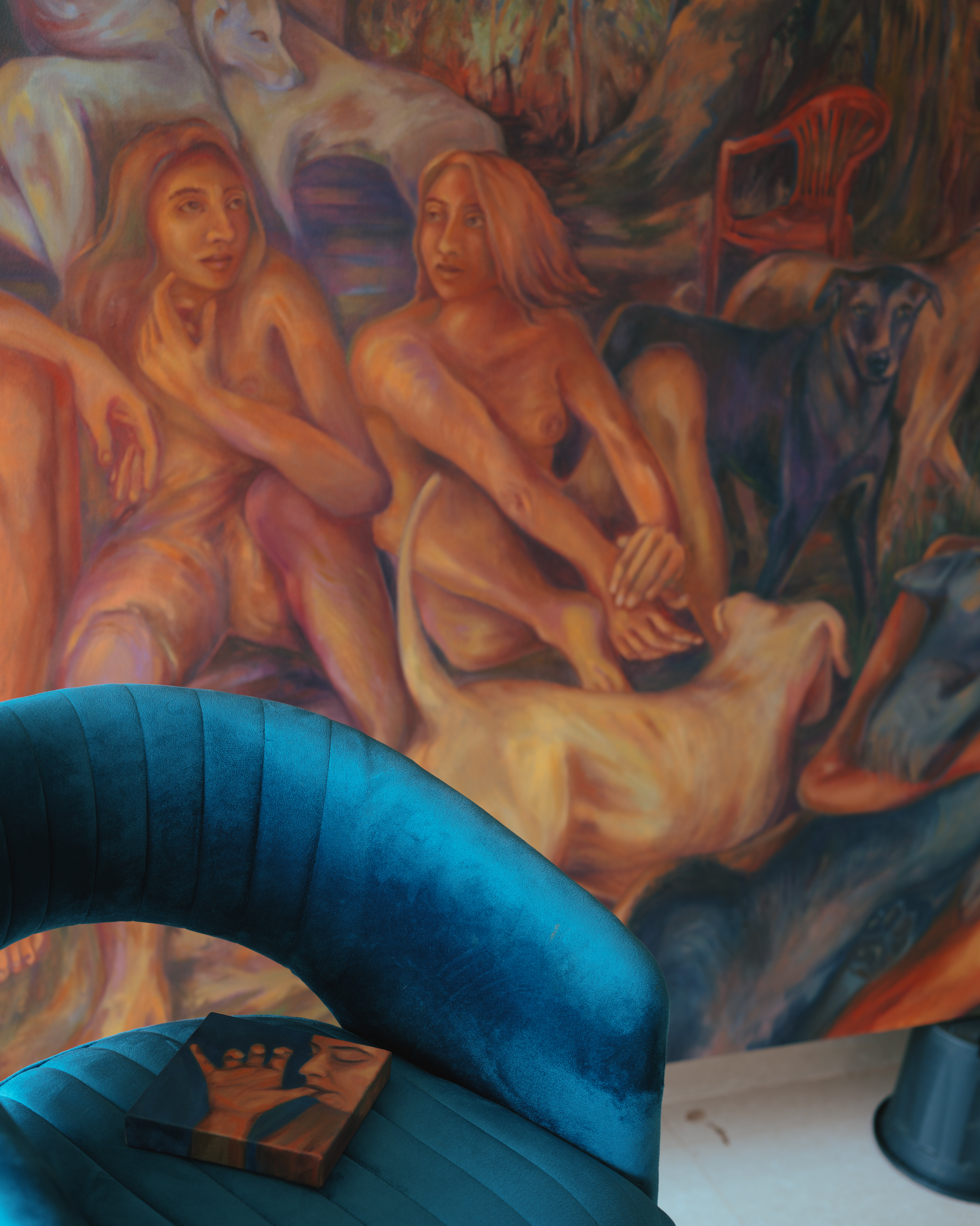 I owe a great deal to the foundational studies I undertook in London. I grew up in Indore with a very limited understanding of what art-making could be. Even though my art teacher always encouraged experimentation, the curriculum itself seemed quite restrictive. However, while studying at the Slade School of Fine Art, I was exposed to a fairly self-driven approach to studio practice, which involved taking on research, gallery visits and technical explorations. Although this was daunting to begin with, it was a necessary insight into what it means to sustain an independent artistic practice. 
It has always been on my mind to maybe have a studio in Goa. After I moved back from London, it was almost a natural decision to move to a place which is less city-like and has a more organic way of being. The search started after spending a year in Mumbai and practising out of a one bedroom house, which for the time-being was wonderful but I had started to crave for an environment with a different kind of pace. Funnily enough, after spending a week here in Goa and scouting with many brokers, we finally found this house online, just 24 hours after it was listed. And so, here we are!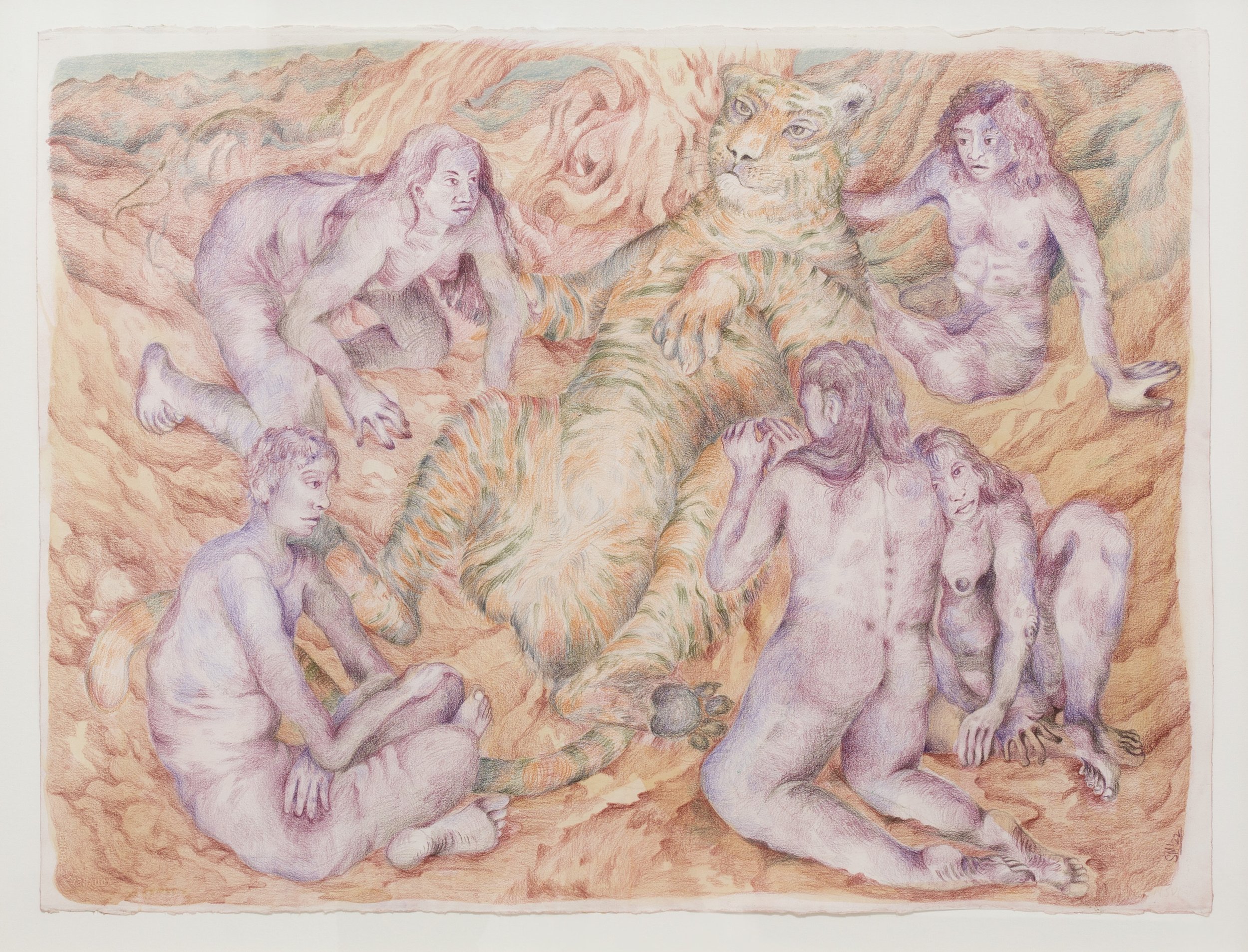 I believe in showing up for my art every day. Even when there are no impending deadlines or upcoming shows, I still make it a priority to visit the studio, whether it's to sketch, experiment, peruse a book, or simply spend time with our cat, Saba. Given that I typically transition between oil paintings and drawings while having multiple works-in-progress, this practice enables me to maintain momentum even during extended drying periods. 
I have found my work to be a mode with which I can consciously engage with femininity. It comes from an awareness of my own body and the identity I inhabit, but has evolved into a broader aspiration to carve out space for female representations within our visual culture. I begin by conceiving figures, which undergo a sort of mythologizing process within my sketchbook before finding their place on canvas or paper. The interplay between drawing and painting plays an important role in my creative process. Whether it involves applying multiple glazes to crafting an illusion of depth or utilizing one-dimensional lines that anchor you to the painting's surface, these negotiations significantly shape my work.
Lately, I have been exploring notions of care, play and untamed qualities within the framework of womanhood. I am working on automatic drawings within my sketchbooks, aiming to develop an abstract language rooted in nature that advances the theme of wildness in my creations. 
I want to question the history of images that have revolved around the male gaze. I enjoy the challenge of working in two dimensions — the compression of time and space and the capacity to evoke both complete stillness and dynamic motion within a single plane.
My art practice is very self-sustained. I start by stretching canvases within my studio. I buy the majority of my art materials either online or from the art store in Panjim, which is approximately 20 minutes away from my house. I also love collecting various types of paper from places I visit. For instance, during a trip to Baroda, I discovered some exquisite rice paper in an art store, and it has since become a staple in my practice.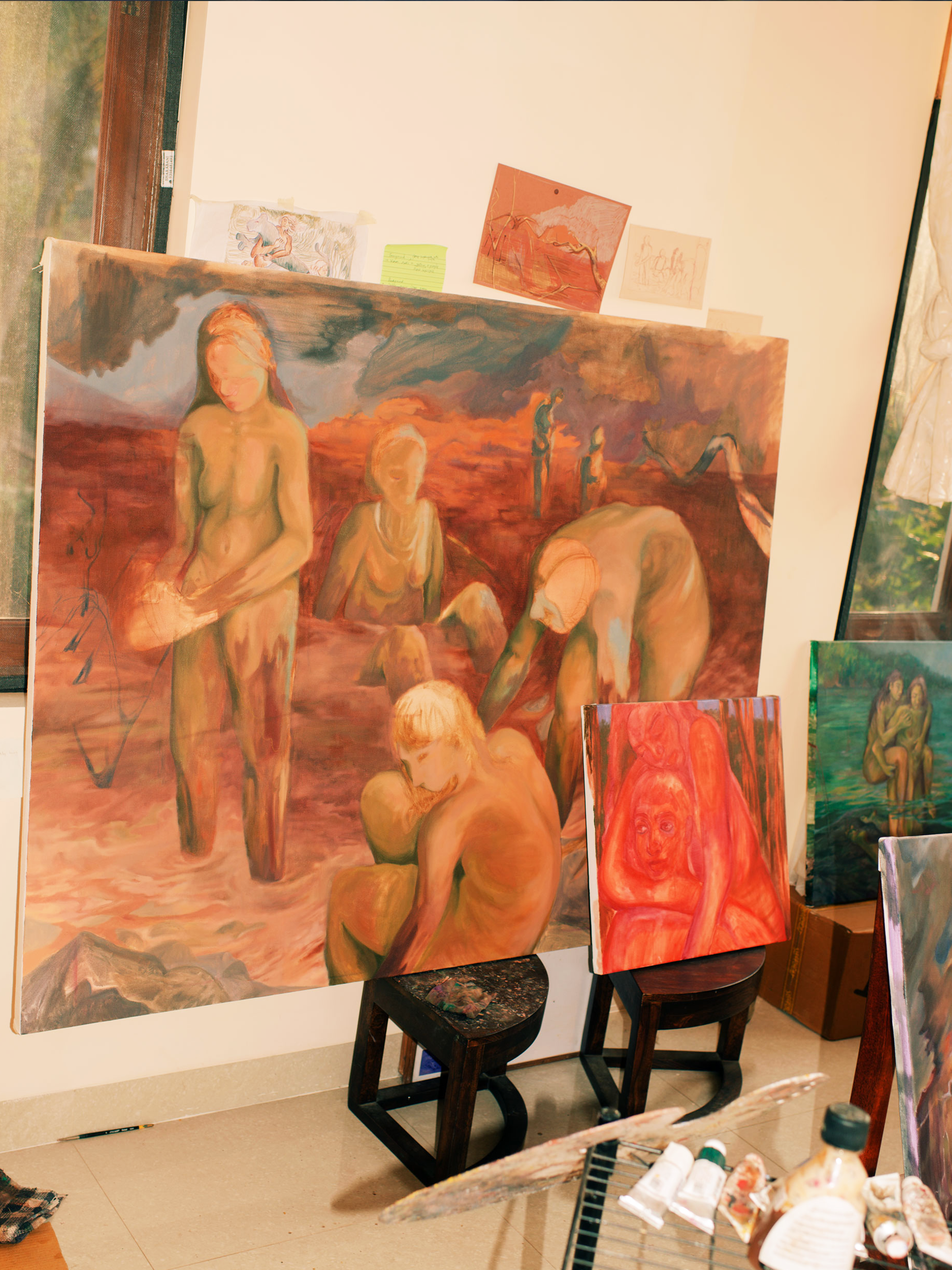 Goa has a slowness and a quietness. It allows me to take up a lot more space and explore my thoughts in an easier way. I think that's resulting in a certain clarity which in itself is a breakthrough for me. I think I'll be here for a while. I'm yet to fully take it in and embrace it. 
Born in 1998 in Indore, Shailee Mehta currently lives and works in Goa, India. Her works were showcased by Chemould CoLab for the first time at India Art Fair in 2023. 
Mehta received a BFA from the Slade School of Fine Art in 2020. Her solo Mudbath opened at indigo+madder London in June 2023. Selected exhibitions include In the Belly of a Slovenly Crow a solo at The Residence Gallery London, 2020; The Place of Complete Surprise, indigo+madder x Sadie Coles, The Shop, Sadie Coles, London, 2022; There goes the neighbourhood, Castor, London, 2022; Lotus-Eaters at indigo+madder, London, 2022, Run with the Wolves, Lawrie-Shabibi, Dubai 2021; Les Danses Nocturnes, France, 2021 with East Contemporary and A Small Dent in the Air, Grove Collective, London, 2021.