Textiles are laden with history, stories of civilisations as well the intimate stories of their makers. Many of the artists we feature here were first drawn to textile for its tactility and the slow, focused and meditative work that textile-making requires. Its status as a craft motivated others to question the hierarchical classification and develop studied, intricate and layered fine-art textile practices. These pioneering artists, most of whom are women, have drawn upon South Asia's rich history of textile-making including regional techniques of kalamkari, rafoogari and natural dyeing, to bring forth works of astounding presence and depth.
1. Nelly Sethna (1932 – 1992)

Nelly Sethna, Untitled, 1980. Wool and cotton tapestry. Courtesy of Jamshyd and Pheroza Godrej, and Chatterjee & Lal
The versatile and multi-talented Mumbai public artist, Nelly Sethna was not only a prolific artist but also worked to revive many arts spaces in India. Among other contributions, she led the design studio at one of India's oldest cotton spinning and dyeing companies, Bombay Dyeing in the 50s, consulted for the National Institute of Design Ahmedabad and played a major role in the popularisation of kalamkari, the traditional printing technique from Andhra Pradesh. Best known for creating large scale and ambitious wall hangings and mobile sculptures, her work was greatly influenced by Scandinavian minimalism and her travels to Iran, Kutch and Kashmir. Despite being obstructed by the onset of multiple sclerosis at a relatively early age, Sethna continued creating throughout her life, collaborating with women artists, from renowned American weaver Marianne Strengell to her mentor, Indian multi-disciplinary practitioner Kamaladevi Chattopadhyay.
2. Monika Correa (b. 1938 –)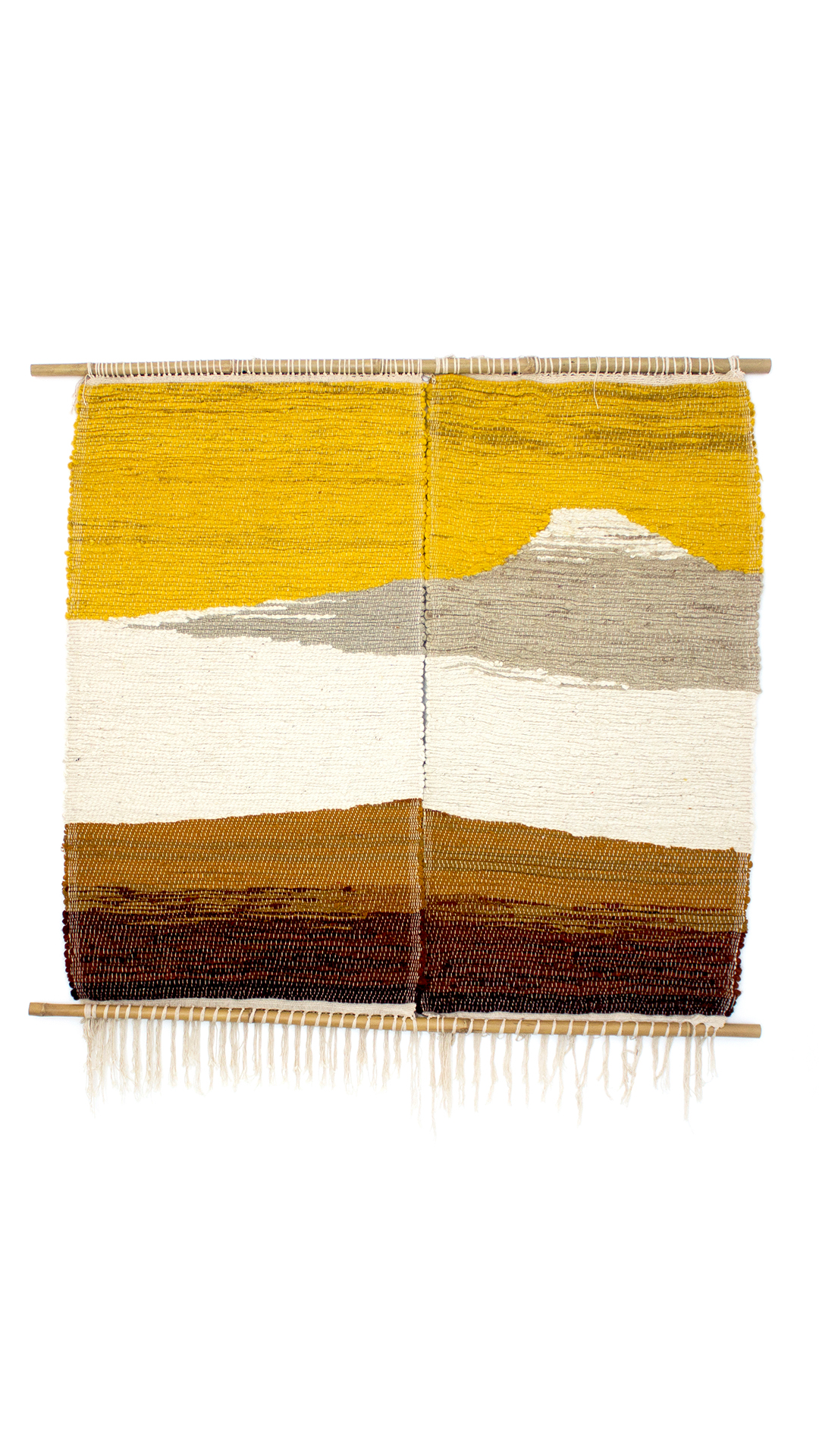 Monika Correa, Mauna Kea, 1987. Unbleached and dyed cotton. Courtesy of Jhaveri Contemporary
"I work upside down, inside out," says Monika Correa describing her experimental textile making practice, a pioneer in the Indian textile arts. She began her career in the early years of Indian independence at the newly established Weavers' Service Center in Mumbai where she learned from and worked with both traditional Indian artists and modernists like K.G. Subramayan and Prabhakar Barwe. Correa embraced the textile arts as a cottage industry, and began weaving on a vertical loom set up in her living room based on designs from her first teacher and a friend of fellow artist Nelly Sethna, Marianne Strengell. Widely loved and collected, Correa's work remains remarkable for their unravelling structures and the energy of her colour choices, creating movements like that of wind, water and branches in nature.
3. Shobha Broota (b. 1943 –)

Shobha Broota, Untilted, 2012. Wool and oil on canvas Courtesy of Gallery Espace
Trained in classical Hindustani music and the visual arts, New Delhi-based Shobha Broota is a multi-disciplinary artist whose 'theme-less' minimalist works are some of the most important in Indian modern art. She places herself in a history of abstract indigenous art from India and questions western orientations that see abstraction as only a response to realist periods. Her visual art practice, spanning painting, printmaking and textile making, works in calibrated rhythms and harmonies. For Broota, art-making is a meditative process of self-discovery which, like knitting, "has an inherent rhythm". In her most recent works, we see her use silks and hand-knitted wools as paint, manipulating and stretching the textiles on canvas to create intricate grids and patterns.
4. Mrinalini Mukherjee (1949 – 2015)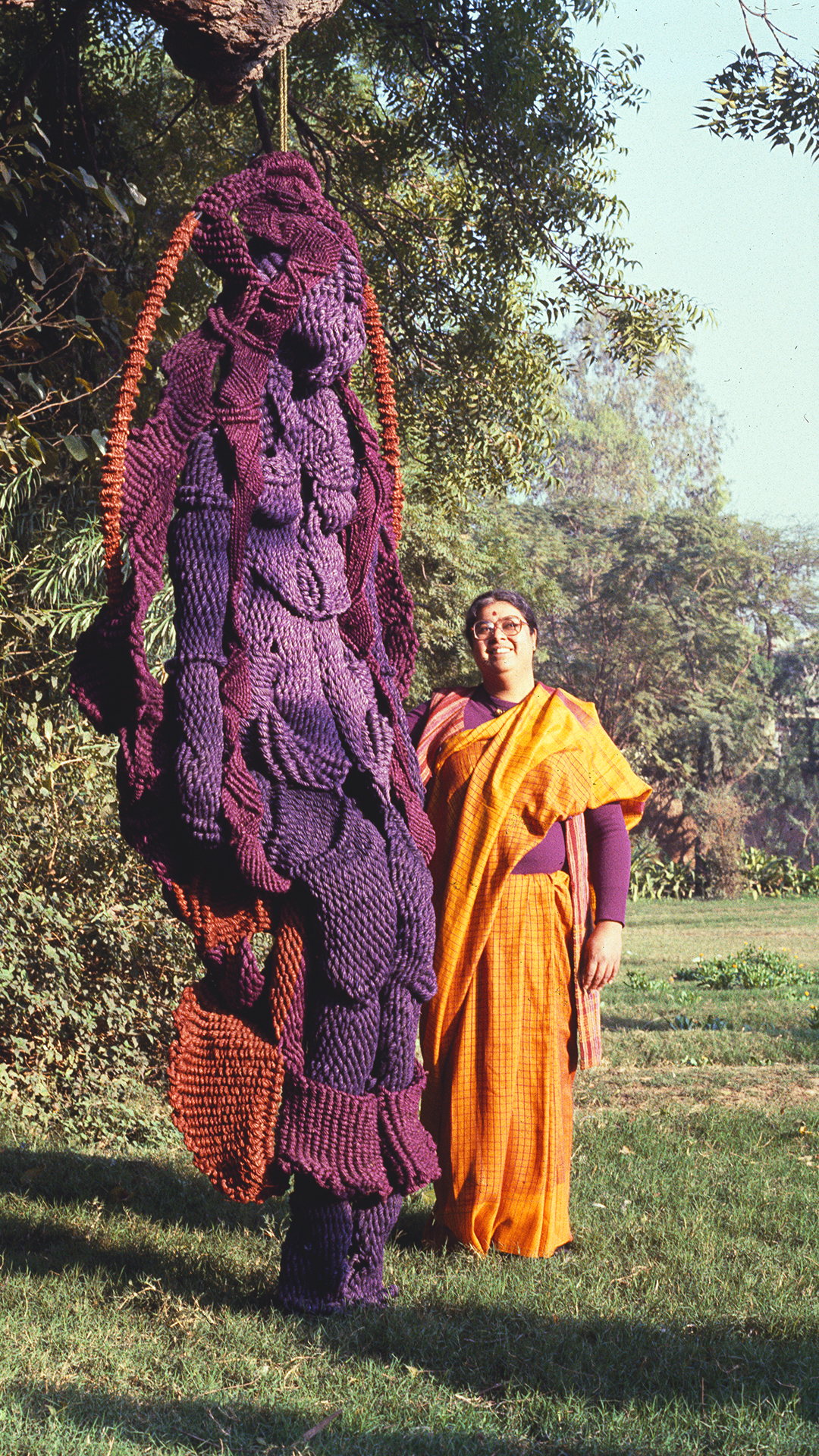 Mrinalini Mukherjee with one of her iconic jute sculptures, date unknown. Courtesy of Jhaveri Contemporary
Mrinalini Mukherjee, one of India's most celebrated sculptors, began working with jute and hemp fibre early in her career when she started to develop her signature sensuous and primordial "deity" forms. The daughter of artist Binode Behari Mukherjee, Mukherjee spent a considerable part of her childhood in Shantiniketan where she discovered these traditional Indian fibres through interactions with craftspeople. The artist's macrame soft sculptures made of swathes of woven, dyed and knotted fibre not only pay homage to the aesthetics of the village arts, but also impose on viewers something other than purely traditional or modern, simply abstract or representational— in her words, the feeling of awe one gets when they "walk into the small sanctum of a temple and look up to be held by an iconic presence."
5. Ajit Kumar Das (b. 1957 –)
Ajit Kumar Das. Kamal Patra. Natural dye on cloth. Courtesy of Gallery Art Motif
Ajit Kumar Das is an artist with rare expertise in natural dyes and dyeing, a body of knowledge built over more than 50 years. Hailing from the North-East Indian state of Tripura known for its Kantha textiles and cane-works and initially a printer at the Weavers Service Center in Ahmedabad, Das uses the kalam or bamboo reed, block printing and dyeing to create flora, fauna and abstract forms on textile. Drawing from traditional dyes, techniques and aesthetic sensibilities, he has developed a visual language that evokes a purity and elegance of colour and form.
6. Priya Ravish Mehra (1961 – 2018)

Priya Ravish Mehra. Rafoogari works, date unknown. Courtesy of Threshold Art Gallery
Priya Ravish Mehra influenced textile art in India in many capacities— as an artist, researcher, advocate, consultant and author. She championed the art of Rafoogari, an ancient Indian fabric darning and repair technique. Her interest in the technique came from observing rafoogars, the practitioners, at work in her ancestral home in Najibabad, Uttar Pradesh during childhood summer vacations. Following multiple degrees in fine and textile art from institutions including Visvabharti University in Shantiniketan and the Royal College of Art in London, she dedicated her life to diligently document and practice Rafoogari, in large part to make it visible in the history of textile arts. In the later years of her life that she spent living with cancer, the technique of repair and maintenance became to her a metaphor for her own life. She observed, "you start acknowledging there is damage in the cloth, and that it needs repair."
7. Ruby Chishti (1963 –)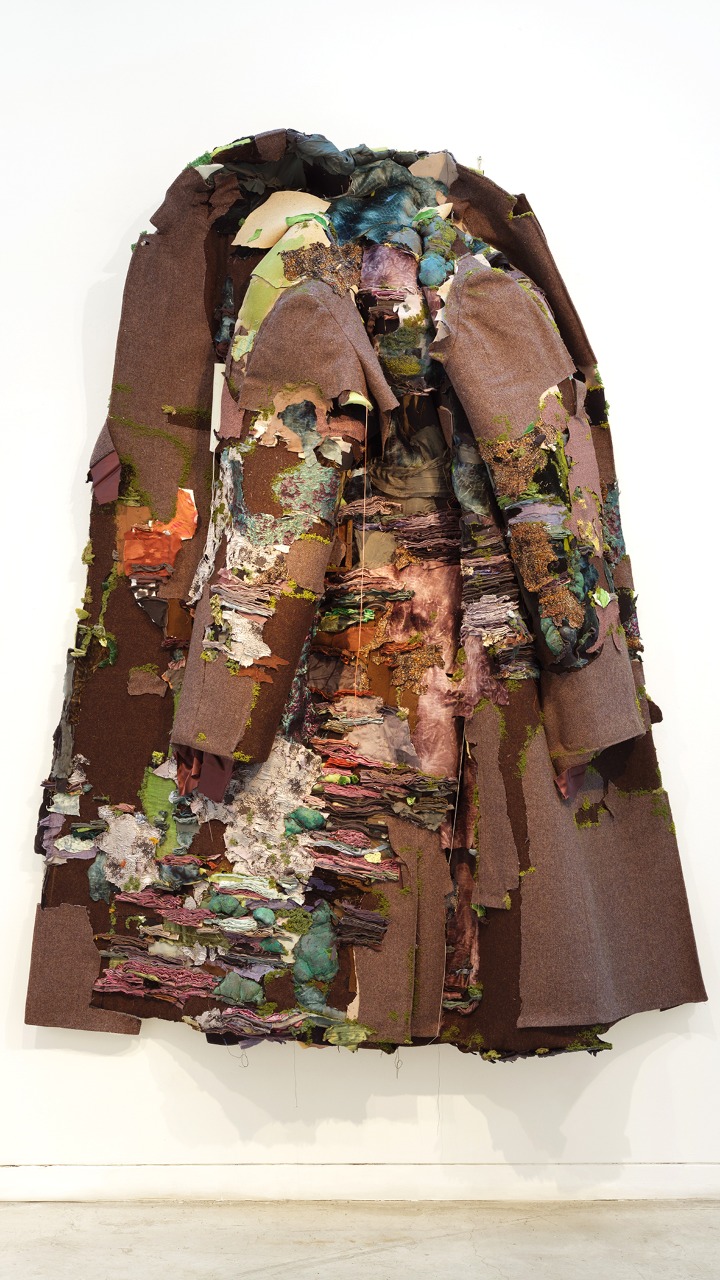 Ruby Chishti. An Intangible Sanctuary of Ocean and Stars II, 2020. Men's vintage wool overcoat, cloth, thread flicking powder, wood, paint, archival glue, dried moss. Courtesy of Aicon Contemporary
Pakistan born artist now based in Brooklyn, USA, Ruby Chishti is known for sculptures fabricated from scraps of old and worn fabric, especially her series featuring crows, a favourite subject. "To me sewing is not merely an act, it is an attitude," she says. Sewing allowed her to make dolls, clothes and shoes for herself when she was not able to buy them as a child. She thinks of the practice as creating and mending at the same time, and deliberately embraces the "low art" technique into her practice. Her work is influenced by Sufi philosophy, Islamic myth and gender politics which she explores with materials that resonate— crochet lace, pantyhose and uniforms.
8. Aisha Khalid (b. 1972 –)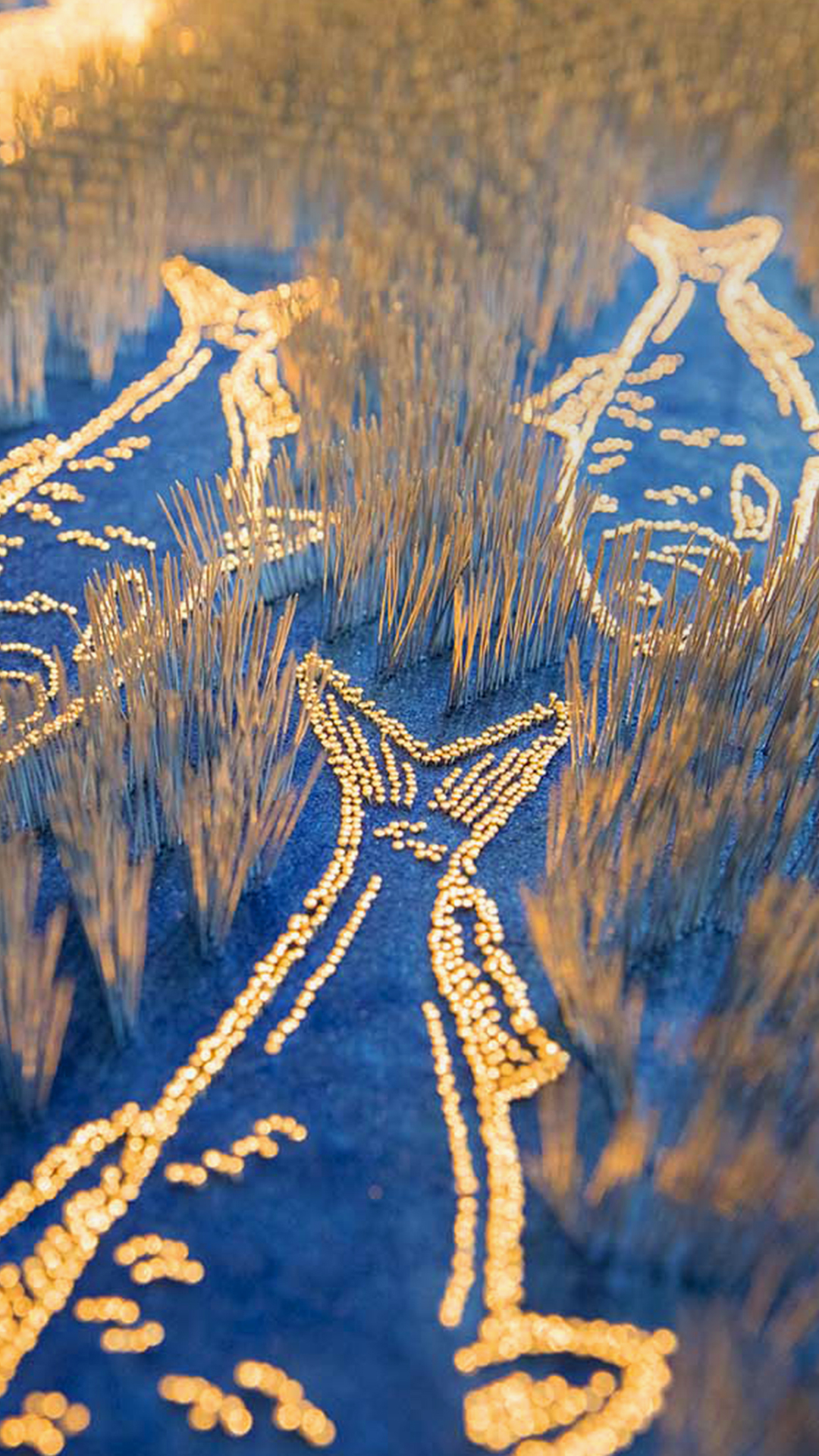 Aisha Khalid. Water Has Never Feared the Fire, 2018. Fabric, gold-plated and steel pins. Courtesy of Anant Art
Lahore based artist known primarily for her neo-miniature paintings, Aisha Khalid works with textiles, embroidery, and sewing. Deeply influenced by the cultural practice of tailoring and embroidery in Pakistan, textile work comes naturally to her. Her large scale tapestries draw their structures from traditional Persian carpets, but are reinterpreted to convey contemporary political concerns, often using gold plated studs and pins instead of thread to create patterns on fabric that can be mistaken for embroidery. Khalid leaves the sharp ends of the pins jutting out of her tapestries, embedding risk and pain into beautiful compositions of charbagh gardens and fountains.
9. Rakhi Peswani (b. 1977 –)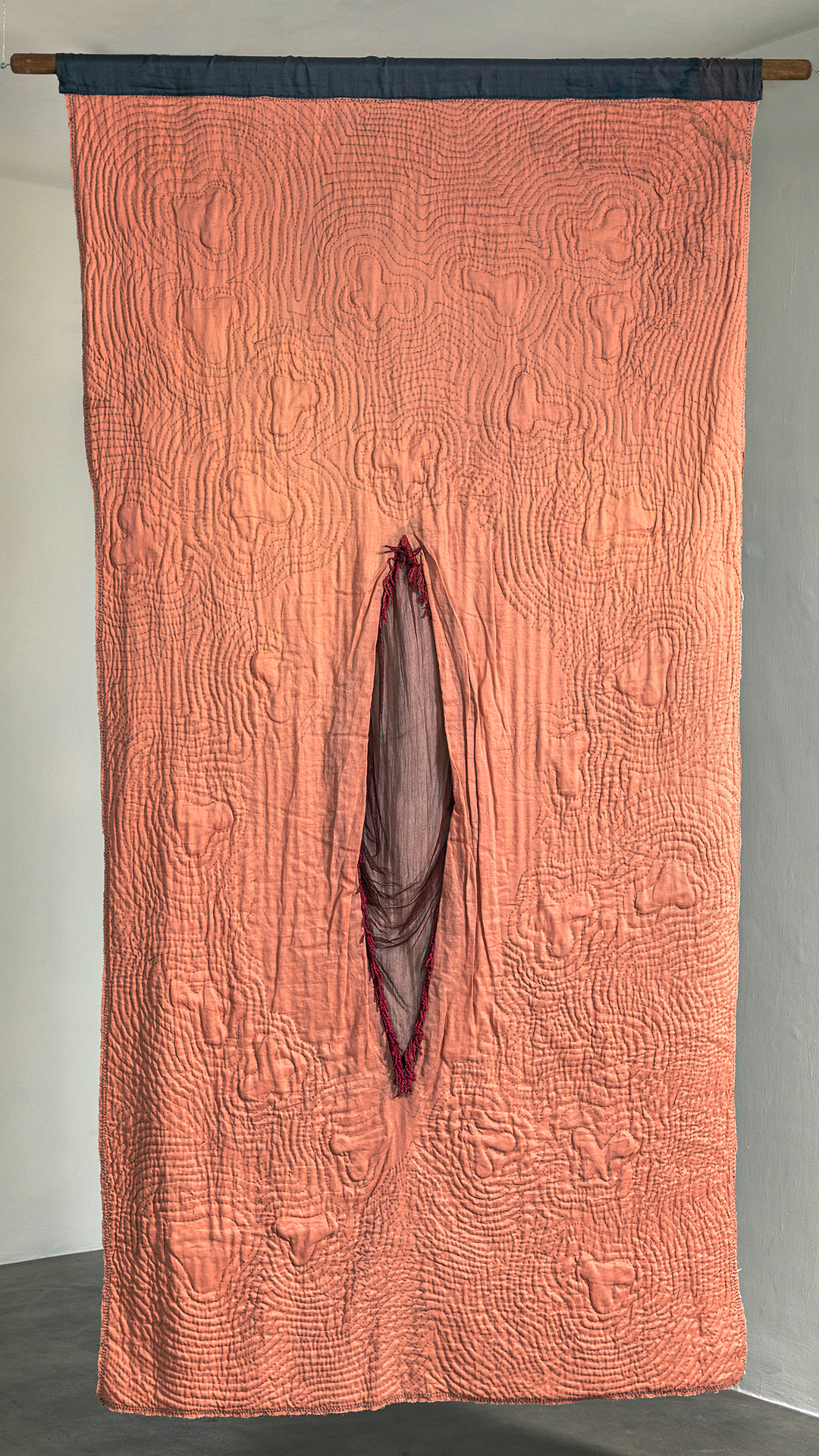 Rakhi Peswani. Cultivating the Craft, 2013. Hand-embroidery and sewing tools on Calico cotton, handloom cotton, linen and theatre lights. Courtesy of Vadehra Art Gallery
Artist and art-educator Rakhi Peswani explores the relationship between drawing and stitching in her work. Working between traditions of minimalism and figurative art, Peswani breaks down hierarchies of art above craft, painting above stitching and sculpting above sewing by using weaving and sewing to fashion forms and concepts of great complexity. Initially drawn to embroidery as a hobby and a way to create gifts for her friends, Peswani later took to sewing as an alternative to drawing as the basis of her art practice. Since then she has developed a sophisticated body of work that explores craft, language and the body and how each influences the others.
10. Lavanya Mani (b. 1977 –)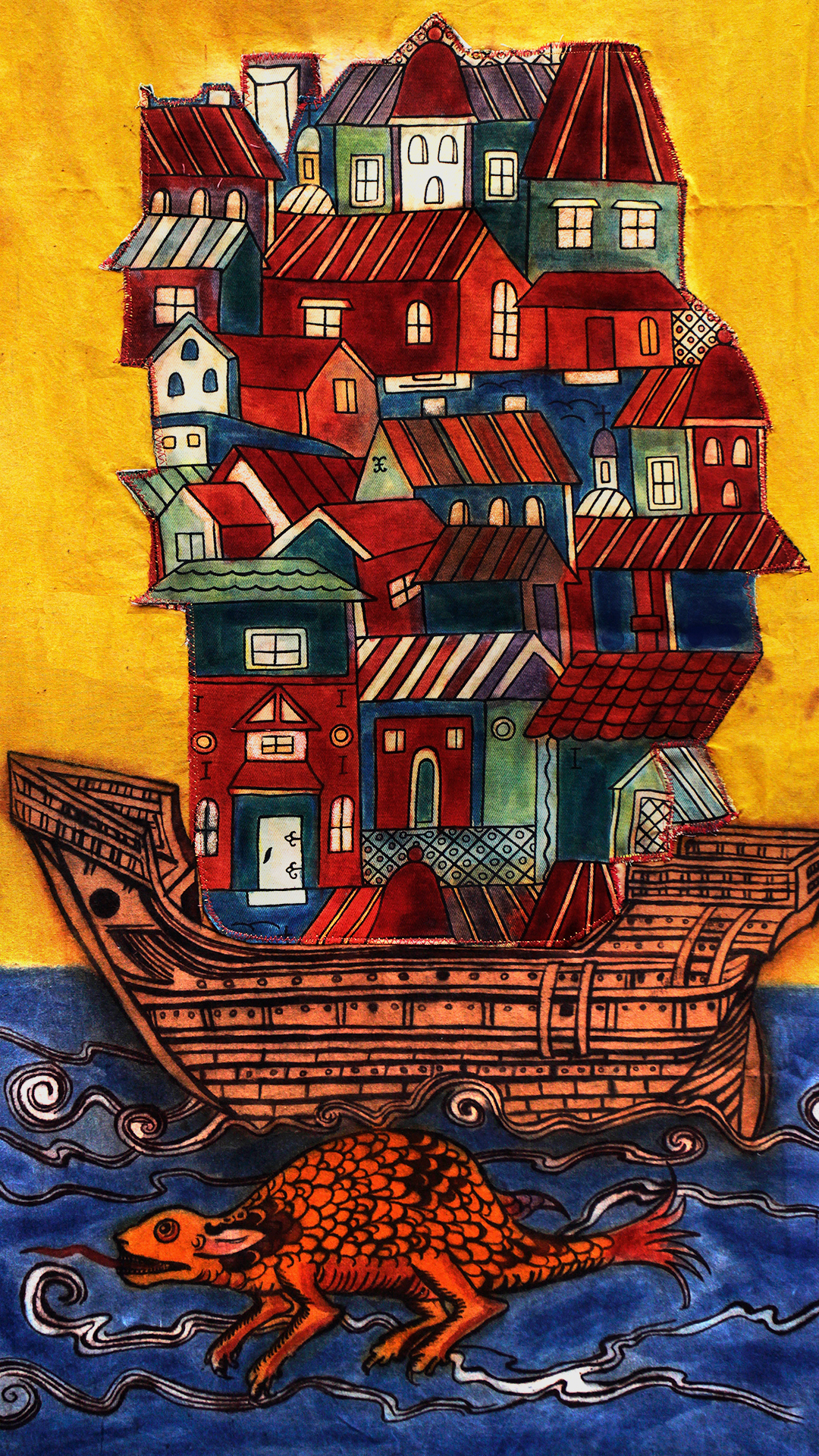 Lavanya Mani, Miraculous Sights 2, 2020. Natural dyes, applique and pigment paint on cotton fabric. Courtesy of Chemould Prescott Road
Lavanya Mani uses the materiality of textiles and cultural contexts of her techniques to explore narratives of colonialism and empire in her work. Incorporating the traditional dyeing and printing process of kalamkari that later became objects of colonial trade in her work, Mani puts her contemporary work in their complicated historical contexts and stages pieces that demand attention to how they came to be. Mani works on history and tradition with a sense of wonder, wit and curiosity, creating narratives with vibrant colour and laden characters.