One of the most treasured experiences of my more than 50 years living and working in India was getting to know Jangarh Singh Shyam, the legendary Pardhan Gond artist, and over time, being able to call him my friend. I consider Jangarh the greatest folk artist India has produced until today, and in fact, one of the greatest artists India has produced in general. Over the years, since his tragic suicide in 2001 which cut short a brilliant career that was at its height, I have been hoping to find an artist who might demonstrate the same boundless and protean creativity that Jangarh had.
I was not disappointed. I recently discovered works by a new and extraordinary talent Jodhaiya Bai Baiga through word of mouth around 2019. I kept trying to locate her and when I finally did, I was delighted to realise that she was being mentored by my old friend, Ashish Swami, who used to visit me in Delhi in the early days of Jangarh's career. He had also guided Jangarh along the way so many years ago. Ashishji, who had studied painting at Kala Bhavan in Shantiniketan and lived a number of years in Mumbai, had recently returned to his hometown, Umaria, and set up an open studio, Jangan Tasveerkhana, in the nearby village of Lorha. Paper, brushes and paint were all free to use for anyone who wanted to try their hand at art, and this is where he first encountered Jodhaiya Bai Baiga.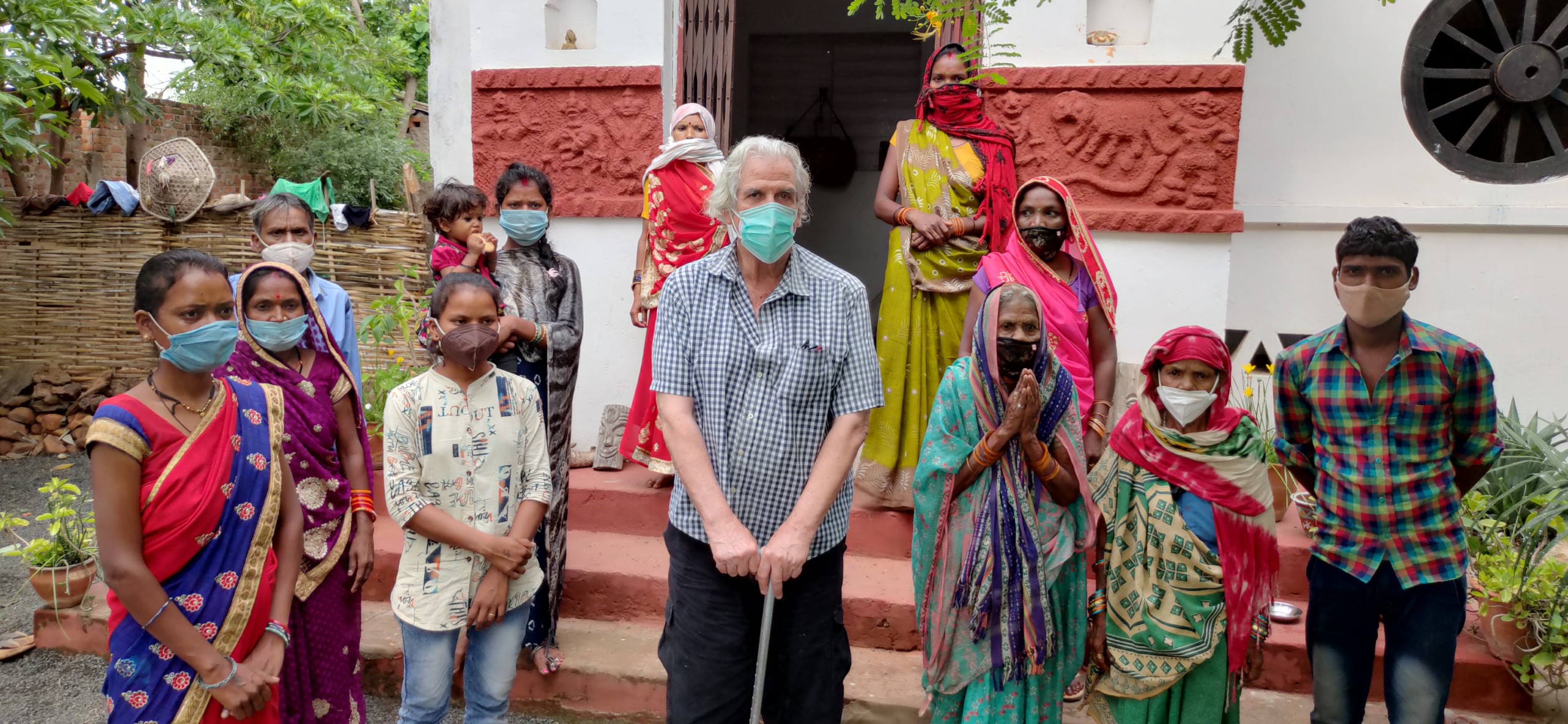 Mitch Crites met Jodhaiya Bai, her family and fellow Baiga artists for the first time on 24 June 2021 at the Ashish Art Gallery, Lorha, Madhya Pradesh. Courtesy of Nimish Swami and The Crites Collection
Jodhaiya Bai, a labourer and 69 years old then, had joined Ashishji's classes along with her family and friends, but it soon became apparent that she possessed an exceptional genius. Luckily, there was someone there to help her release the latent talent within. "Painting takes me to another world where I am as free as a bird," she told Ashishji. "When I learned about a teacher who was willing to teach for free in our village, I decided to give painting a try, something I was never interested in. Yet, on the very first day, I found my passion."
"To me, contemporary is folk and folk is contemporary, each opening up new worlds for us to encounter and inhabit."
Sadly, Ashishji passed away in May 2021 and owing to the pandemic, I was only able to reach his hometown, Umaria, a month later. On the 24th of June, I met Jodhaiya Bai for the first time. She is 82 now and has a small but dynamic form. She is a major presence, full of creative energy and eyes twinkling. She loves trees, is dedicated to Bholenath, otherwise known as Lord Shiva and enjoys painting the rituals and legends of the Baiga tribe. From beginning with small paintings on paper, she has now progressed to large canvases. She can be a bit temperamental at times and tells you exactly what she is in the mood to paint. She also likes her sip of rum now and then. I still remember when she whispered in my ear that she had heard somewhere that rum is good for health.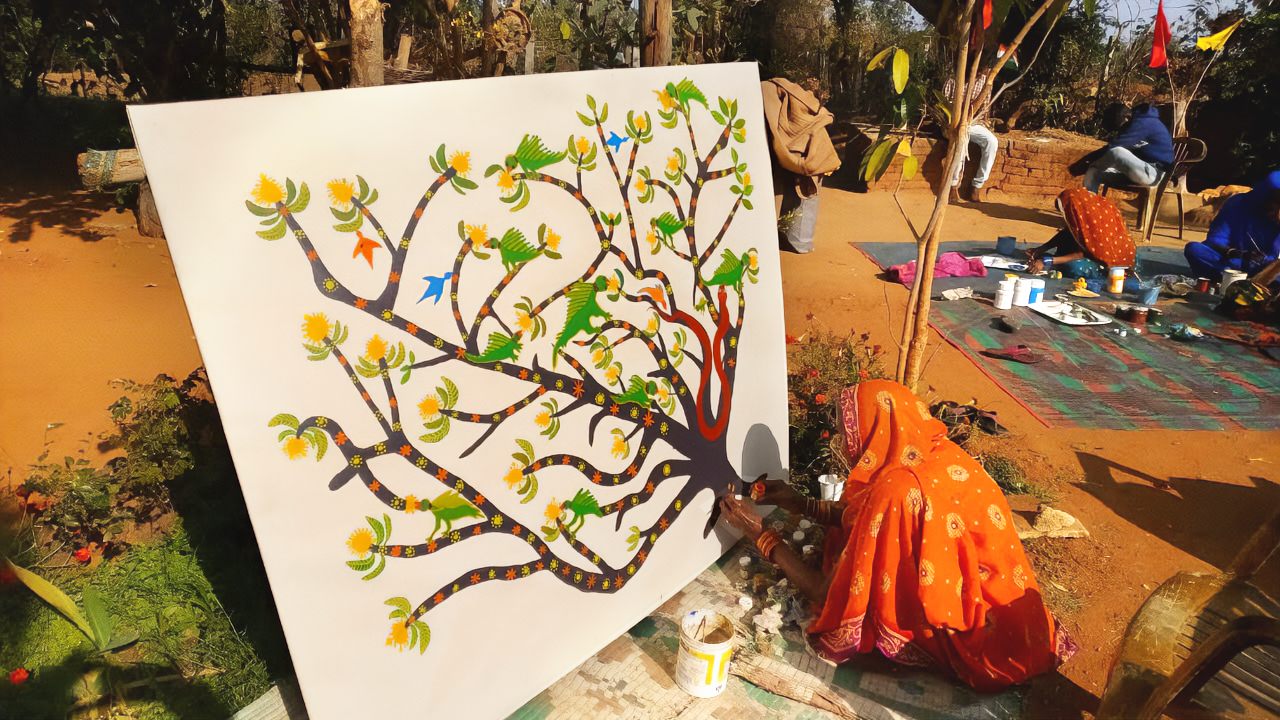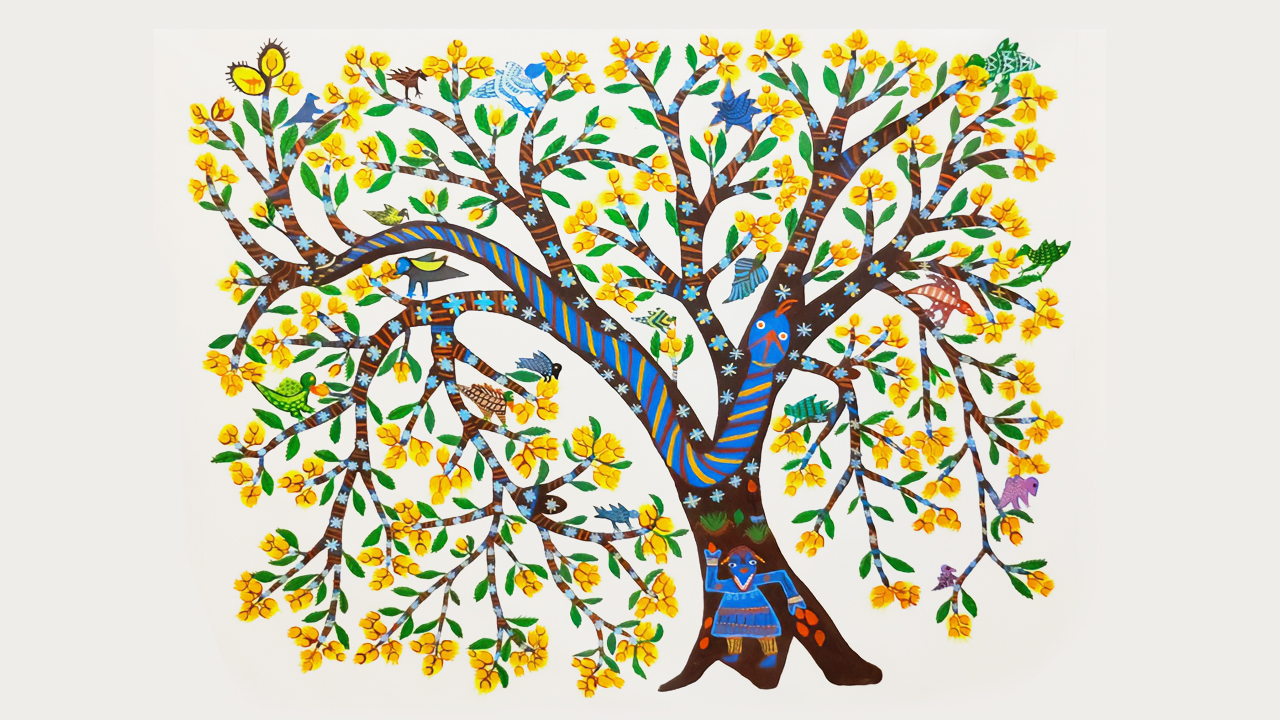 Top: Jodhaiya Bai Baiga painting the Mahua tree in the warmth of the sun. Bottom: A work showing the Mahua Tree and Blue Snake, 2021. Courtesy of  The Crites Collection
Her work to date exhibits a powerful artistic vision, a remarkable authenticity, and, at the same time, is strikingly original. Her sense of colour and patterning is different but equal to that of Jangarh. I can only imagine what Jodhaiya Bai will create in the years to come. Despite the binary we often assume between contemporary and folk art, through artists like Jangarh Singh Shyam and Jodhaiya Bai Baiga, it is clear that no such binary exists in reality. To me, contemporary is folk and folk is contemporary, each opening up new worlds for us to encounter and inhabit.
More than anything, it has been an honour and a privilege to get to know Jodhaiya Bai, who was also recently awarded a Nari Shakti Puraskar by the President of India for bringing Baiga art to the global stage. I have waited a long time for someone like her to come into my life. Like they say: 'India never disappoints!'.
Mitch Crites is an author, collector and folk art revivalist. Born in 1944 in Cape Girardeau, Missouri in the United States, he has worked in India, Afghanistan and many other countries for over 50 years and continues to champion contemporary folk and traditional art wherever he finds it.